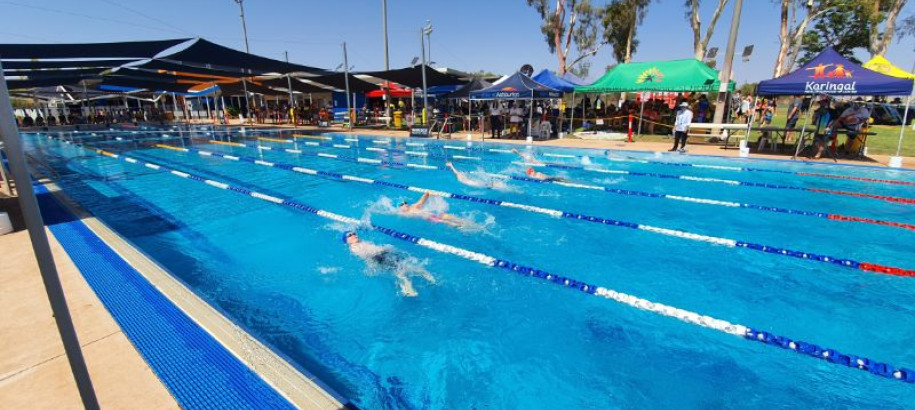 SunSmart Country Pennants is the highlight of the Regional swimming calendar bringing Clubs from as far south as Albany, far east as Kalgoorlie and as far north as Broome together to compete against other regional clubs across the state. 
The three day competition is an opportunity for old friends to get together, for families to spend time enjoying each other's company, celebrating the successes that happen over the March long weekend. 
Country Pennants has a long rich history in WA, beginning in Northam in 1959. Today, each Region has an opportunity to rotate through hosting each event. Nominations for Clubs are released in October annually.
Country Pennants is a Club and Volunteer run event supported by Swimming WA, SunSmart and the Department of Local Government, Sport and Cultural Industries bringing tourism and funds back to the host town and Club. 
For more information on how you could get involved in Country Pennants, please contact the Swimming WA Office
 

Program of Events 

SunSmart Country Pennants rules below (updated December 14th, 2021)

Please note that there have been changes to facilities requirements and relay entries.

| Year | Location | Year | Location | Year | Location |
| --- | --- | --- | --- | --- | --- |
| 1959 | Northam | 1980 | Wongan Hills | 2001 | Port Hedland  |
| 1960 | Cunderdin | 1981 | Geraldton | 2002 | Kalgoorlie  |
| 1961 | Merredin | 1982 | Northam | 2003 | Geraldton  |
| 1962 | Kalgoorlie | 1983 | Karratha | 2004 | South Hedland |
| 1963 | Bruce Rock | 1984 | Bunbury | 2005 | Northam |
| 1964 | Collie | 1985 | South Hedland | 2006 | Bunbury |
| 1965 | Northam | 1986 | Wongan Hills | 2007 | Wongan Hills |
| 1966 | Pengelly | 1987 | York  | 2008 | Wagin |
| 1967 | Kalgoorlie | 1988 | Northam  | 2009 | Carnarvon |
| 1968 | Narrogin | 1989 | Karratha  | 2010 | Northam |
| 1969 | Merredin | 1990 | Collie  | 2011 | Kambalda |
| 1970 | Collie | 1991 | Kalgoorlie  | 2012 | Collie |
| 1971 | Northam | 1992 | Geraldton  | 2013 | Wongan Hills |
| 1972 | Wagin | 1993 | Narrogin  | 2014 | York |
| 1973 | Wongan Hills | 1994 | Bunbury  | 2015 | Exmouth |
| 1974 | Geraldton | 1995 | Moora  | 2016 | Moora |
| 1975 | Rockingham | 1996 | Carnarvon  | 2017 | Kalgoorlie  |
| 1976 | Kalgoorlie | 1997 | Bunbury  | 2018 | Mandurah |
| 1977 | Bunbury | 1998 | Katanning  | 2019 | Karratha |
| 1978 | Port Hedland | 1999 | Northam  | 2020 | Geraldton |
| 1979 | Narrogin | 2000 | Harvey  | 2021 | Mt Barker |

Year

Host

Region

2020

Geraldton

 

Mid-West

2021

Mt Barker

 

Great Southern

2022

Carnarvon

 

Gascoyne

2023

Northam

 

Wheatbelt

2024

Kalgoorlie

 

Goldfields

2025

TBC

 

South West

2026

TBC

 

Pilbara

2022 A Grade
Peel Aquatic
Bunbury
Geraldton 
Mandurah
Pinjarra
Australind

2022 B Grade
Albany
Moora
GMAS
Busselton
Northam
Exmouth
 

2022 C Grade
Kalgoorlie
Mt Barker
Narrogin
Wagin
Karratha
Carnarvon
 

2022 D Grade
Hedland
Manjimup
York
Collie
Tom Price
Gingin/Toodyay
 

2022 E Grade
Wongan Hills
Harvey
Dalwallinu
Wickham
Paraburdoo
Waroona