Swimming WA's competition structure is aligned with the Swimming WA swimming membership categories. 
Each tier represents the reasons that the swimmer is participating for and the over-arching principle for the meets within that tier. 
Swimming WA oversee events up to and including tier 3, the top 2 tiers are run by Swimming Australia and/or FINA.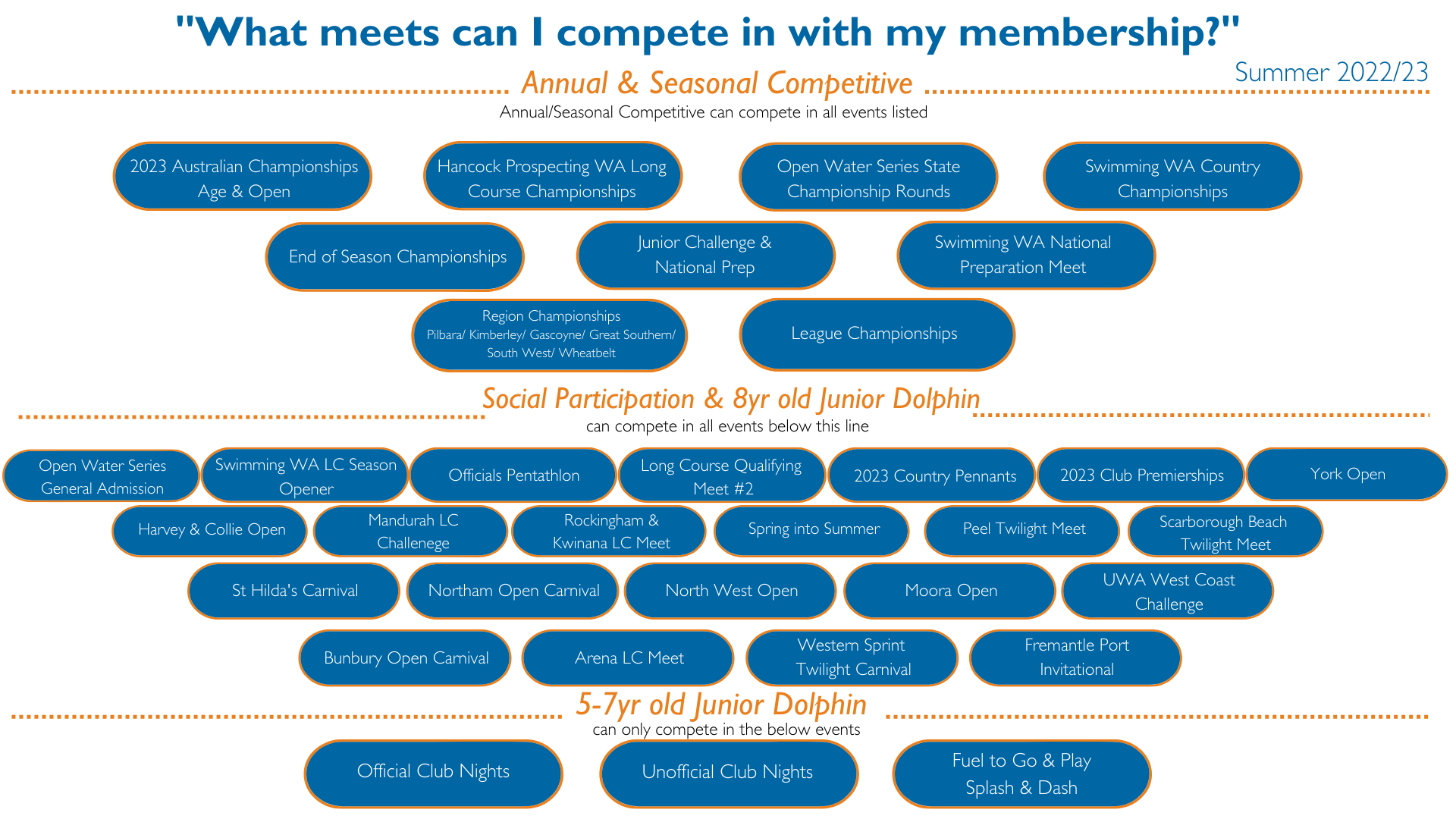 Competition changes 2022/2023 season
During summer 2022, Swimming WA sought expression of interests to conduct a review of the competition structure. This advisory group was comprised of four coaches (including two regional), two technical officials, one athlete, three SWA staff, three zone representatives, and two region representatives. The group for regularly over a period of 4months. The new framework as a whole has the key purposes to; increase junior participation and opportunities to swim at a major event, retain 14 - 17 year olds, which have a significate drop-out rate, improve regional opportunities and pathways, increase opportunities for 'representation' for a wider range of swimmers, reduce volunteer burden, provide clarity and alignment with Membership categories, provide development opportunities for coaches and officials. 

 

This coming season swimmers turning 8, or already are 8 years old will have the ability to compete in competitions from Tiers 5-8. 

The events these young swimmers will compete in are as follows;

50m Freestyle

50m Backstroke

50m Breaststroke

50m Butterfly

100m Freestyle

100m Individual Medley (SC pools) 

 

They will be competing in a combined 8-9 year age group for season 22-23. 

8year olds cannot compete in Championship events, but can be included if the host club holds Fuel to Go & Play Splash and Dash events during the meet. 
Qualifying & AA Times Long Course 22/23
Male

 

14yrs

15yrs

16yrs

17yrs

18yrs

Open

Freestyle

50m

0:28.93

0:28.06

0:27.48

0:26.91

0:26.62

0:25.40

 

100m

1:03.68

1:01.77

1:00.50

0:59.23

0:58.58

0:56.38

 

200m

2:18.21

2:14.07

2:11.30

2:08.54

2:07.15

2:03.97

 

400m

4:55.78

4:46.91

4:41.00

4:35.08

4:32.12

4:24.01

 

800m

10:11.75

9:53.54

9:41.41

9:29.27

9:23.21

9:09.35

 

1500m

19:29.67

18:54.87

18:31.67

18:08.47

17:56.87

17:29.52

Backstroke

50m

0:33.57

0:32.58

0:31.58

0:30.93

0:30.49

0:29.54

 

100m

1:12.09

1:09.95

1:07.81

1:07.08

1:06.37

1:03.88

 

200m

2:37.04

2:32.33

2:27.62

2:26.04

2:24.48

2:19.31

Breaststroke

50m

0:36.85

0:35.77

0:34.69

0:34.34

0:33.98

0:32.47

 

100m

1:21.22

1:18.80

1:16.38

1:15.57

1:14.77

1:11.03

 

200m

2:57.34

2:52.10

2:46.86

2:45.12

2:43.38

2:34.41

Butterfly

50m

0:30.84

0:29.91

0:28.99

0:28.68

0:28.38

0:27.70

 

100m

1:09.24

1:07.17

1:05.09

1:04.39

1:03.70

1:01.42

 

200m

2:35.69

2:31.02

2:27.90

2:24.79

2:23.23

2:18.12

Ind. Medley

200m

2:38.01

2:33.27

2:30.11

2:26.95

2:25.37

2:18.89

 

400m

5:41.82

5:31.56

5:24.73

5:17.89

5:14.48

5:01.00

Freestyle Relay

4x50m

1:55.56

1:51.24

 

 

 

4x100m

4:01.92

 

4:16.98

 

4x200m

 

 

 

 

 

9:20.92

Medley Relay

4x50m

2:15.00

2:10.68

 

 

 

4x100m

4:32.16

 

4:44.63

Female

 

13yrs

14yrs

15yrs

16yrs

17yrs

Open

Freestyle

50m

0:31.70

0:32.00

0:30.56

0:30.23

0:29.92

0:29.22

 

100m

1:09.09

1:07.71

1:06.01

1:05.32

1:04.63

1:02.18

 

200m

2:28.88

2:25.90

2:25.26

2:23.29

2:21.80

2:16.27

 

400m

5:14.91

5:08.61

5:05.46

5:02.32

4:59.16

4:48.22

 

800m

10:44.06

10:31.29

10:15.05

10:08.67

10:02.28

9:55.64

 

1500m

20:26.93

20:02.61

19:41.50

19:29.33

19:17.17

18:42.96

Backstroke

50m

0:37.52

0:36.44

0:35.72

0:35.36

0:35.00

0:33.02

 

100m

1:19.32

1:17.00

1:15.45

1:14.68

1:13.91

1:11.07

 

200m

2:51.90

2:46.86

2:43.52

2:41.84

2:40.16

2:33.73

Breaststroke

50m

0:42.00

0:40.79

0:39.98

0:39.58

0:39.17

0:37.29

 

100m

1:30.41

1:27.72

1:25.93

1:25.03

1:24.14

1:20.29

 

200m

3:14.65

3:08.85

3:05.00

3:03.06

3:01.13

2:53.50

Butterfly

50m

0:34.83

0:33.83

0:33.15

0:32.82

0:32.48

0:30.90

 

100m

1:15.85

1:13.60

1:12.09

1:11.34

1:10.59

1:08.48

 

200m

2:51.44

2:46.37

2:42.99

2:41.29

2:39.61

2:32.58

Ind. Medley

200m

2:50.53

2:45.41

2:42.00

2:40.30

2:38.59

2:33.61

 

400m

6:03.99

5:53.07

5:45.79

5:42.15

5:38.51

5:27.89

Freestyle Relay

4x50m

2:07.44

2:03.12

 

 

 

4x100m

4:31.08

 

4:16.98

 

4x200m

 

 

 

 

 

9:20.92

Medley Relay

4x50m

2:21.48

2:17.16

 

 

 

4x100m

5:00.24

 

4:44.63

Male

 

9yrs

10yrs

11yrs

12yrs

13yrs

14yrs

15yrs

16yrs

17yrs

18yrs

19-20yrs

20

Open

Freestyle

50m

0:54.00

0:53.00

0:52.00

0:49.00

0:39.00

0:31.07

0:30.14

0:29.52

0:28.90

0:28.59

0:28.03

0:28.03

0:26.81

 

100m

1:57.00

1:37.00

1:27.00

1:25.00

1:16.00

1:08.40

1:06.35

1:04.98

1:03.62

1:02.92

1:02.24

1:02.24

0:59.51

 

200m

3:50.00

3:15.00

2:28.45

2:24.00

2:21.03

2:18.06

2:16.57

2:16.18

2:16.18

2:10.85

 

400m

 

 

5.38.00

5:17.69

5:08.16

5:01.81

4:55.46

4:52.28

4:51.19

4:51.19

4:38.68

 

800m

 

 

11:30.00

10:57.06

10:37.51

10:24.48

10:11.44

10:04.93

9:57.32

9:57.32

9:39.87

 

1500m

 

 

 

 

 

20:56.31

20:18.93

19:54.02

19:29.10

17:56.87

19:02.11

19:02.11

18:27.82

Backstroke

50m

1:02.00

1:00.00

0:53.00

0:51.00

0:50.00

0:36.06

0:34.99

0:33.92

0:33.22

0:32.75

0:32.30

0:32.30

0:31.18

 

100m

1:54.00

1:48.00

1:30.00

1:17.43

1:15.13

1:12.83

1:12.05

1:11.29

1:09.85

1:09.85

1:07.42

 

200m

 

3:20.00

2:48.67

2:43.61

2:38.55

2:36.86

2:35.18

2:32.35

2:32.35

2:27.05

Breaststroke

50m

1:06.00

1:04.00

0.59.00

0.57.00

0:52.00

0:39.58

0:38.42

0:37.26

0:36.88

0:36.50

0:35.50

0:35.50

0:34.27

 

100m

2:17.00

2:06.00

1:53.00

1:42.00

1:27.24

1:24.64

1:22.04

1:21.17

1:20.31

1:17.72

1:17.72

1:14.97

 

200m

 

3:45.00

 

3:10.48

3:04.85

2:59.22

2:57.35

2:55.48

2:48.83

2:48.83

2:42.99

Butterfly

50m

1:01.00

0:59.00

0:55.00

0:53.00

0:49.00

0:33.12

0:32.13

0:31.14

0:30.80

0:30.48

0:30.29

0:30.29

0:29.23

 

100m

2:04.00

1:45.00

1:32.00

1:14.37

1:12.15

1:09.91

1:09.16

1:08.42

1:07.17

1:07.17

1:04.84

 

200m

 

3:20.00

2:47.22

2:42.21

2:38.86

2:35.51

2:33.84

2:31.04

2:31.04

2:25.79

Ind. Medley

100m

 

 

 

 

 

 

 

 

 

 

 

 

 

Ind. Medley

200m

4:00.00

3:35.00

3:28.00

2:49.71

2:44.62

2:41.23

2:37.83

2:36.14

2:33.29

2:33.29

2:26.61

 

400m

 

 

 

 

6:20.00

6:07.14

5:56.12

5:48.78

5:41.44

5:37.77

5:32.19

5:32.19

5:17.72

Freestyle Relay

4x50m

 

 

 

2:04.12

1:59.48

 

 

 

 

 

4x100m

 

 

4:19.84

 

 

 

4:31.26

 

4x200m

 

 

 

 

 

 

 

 

 

 

 

 

9:52.09

Medley Relay

4x50m

 

 

 

2:25.00

2:20.36

 

 

 

 

 

4x100m

 

 

4:52.32

 

 

 

5:00.44

Female

 

9yrs

10yrs

11yrs

12yrs

13yrs

14yrs

15yrs

16yrs

17yrs

18-19yrs

19

Open

Freestyle

50m

0:54.00

0:53.00

0:52.00

0:49.00

0:31.70

0:32.00

0:32.82

0:32.47

0:32.14

0:31.95

0:31.95

0:30.84

 

100m

1:57.00

1:37.00

1:27.00

1:25.00

1:14.21

1:12.73

1:10.90

1:10.16

1:09.42

1:08.03

1:08.03

1:05.63

 

200m

3:50.00

2:28.88

2:36.71

2:36.02

2:33.90

2:32.30

2:29.06

2:29.06

2:23.84

 

400m

 

 

5:55.00

5:38.24

5:31.47

5:28.09

5:24.71

5:21.32

5:15.30

5:15.30

5:04.24

 

800m

 

 

12:00.00

11:31.77

11:18.05

11:00.61

10:53.76

10:46.89

10:37.81

10:37.81

10:28.73

 

1500m

 

 

 

 

21:57.81

21:31.69

21:09.02

20:55.95

19:17.17

20:28.48

20:28.48

19:45.34

Backstroke

50m

1:02.00

1:00.00

0:53.00

0:51.00

0:37.52

0:39.14

0:38.37

0:37.98

0:37.59

0:36.10

0:36.10

0:34.85

 

100m

1:54.00

1:50.00

1:25.20

1:22.70

1:21.04

1:20.21

1:19.38

1:17.72

1:17.72

1:15.02

 

200m

 

3:22.00

2:51.90

2:59.22

2:55.63

2:53.83

2:52.02

2:48.12

2:48.12

2:42.27

Breaststroke

50m

1:06.00

1:04.00

0.59.00

0.57.00

0:42.00

0:43.81

0:42.94

0:42.51

0:42.07

0:40.77

0:40.77

0:39.36

 

100m

2:17.00

2:06.00

1:53.00

1:37.11

1:34.22

1:32.29

1:31.33

1:30.37

1:27.79

1:27.79

1:24.75

 

200m

 

3:45.00

3:14.65

3:22.84

3:18.70

3:16.62

3:14.55

3:08.99

3:08.99

3:03.13

Butterfly

50m

1:01.00

0:59.00

0:55.00

0:53.00

0:34.83

0:36.34

0:35.61

0:35.25

0:34.89

0:33.80

0:33.80

0:32.62

 

100m

2:04.00

1:45.00

1:21.47

1:19.05

1:17.43

1:16.62

1:15.82

1:14.84

1:14.84

1:12.28

 

200m

 

3:55.00

2:51.44

2:58.69

2:55.06

2:53.24

2:51.43

2:46.86

2:46.86

2:41.05

Ind. Medley

100m

 

 

 

 

 

 

 

 

 

 

 

 

Ind. Medley

200m

4:00.00

3:35.00

2:50.53

2:57.66

2:54.00

2:52.17

2:50.34

2:48.02

2:48.02

2:42.15

 

400m

6:07.14

5:56.12

5:48.78

5:41.44

6:30.95

6:19.22

6:11.40

6:07.49

6:03.58

5:58.64

5:58.64

5:46.11

Freestyle Relay

4x50m

 

 

2:16.88

2:12.24

 

 

 

 

 

4x100m

 

4:51.16

 

 

 

4:31.26

 

4x200m

 

 

 

 

 

 

 

 

 

 

 

9:52.09

Medley Relay

4x50m

 

 

2:31.96

2:27.32

 

 

 

 

 

4x100m

 

5:22.48

 

 

 

5:00.44