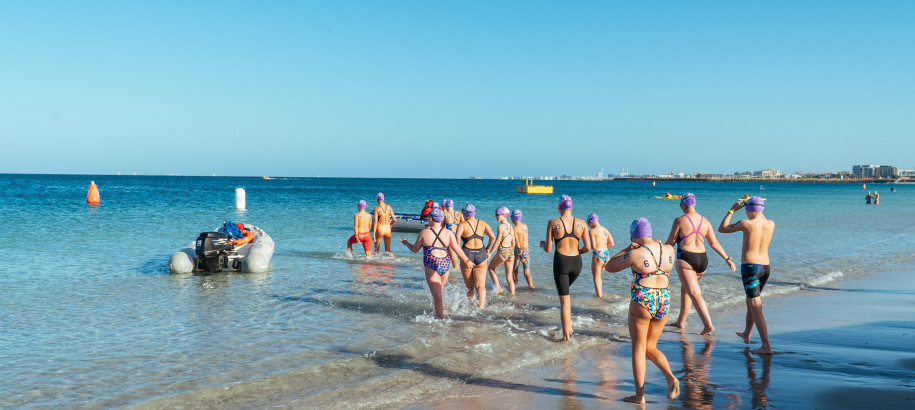 Date & Time
Fri, 24/11/2023 to Fri, 24/11/2023
8:45am - 1pm
Location
Coogee Beach (near the Surf Life Saving Club)
Event Details
Swimming WA runs the largest most successful Open Water Swimming Series. Long distance swimming in Western Australia originated in the early 1900's with the Perth Swim Thru. However, until the 1991 FINA World Championships where Perth's very own Shelley Taylor Smith claimed gold for Australia, did it gain popularity.
It wasn't until 2006 when Swimming WA created the Open Water Swimming Series that 'OWS' began to come to fruition. In the first season of the series, Swimming WA with the assistance of The Water Corporation, held four events with 796 entries across the entire series.
The average per swim was 199 participants. Fast forward almost 20 years and Swimming WA are still successfully running the Open Water Swimming Series across 10 locations, and have 6000 entries across the series. Average per swim being 600 participants.
What is Swimming WA Offering?
The Open Water Swimming Series is looking to expand into the next generation, and highlight a different avenue for those who may not have the strength for competitive pool swimming. Swimming WA is launching the OWS Secondary Schools Competition. Open to ALL secondary schools.
Event:
When: 24 November 2023 at Coogee Beach starting at 9.30am.
Cost: 
Minimum 4 swimmers entry $150 (including 1 of the individual events, plus relay for each swimmer). Additional swimmers can be added for $50 each. Additional relay teams will be free. If your school would like to submit a large team (20+ swimmers, please contact Swimming WA for pricing). 
Estimated timing:
Registrations open 8.45am
Water briefing 9.25am
9.30am 250m starts
9.45am 500m starts
9.50am 1kg starts
10.20am Individual medals
10.45am relays start
11.40am end of event Awards
12pm sausage sizzle
1pm beach clear
Inclusions:
Swimming WA will provide Swim Caps to all swimmers from all schools. Water and fruit will be provided to swimmers post swim/s. Dedicated photographer and announcer for the duration of the event. Numbered tattoo & tracking timing chip.
Competition Rules:
Swimming WA will develop a set of defined competition rules which align with its current Open Water Swimming Series rules, with an emphasis on participation. Inclusive swimwear will be supported (i.e., rashies, wetsuits etc).
Safety:
Swimming WA has been running these events safely for years, we have the best knowledge and safeguards in place. However, as these are our next generation athletes we are committed to extra safety measures. All athletes will have timing chips which will track their location. We will have local surf life savers, and we will collaborate with Surf Life Saving WA for professional life guard assistance. Swimming WA are a SunSmart organisation, and will have dedicated SunSmart stations for reapplication of sunscreen. Race Marshalls: Swimming WA will provided race marshals for the event. Swimming WA are happy to share their risk management documentation for these events upon request. 
Age Groups:
There will be 3 age categories with female and male division for each of the below age categories. 1) years 7 & 8. 2) years 9 & 10. 3) years 11 & 12.
Medals and Awards:
Medals will be awarded to the first three (3) swimmers in each age group. A shield will be awarded to the top overall school with points at the conclusion of the last medal and award presentation.
Swimming WA will introduce participation awards for the event:
1) Sportsmanship Award - 20 Points. Swimming WA will individually choose for a sportsmanship award based on a swimmer going out of his/her way to help others. This will be made based on recommendation by Swimming WA Staff, Officials and School Teachers.
2) SPIRIT Award - 20 Points. The SPIRIT Award will be awarded to the school which demonstrates the Swimming WA values of; Safety, Passion, Integrity, Respect, Inclusion and Teamwork throughout the event.
Nominations:
To be submitted via the school unless otherwise discussed with Swimming WA.