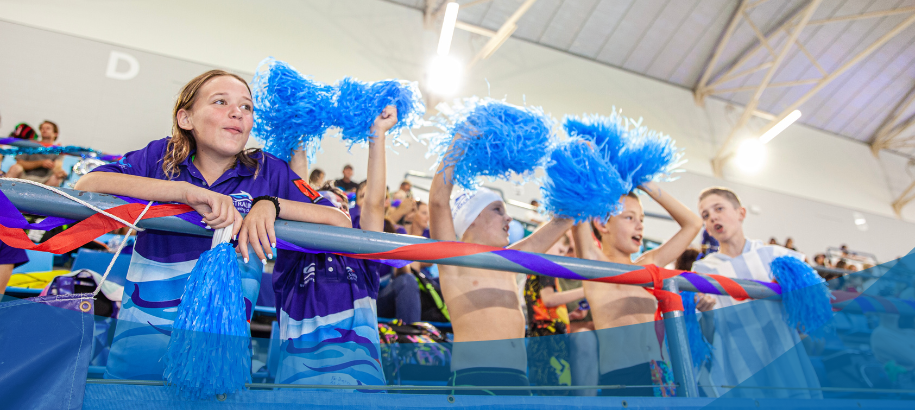 Date & Time
Sun, 03/12/2023 to Sun, 03/12/2023
Location
South West Sports Centre
Event Details
Entries will open 1 month from the first day of competition.
Warm-Up         8.00am – 8.30am
Start Time         9.00am
Entries Close Friday 24th November
Medals will be awarded for 1st, 2nd and 3rd placings in all age groups for 50m & 100m events:
9yrs, 10yrs, 11yrs, 12yrs, 13yrs, 14yrs, 15yrs, 16yrs & 17yrs & Over.  200m events will be awarded medals in their divisions.  400m and above event medals will be awarded as per an Open event. (Male Medals/Female Medals).  Inter Club Relays:  The winning Club will be award with the Perpetual Trophy to be retained until the next South West Region Open Carnival plus a replica trophy to keep permanently.  Swimmers /Teams who break Meet Records will receive Record Certificates. 8 Year olds are only able to compete in 50m Backstroke, Breaststroke & Freestyle Splash & Dash Events.  8 Year Olds will receive a participation award. 

All Events will be conducted as timed finals.  Cut off times for the 400m Freestyle (6.00:00), 400m IM (6.30:00) and 800m Freestyle (12.00:00) Event 54 is the Interclub Relay.  ONLY 1 Team per club.  Each team is to consist of 6 swimmers, with at least one boy or one girl.  The cumulative age of the swimmers in the relay team must be 80 years or less.  Event 51,52 & 53 are Mixed Age Group Relays and they must consist of one boy or girl.  Relays are to be nominated with Individual entries.  Changes to ALL relay's swimmer names are to be submitted on the day (prior to 10.00am).  After names have been submitted there will be NO Reshuffle of relays allowed, unless there is a legitimate reason for the swimmer to withdraw and it will be at the Referees discretion to allow a replacement.
Warm -Up is from 8:00AM til 8:30 AM.  The presentation of the South West Region Squad will take place at 8.45am.
Pool Entry will be collected at the venue on the day.
1 Mixed 11 & Over 400 Freestyle
2 Boys 9 & Over 100 Backstroke
3 Girl 9 & Over 100 Backstroke
4 Mixed 50 Backstroke Multi-Class
5 Mixed 8 Year Olds 50 Backstroke Splash & Dash
6 Boys 9-12 50 Backstroke
7 Girl 9-12 50 Backstroke
8 Boys 9 & Over 200 Freestyle
9 Girls 9 & Over 200 Freestyle
10 Boys 13-15 50 Backstroke
11 Girls 13-15 50 Backstroke
12 Boys 16 & Over 50 Backstroke
13 Girls 16 & Over 50 Backstroke
14 Boys 9 & Over 100 Butterfly
15 Girls 9 & Over 100 Butterfly
16 Mixed 10 & Over 50 Butterfly Multi-Class
17 Boys 9-12 50 Butterfly
18 Girls 9-12 50 Butterfly
19 Boys 9 & Over 200 Backstroke
20 Girls 9 & Over 200 Backstroke
21 Boys 13-15 50 Butterfly
22 Girls 13-15 50 Butterfly
23 Boys 16 & Over 50 Butterfly
24 Girls 16 & Over 50 Butterfly
25 Mixed 50 Breaststroke Multi-Class
26 Mixed 8 Year Old 50 Breaststroke Splash & Dash
27 Boys 9-12 50 Breaststroke
28 Girls 9-12 50 Breaststroke
29 Boys 9 & Over 200 IM
30 Girls 9 & Over 200 IM
31 Mixed 11 & Over 400 IM
32 Boys 13-15 50 Breaststroke
33 Girls 13-15 50 Breaststroke
34 Boys 16 & Over 50 Breaststroke
35 Girls 16 & Over 50 Breaststroke
36 Boys 9 & Over 100 Breaststroke
37 Girls 9 & Over 100 Breaststroke
38 Mixed 50 Freestyle Multi-Class
39 Mixed 8 Year Old 50 Freestyle Splash & Dash
40 Boys 9-12 50 Freestyle
41 Girls 9-12 50 Freestyle
42 Boys 9 & Over 200 Breaststroke
43 Girls 9 & Over 200 Breaststroke
44 Boys 13-15 50 Freestyle
45 Girls 13-15 50 Freestyle
46 Boys 16 & Over 50 Freestyle
47 Girls 16 & Over 50 Freestyle
48 Boys 9 & Over 100 Freestyle
49 Girls 9 & Over 100 Freestyle
50 Mixed 12 & Over 800 Freestyle
51 Mixed 9-12 200 Freestyle Relay
52 Mixed 13-15 200 Freestyle Relay
53 Mixed 9 7 Over 200 Freestyle Relay
54 Mixed 6x50 Freestyle Relay