06 January 2020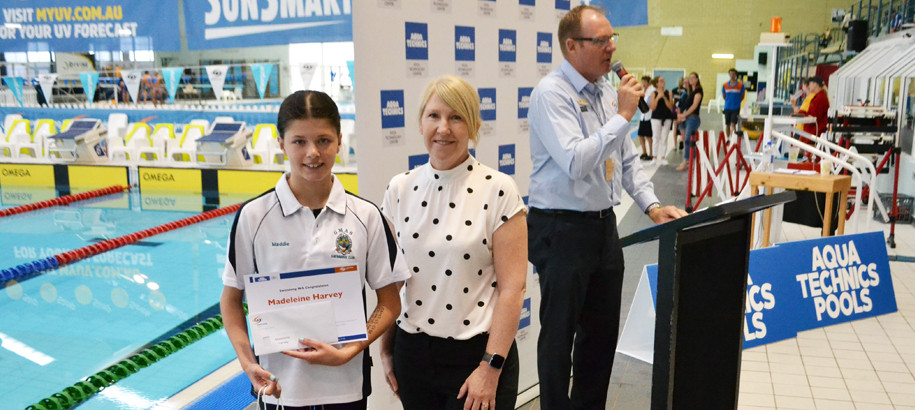 Since 2018, Swimming WA and Silver Level Sponsor, Aqua Technics have presented the Aqua Technics Rising Star Award. The Awards are selected by the Regional Committees across the State and are designed to encourage rising talent and their Clubs. The sport of swimming can be expensive and for swimmers based in Regional WA, the costs can be significant.
As the peak body for swimming in Western Australia, Swimming WA included a section in the SWA Strategic Plan 2019-2024 to assist the Regions to help local families in this area. The sport of swimming is thrilled that Aqua Technics has embraced this concept and is prepared to invest financially in the recognition of these families by providing a small pool of funds that will assist meet costs of coaching, equipment and travel.
The 2020 Aqua Technics Rising Star Award has been established to assist families to meet some of the cost associated with the sport of swimming. The Awards will be the responsibility of each Regional Committee who will recognise one (1) male and one (1) female athlete who live and swim at a Swimming WA Club within their Region. The athlete must be aged between nine (9) and twelve (12) years of age.
The Award is designed to recognise the potential of the athlete who is considered by the Regional Committee to possess talent, that may see them develop into a swimmer that is one of the best within that Region.
The 2020 Aqua Technics Award is awarded to a Junior SWA Club swimmer who:
• Demonstrates leadership "in and out of the water";
• Regularly achieves personal best or times that are considered to be of a high standard for that discipline or stroke;
• Embraces the values and direction of the Club and the Region;
Award Prize: $150 per athlete
Congratulations to the winners listed below, who have been presented their awards on the pool deck, Saturday morning.
• Madeleine Harvey
• Calli Cook
• Sean Alcorn
• Freya Bowyer
• Creed Shephard
• Brodie Edwards
• Conor Langlands
• Monica Gustak
• Xavier Cox
• Holly Bezuidenhout