19 January 2020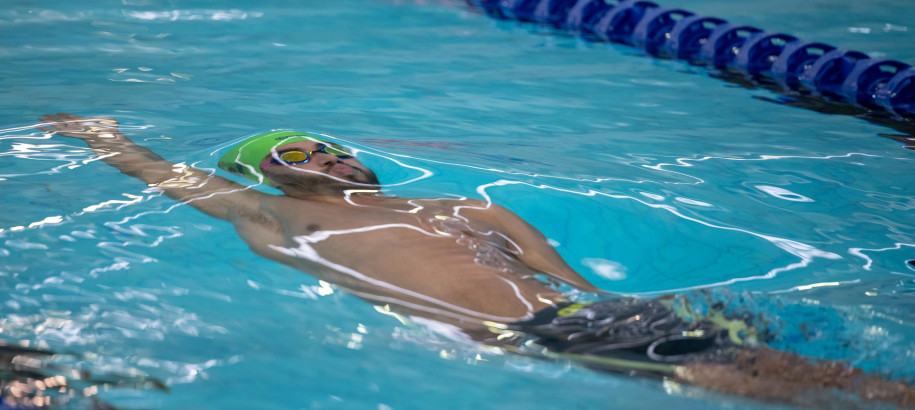 The 2020 Hancock Prospecting Western Australian Swimming Championships were held from 17 - 19 January 2020 at HBF Stadium, and resulted in some outstanding performances displayed by WA's stars and up-and-coming swimmers.  The State's best pool swimmers swam against strong competition from interstate visitors (Queensland and Victoria). There were several outstanding individual and team performances.
The third and final night of the 2020 Hancock Prospecting WA Swimming Championships took place this evening at HBF Stadium with WA's Swimming stars once again showcasing their immense talent and determination.
This evening's highlights include;
Men's 200m Breaststroke -
Just as expected, George Harley (Breakers, c: Bud McAllister, WAIS) dominated the 200m Breaststroke from start to finish. Regardless of recent injury mishaps, Harley has been in stellar form throughout the Championships. Harley was out incredibly fast turning through the 100m mark in 1:04.16, and in true Harley fashion, his race continued to build. Harley finished the race in 2:13.94, which is a great sign leading into Tokyo 2020 and beyond. In second was Adriano Todoro (UWA-West Coast, c: Rob Palfery) just ahead of Joshua Agnihotri (Southside Penrhos Wesley, c: Nick Watkins) in 2:31.18.
Women's 200m Freestyle –
The Women's 200m Freestyle saw one of the most exciting events of the entire Championships as a field full of talent raced for glory. Leading through the first 100m was Arna Couper (Perth City, c: Matt Magee) who looked strong and comfortable. Through the 3rd 50m, the field started to tighten as Olivia Lefoe (MLC Aquatic, c: Nick Veliades) and Elyse Weston (Breakers, c: Harry Clark) made their move. The last 50m saw a fantastic finish from Lefoe who (le)flew home to claim Gold in 2:05.38. Couper and Weston tied for 2nd and in turn, both collected the State Title with Charlotte Ericksen (Arena, c: Simon Redmond) claiming Bronze.
Men's 400m Individual Medley –
The Men's 400 IM was set to be one of the greatest races from the outset of the Championships with two giants of the Australian Medley Swimming world on a collision course as Kieren Pollard (North Coast, c: Ian Mills) and David Schlicht (MLC Aquatic, c: Nick Veliades) were set to race. With Pollard narrowly missing his chance in the 200m IM it was clear he was looking to take Gold and make a statement right from the start. Although Schlicht led through the first 100m, Pollard made light work of the visitor in the backstroke leg and swam away to victory. Pollard stormed home to touch in 4:22.77, a fantastic in-season swim to see him continue his dominance over this event. Schlicht touched in 2nd ahead of Christopher Verran (Guildford Kalamunda, c: Brett Tongue).
Women's 200m Individual Medley –
Blair Evans (UWA-West Coast, c: Will Scott, WAIS) continued her incredible form into the final evening of the 2020 Championships, continuing her decade long dominance of WA Swimming. Evans was out strong through the first 100m, however, her breaststroke was the major difference maker as she stretched the field greatly. Evans finished the 200m IM with another State Title touching in 2:15.51, holding off young gun Lauren Gastevich (Arena, c: Simon Redmond) who claimed Silver ahead of Lily Beste (Rockingham, c: Brooke Kemp) in third.
Multi-Class Sprint Challenge -
With one of the deepest fields WA Multi-Class Swimming has seen in recent years, you couldn't help but feel the excitement in the stadium as event 201 lined up behind the blocks. With multiple Paralympians and many more Paralympic hopefuls on the blocks, all eyes were fixed on the Pool. Lane 4's Ben Popham (Arena, c: Simon Redmond) was once again too strong, strengthening his preparation for Paralympic trials in June. In second saw Liam Smith (St Hilda's, c: Deb Jones) who swam valiantly to hold off Teegan Reder (UWA-West Coast, c: Ryan Spencer.
Congratulations to the State Champions for the 2020 Hancock Prospecting WA Swimming Championships:
Ben Popham (Arena, c: Simon Redmond) - Men's 50m Freestyle Multi-Class, Men's 400m Freestyle Multi-Class, Men's 100m Freestyle Multi-Class
Jordan Berryman (UWA-West Coast, c: Ryan Spencer) - Women's 50m Freestyle Multi-Class, Women's 50m Butterfly Multi-Class, Women's 200m Individual Medley Multi-Class, Women's 200m Freestyle Multi-Class, Women's 50m Breaststroke Multi-Class
Holly Barratt (Rockingham, c: Will Scott, WAIS) - Women's 50m Butterfly, Women's 100m Butterfly, Women's 50m Freestyle, Women's 50m Backstroke
Ben Roberts (Breakers, c: Bud McAllister, WAIS) - Men's 400m Freestyle, Men's 800m Freestyle, Men's 1500m Freestyle
Winson Chen (UWA-West Coast, c: Rob Palfery) - Men's 100m Breaststroke Multi-Class, Men's 200m Individual Medley Multi-Class
Talara-Jade Dixon (St Hilda's, c: Deb Jones) - Women's 100m Breaststroke, Women's 50m Breaststroke
Nic Brown (UWA-West Coast, c: Michael Palfery, WAIS) - Men's 200m Butterfly
Blair Evans (UWA-West Coast, c: Will Scott, WAIS) – Women's 400m Individual Medley, Women's 200m Breaststroke, Women's 200m Individual Medley
Alex Milligan (UWA-West Coast, c: Michael Palfery, WAIS) - Men's 50m Breaststroke
Brianna Throssell (UWA-West Coast, c: Michael Palfery, WAIS) - Women's 100m Freestyle
Ashton Brinkworth (UWA-West Coast, c: Michael Palfery, WAIS) - Men's 100m Freestyle, Men's 50m Butterfly, Men's 200m Freestyle
Tegan Reder (Victoria Park) - Women's 100m Breaststroke Multi-Class, Women's 400m Freestyle Multi-Class
Colin Jackson (UWA-West Coast, c: Rob Palfery) - Men's 50m Backstroke Multi-Class
Alyssa Burgess (Arena, c: Simon Redmond) - Women's 200m Backstroke, Women's 100m Backstroke
Teegan Watson (UWA-West Coast, c: Michael Shaw) - Women's 800m Freestyle
Joshua Edwards-Smith (UWA-West Coast, c: Michael Shaw) - Men's 50m Backstroke
Kieren Pollard (North Coast, c: Ian Mills) – Men's 200m Individual Medley, Men's 400m Individual Medley
Charlotte Ericksen (Arena, c: Simon Redmond) – Women's 400m Freestyle
Kevin Kalember (Rockingham, c: Will Scott, WAIS) – Men's 200m Backstroke, Men's 100m Backstroke
George Harley (Breakers, c: Bud McAllister, WAIS) – Men's 100m Breaststroke, Men's 200m Breaststroke
Lucinda Foley (UWA-West Coast, c: Rob Palfery) – Women's 100m Freestyle Multi-Class, Women's 100m Backstroke Multi-Class
Jack Perry (Manjimup) – Men's 50m Butterfly Multi-Class, Men's 50m Breaststroke Multi-Class
Jeremy McClure (South Shore, c: Chris Twomey) – Men's 100m Backstroke Multi-Class
Samantha Macfarlane (Breakers, c: Harry Clark) – Women's 1500m Freestyle
Joshua Hofer OAM (Perth City) – Men's 200m Freestyle Multi-Class
Jackson Govers (St Hilda's, c: Deb Jones) – Men's 100m Butterfly
Jonte Blake (UWA-West Coast, c: Michael Palfery, WAIS) – Men's 50m Freestyle
Arna Couper (Perth City, c: Matt Magee) – Women's 200m Freestyle
Elyse Weston (Breakers, c: Harry Clark) – Women's 200m Freestyle
UWA-West Coast - Men's 4x100m Medley Relay, Men's 4x200m Freestyle Relay
St Hilda's - Women's 4x100m Medley Relay, Women's 4x200m Freestyle Relay
Southside Penrhos Wesley – Men's 4x100m Freestyle Relay
Rockingham – Women's 4x100m Freestyle Relay