05 January 2020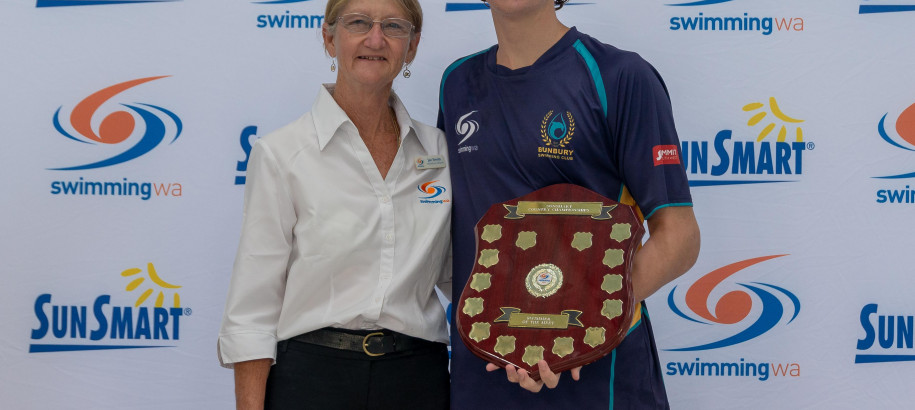 The third and final day of 2020 SunSmart Country Championships once again dazzled as the best swimmers from Regional WA took to the water. With many Champions being crowned, HBF Stadium was alight with a showcase of talented swimmers tearing down the pool.
Some of today's highlights include:
Boys 9 Years 100m Breaststroke –
The Boy's 9 Years 100m Breaststroke saw a tightly contested battle for the Medals with only 2.1 seconds separating Gold from 4th. Kalel Jacinto (Pinjarra) lead the field through the first 50m, however, Alexander Travasso (Geraldton) was too strong, steaming home to touch in 1:44.25 ahead of Jacinto (1:45.04) and Thomas Blandford (Bunbury) who finished in 1:45.86.
Women's 100m Backstroke –
There was another cracking race in the Women's 100m Backstroke with Sophia Hays (Mandurah) coming away with an absolute nail-biter. Hays was trailing through the first 50m behind Kaylee Cleggett (Bunbury), however, Hays motored home to claim Gold in 1:19.14, ahead of Hays and Amie Holwill (Australind) with only 0.5 seconds separating the trio.
Girl's 14 Years 100m Breaststroke –
In the Girl's 14 Years 100m Breaststroke, Amy Kerr was a class above the rest as she went for the win right from the start. Kerr powered down the first 50m, turning in 37.10, over 1.5 seconds ahead of second place. Kerr's unassailable lead allowed her to cruise to victory, just outside her personal best, touching in 1:19.35 ahead of Summer Houston (Peel) and Caitlin Leather (Peel).
2020 SunSmart Country Championships Swimmer of the Meet - 
With the SunSmart Country Championships finalised for another year, it was time to present the 2020 Swimmer of the Meet. In what was a tightly contested battle, with only 2 points separating first from third, the incredible Kyle Lee (Bunbury) was crowned Champion. Lee's immense efforts saw him compete in 14 events, winning 12 gold, 2 silver and 1 bronze medals. Lee who has become a superstar in Country Swimming continues to develop into an exceptional athlete, competing on the highest level. The unofficial King of Bunbury has been dominating swimming in WA and now adds another statistic to his loaded resume.
With all events now concluded, you can't help but feel excited about the future of Country Swimming in Western Australia as a pool of talent has proven themselves over the past days. With an ever-growing support network for regional swimming and some very exciting opportunities developing, it is a fantastic time to be a part of Country Swimming and the next 18 months will be instrumental in the development of some incredible Clubs and athletes.
Once again, we would like to thank the generosity of the Swimming WA Officials and volunteers who give up their time to ensure the success of Championships meets such as this.