28 February 2022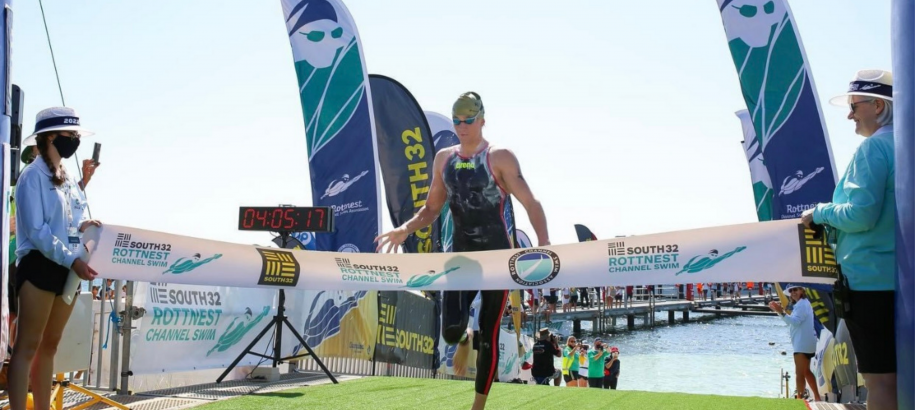 The 2022 South32 Rottnest Channel Swim produced the most nail-biting finish in the iconic event's history.
With 10-18 knot southerly winds, everyone involved including swimmers, paddlers, skippers and officials had to work hard during the famous 19.7km stretch from Cottesloe Beach to Thompson's Bay.
With a wide range of the WA's best open water swimming stars having a crack across all categories for 2022, it was anyone's guess who would cross the line first.
Here is our recap of the 2022 South32 Rottnest Channel Swim!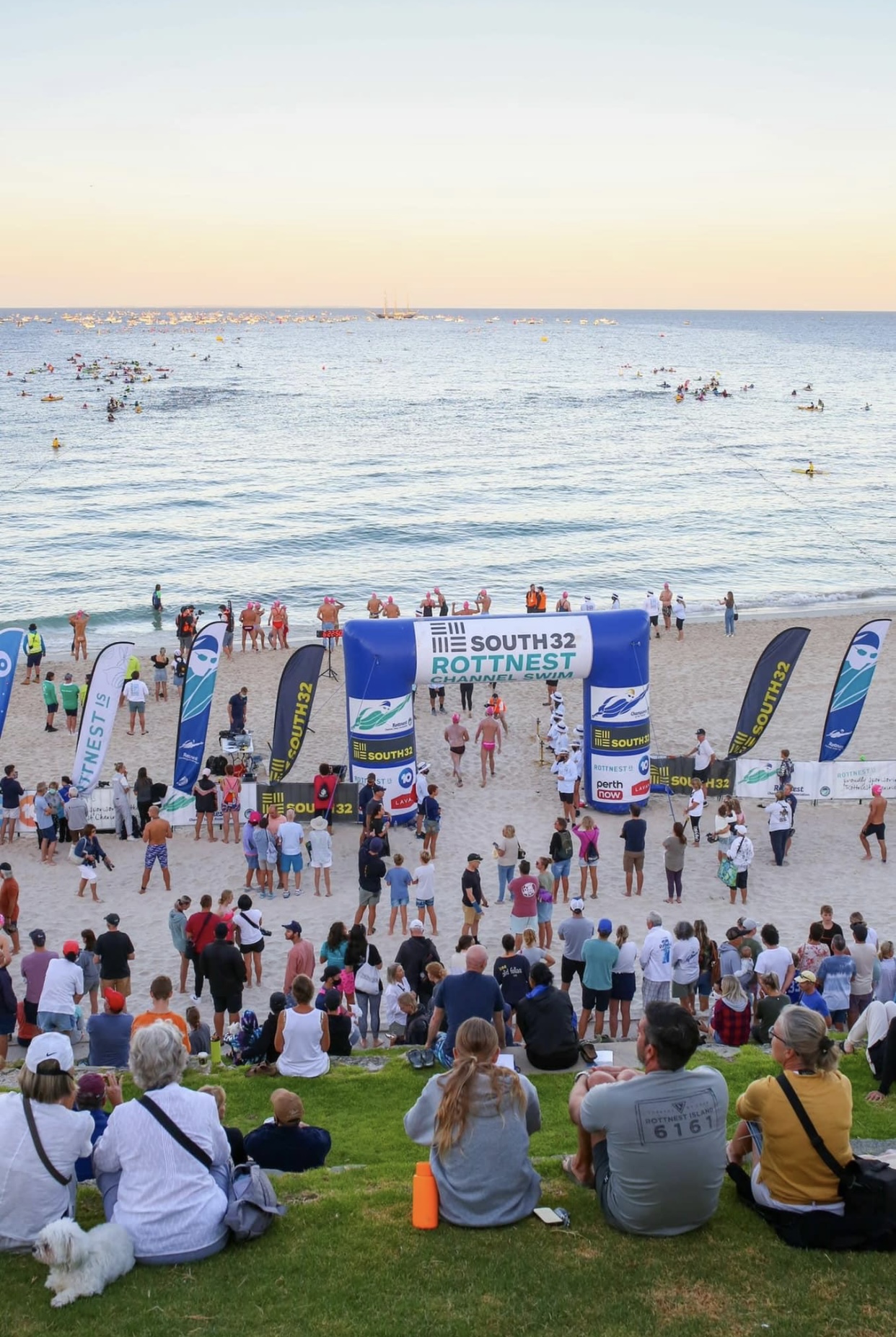 Men's Solo
Boy, was this close.
Throughout the entire men's 19.7km solo race, it was two stars from North Coast Swimming Club who were inseparable.
Kyle Lee (20) and Reilly Kennedy (22) demonstrated their elite open water swimming skills under the coaching brilliance of Ian Mills, with the two never more than 50m apart throughout the entire race.
After recently claiming a bronze medal in the Men's 10km and a silver medal in the 5km during the Australian Open Water Swimming Championships in January, Kyle Lee went into the event with added pressure as the red-hot favourite following his performances in Adelaide.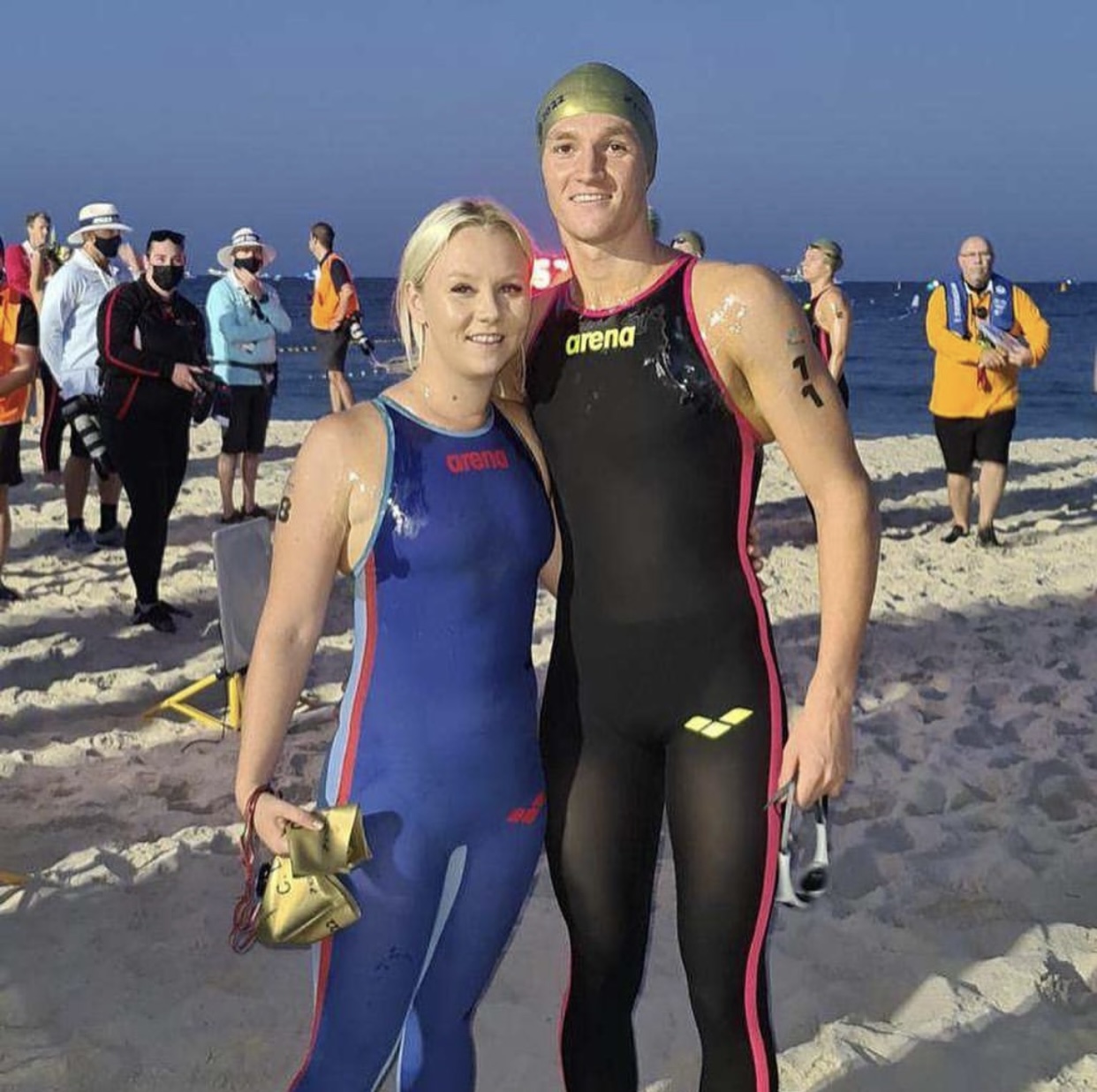 At the 5km mark, it was Reilly Kennedy in the lead by around 30m, followed by Jack Wilson in second place, closely followed by Kyle Lee. By the 10km mark, Lee had started to make his move, now around 20m behind Kennedy, with Wilson 50m further back in third.
It was clear that Kennedy and Lee were taking advantage of the strong south-easterly surface wind and a racing course slightly south of the direct rum line. As the two went through the 10km mark in under two hours. By 15km, both North Coast Swim Club stars were alongside each other, with Wilson dropping back around 400m in third place.
As both Lee and Kennedy battled each other and the choppy conditions, it was always going to come down to a gruelling sprint finish, the first in Rottnest Channel Swim history. With 700m to go, Lee had moved in front by only a few metres, as the paddlers for both competitors were screaming on their swimmers.
What followed was the two stars providing a sprinting spectacle watched by thousands of cheering fans from the shore on Rottnest Island.
In the end, it was Kyle Lee who showed his incredibly finishing power, putting the hammer down when it mattered most to gain a narrow 20m lead over Reilly Kennedy. Lee gathered his footing first and ran up the finish ramp to claim his first solo victory in a stunning time of 4:05.19, after finishing third in 2021.
It was remarkably only six minutes slower than the record solo time of 3:59.28 set by Solomon Wright in 2018, a year which saw much better conditions, with a howling easterly wind and low swell assisting all swimmers across to Rottnest Island. 
A mere 12 seconds behind Lee came Reilly Kennedy in second place, with the two young friends embracing each other in a bear hug across the line, appearing completely exhausted.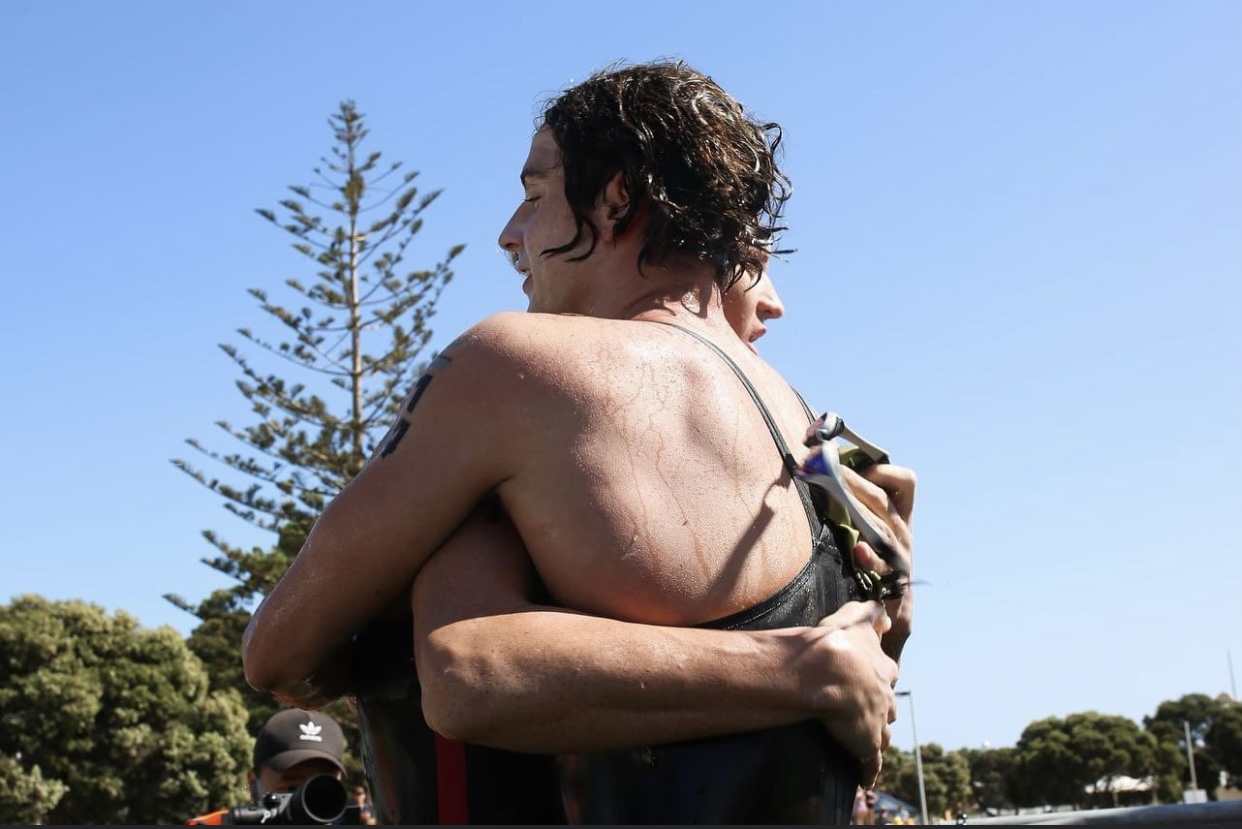 It was 18-year-old Westside Christ Church Aquatic star, Max Coten, crossing the line in third place in a brilliant time of 4:16.17, made all the more impressive considering Coten did not start in the Champions of the Channel wave that left Cottesloe Beach first. He crossed narrowly ahead of North Coast Swim Club's Jack Wilson, finishing fourth in a time of 4:18.08.
It is highly unlikely we will ever see a finish as close as this between the first two soloists again, an incredible sight given the difficult conditions on the day.
Congratulations to all male soloists and well done Kyle Lee!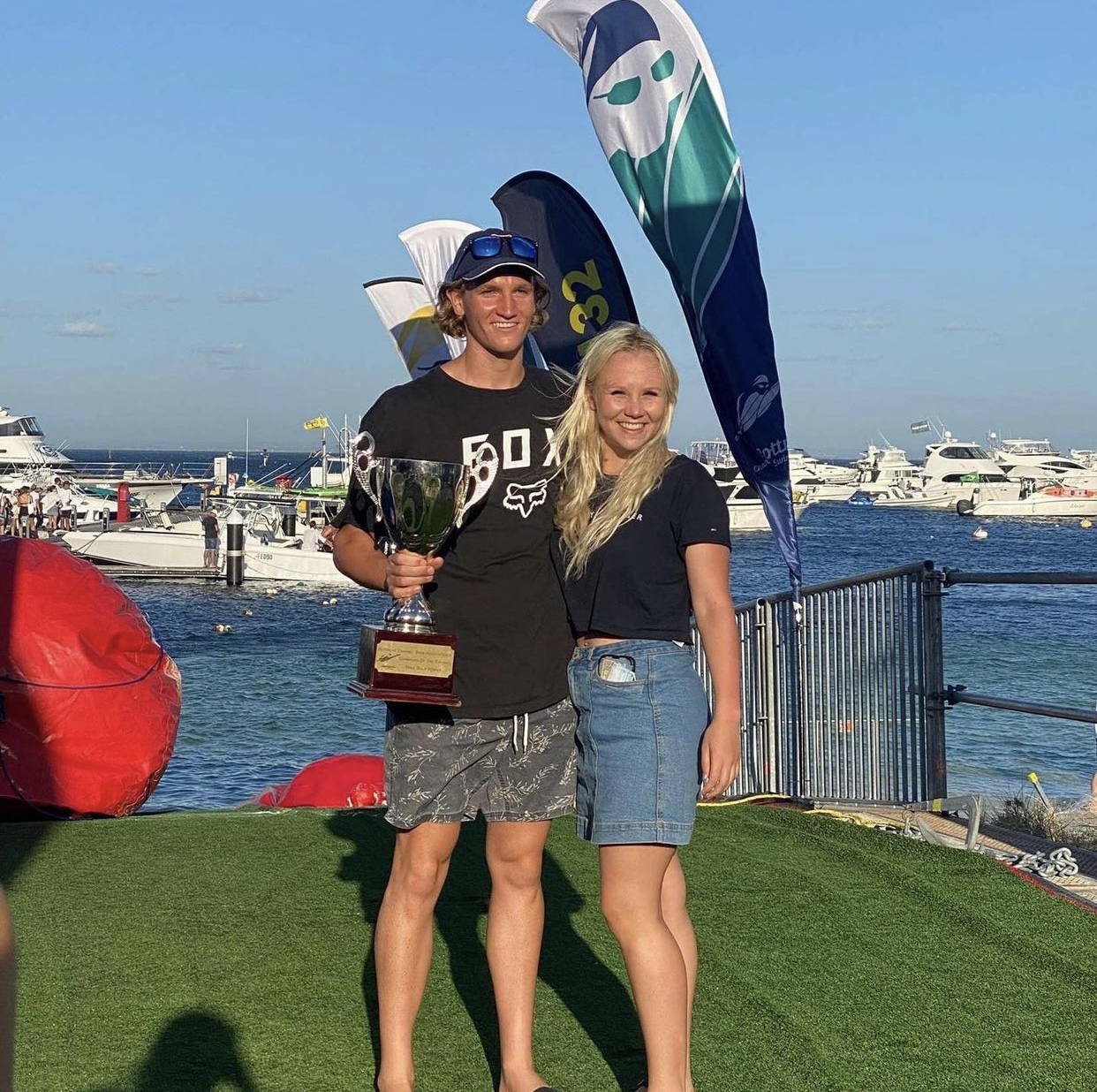 Women's Solo
It's not been an easy year for Chloe Truscott.
After battling glandular fever last year which kept her out of the water for a prolonged period of time, 2021 solo winner, Chloe Truscott, had to work remarkably hard under the coaching of Ian Mills at North Coast Swim Club to build up her fitness and endurance leading into her 2022 solo attempt.
After claiming the WA state titles in the 10km and 7.5km open water swimming events late last year, Truscott (23) skipped the Australian Open Water Swimming Championships in Adelaide and honed her focus on defending her solo victory.  
From the start, Truscott went out hard to gain some distance over 22-year-old Westside Christ Church swimmer, Josie Page (23), extending her lead out to 100m by the 10km mark.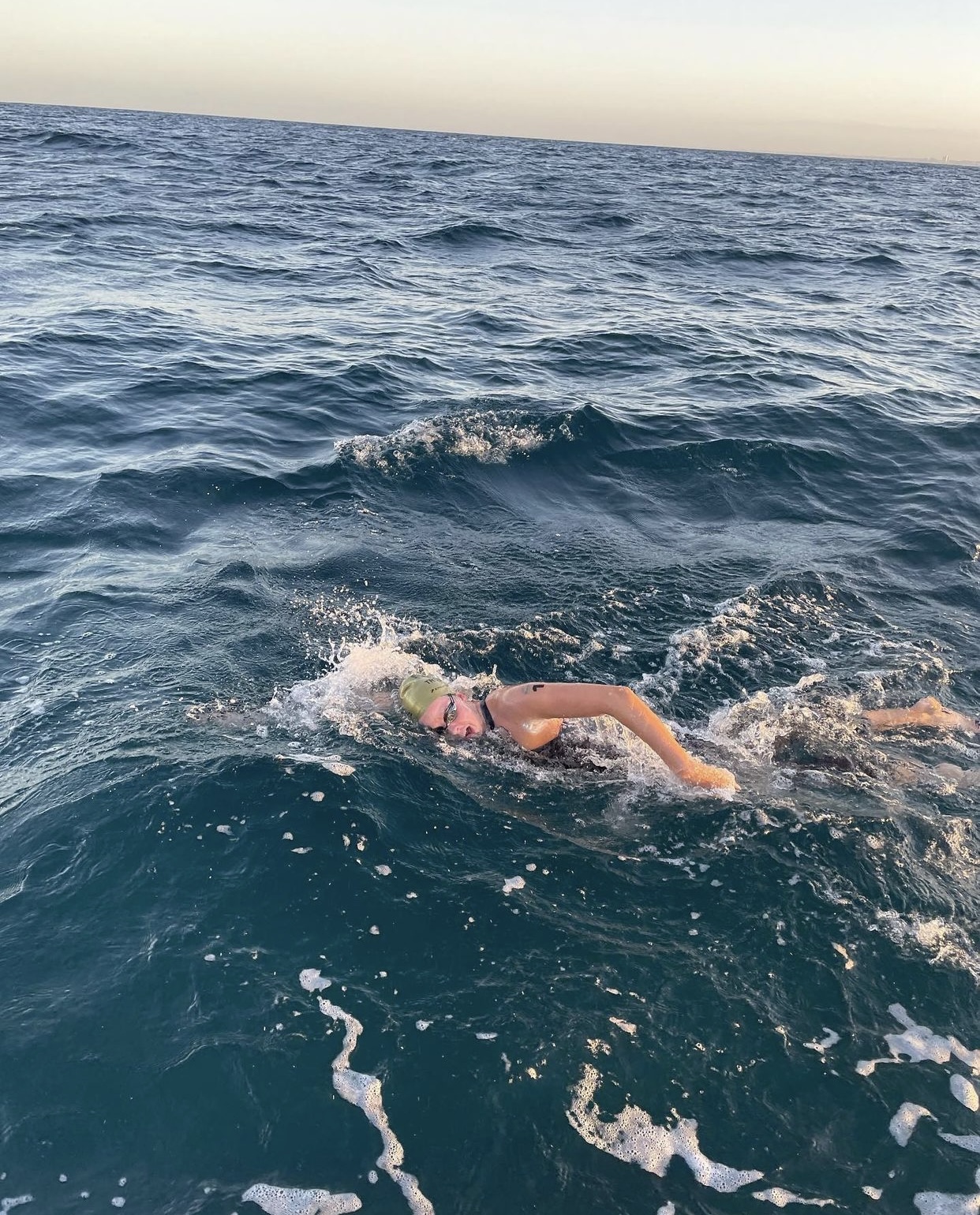 Once the two swimmers headed past the 15km buoy and into rougher conditions as the south-easterly wind picked up, Truscott had the race firmly in her grasp, with a lead of around five minutes over Page.
In the end, Truscott stormed home to claim her second consecutive victory in a time of 4:42.43, six minutes ahead of Page, who backed up her results from 2021 to again claim a brilliant second place in a time of 4:48.49.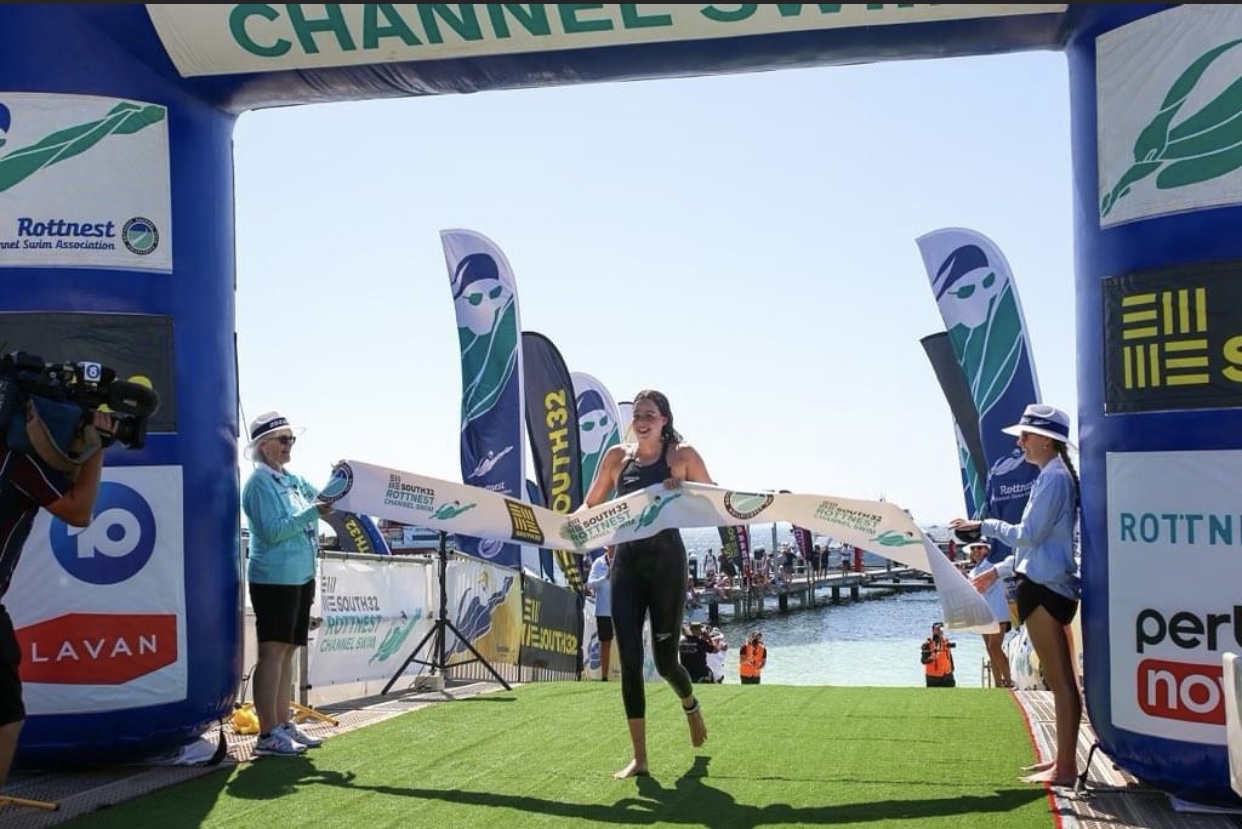 Coming home in third place was 2017 solo winner and Perth City Swimming Club star, Rebekah Weller. The 28-year-old crossed the line in 5:00.31 after a string of recent victories throughout the Open Water Swimming Series.
Coming home strongly in fourth place was 42-year-old Kristy Brackstone, who swam brilliantly and ran under the finish in a time of 5:13.56.
Congratulations to all male and female soloists, paddlers and skippers in 2022, whether you made it all the way or not! It was a tough day on the water and you should all be immensely proud of your achievements.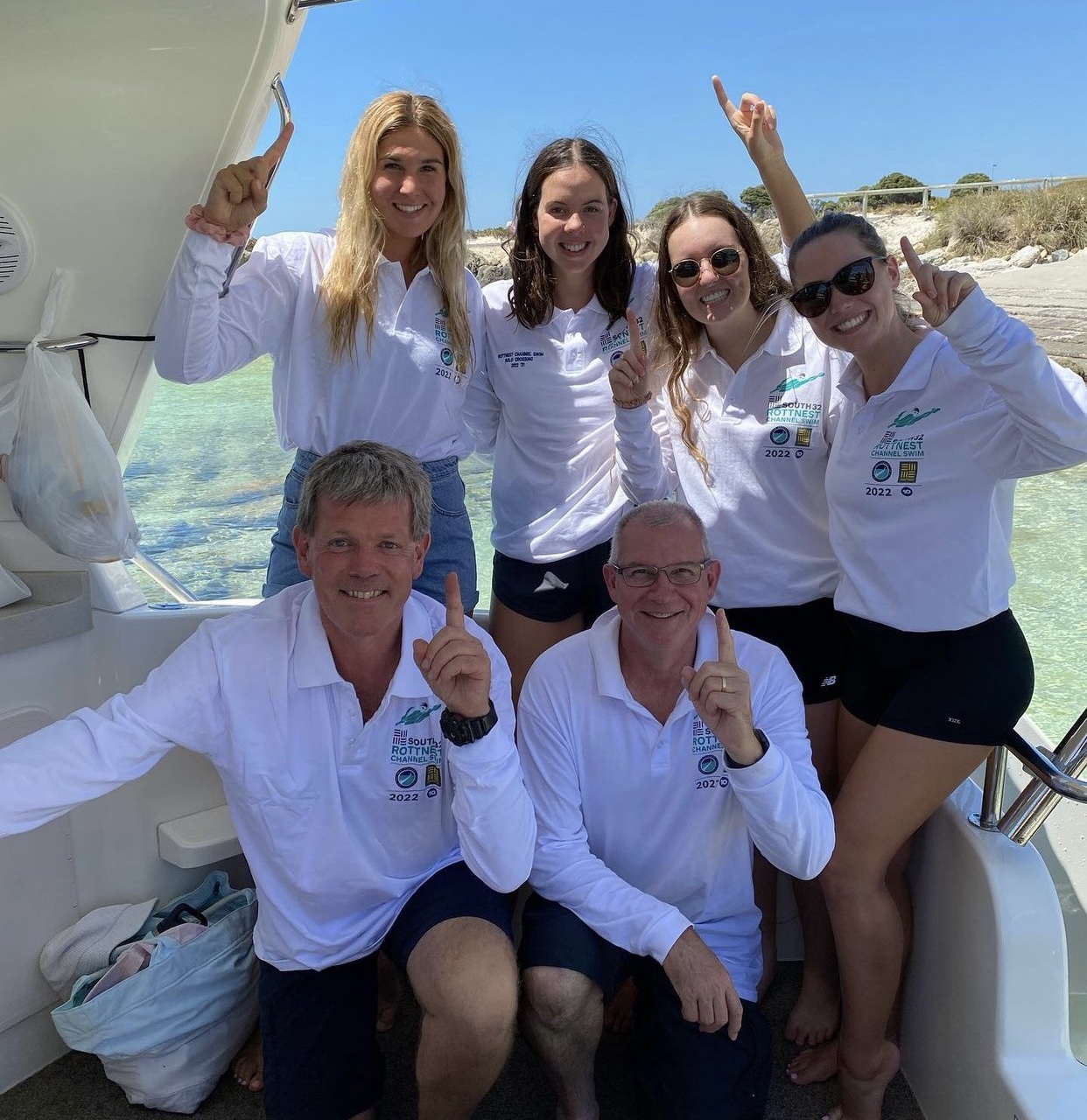 Duo winners
The fastest duo crossing for 2022 went to Christopher Paunich and Hugh Simmonds from the team 'Swim Daddies' in a time of 4:34.31.
They finished ahead of Will Gurr and Stephen Hughes in second with the witty name of 'Muffin Men,' followed by third-placed and highly experienced men's duo team 'Paul & Gareth' in a time of 4:45.11, filled by Gareth Evans and open water swimming veteran, Paul Blackbeard.
Leading the women's duo was Sophie Gregory and RenÚ Watson from 'Team Vector' in a time of 5:16.45, narrowly ahead of second-placed Felicity Sheedy-Ryan and triathlete Olivia Smith in 5:19.21 from team 'On the Hunt.' Third-placed team 'Shore Breakers' including Zoe Packer and Bellamy Wilkinson crossed in 5:26.49.
Touching first in the mixed duo was 'Joy Trane' swimmers Troy Santen and Jane Pay, not far behind overall duo winners 'Swim Daddies' in a respectable time of 4:42.50.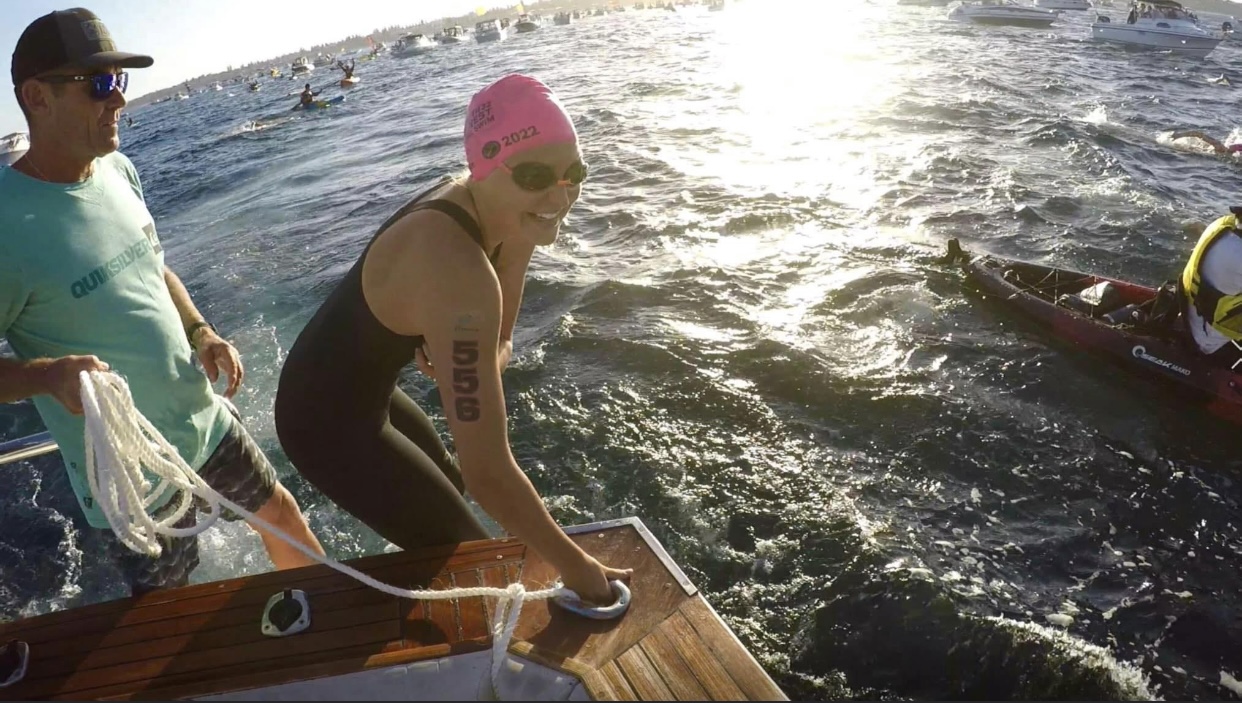 Team winners
Even though the conditions for the 2022 Rottnest Channel Swim gave a fair bit of resistance to all swimmers, there was still one team that managed to go under the illustrious four-hour mark.
That team, named 'Swimtek Big 'orse' crossed the line in a scorching 3:51.42 and was filled with plenty of Western Australian swimming talent from numerous generations.
Comprised of dual Olympian, Travis Nederpelt, former Australian Life Saving Team member, Jake Smith, and former Rottnest Channel Swim solo winners, Paul Laver (2014) and Andy Donaldson (2021), the four members were in a league of their own. 
They also raised more than $5,500 for the Kai Fella Foundation, which aims to increase awareness and funds for mental health and suicide prevention across Australia.
Westside Christ Church Aquatic added a women's team victory to their great start to 2022, after claiming the A Grade Premiership title two weeks earlier. The team 'Girls Got Gills' comprised of Georgina Docherty, Bianca Monaco, Sarah Overheu and Liberty Sheldrick finished strongly in 5:05.34.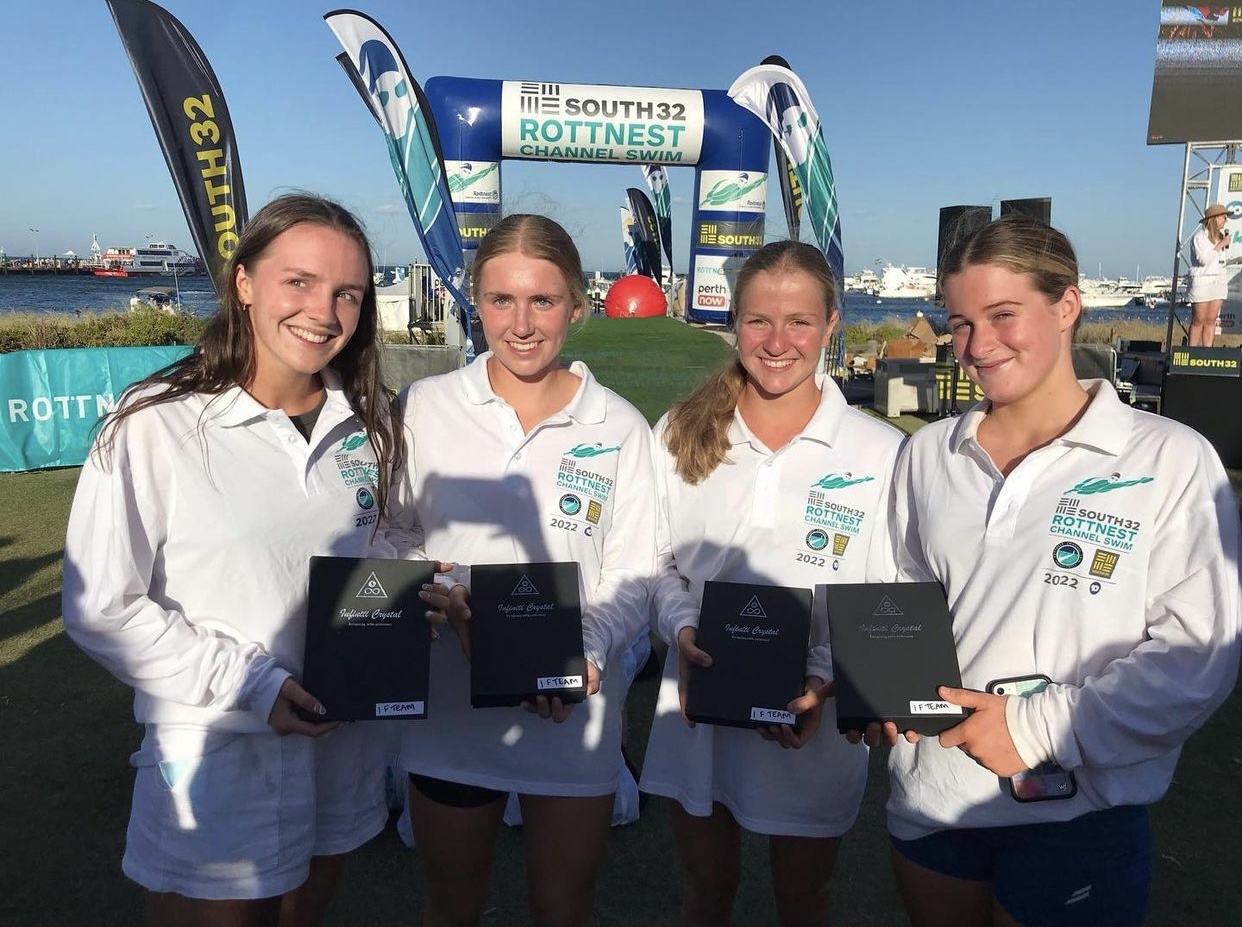 Taking out the mixed team victory was 'North Toast' filled with Ben Jones, Harrison Uglow, Arna Couper and Aimee Lea, finishing as fourth team overall in a time of 4:52.50.
Along with all these brilliant performances was some great work from Swimming WA's officials. These included Steve Hill as Referee for Champions of The Channel male swimmers, with Technical Official Deborah Doody assisting.
Referee for the Champion of the Channel female swimmers was Stella Carrara, with assistance from Technical Official, Steve Jones.
The atmosphere both on Cottesloe Beach and at the finish line in Thompson's Bay always delivers and it was an incredibly successful event. Well done to all swimmers, support crew, officials and coaches involved and we hope 2023 delivers another nail-biter of a finish!
Want to see the full results from the 2022 South32 Rottnest Channel Swim? Click here.
Fancy checking out the highlights reel from the event? Click here.