31 August 2023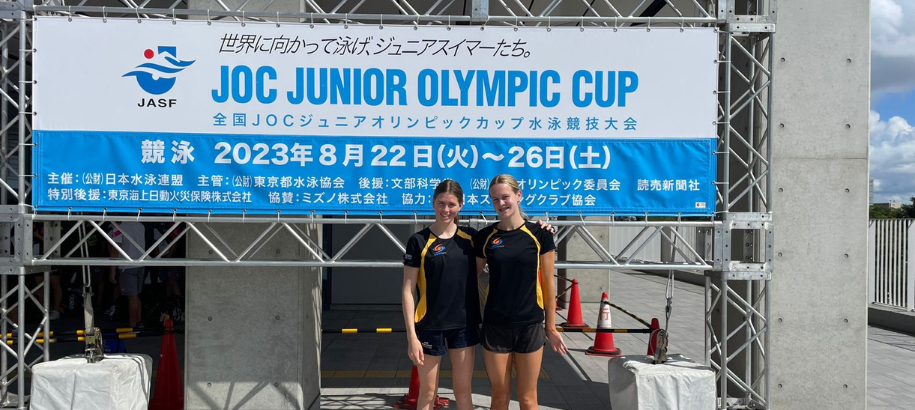 Two of the WA Target Flippers Squad athletes, led by distinguished coach Deb Jones, travelled to Japan to compete at the Japan Junior Olympic Cup. The opportunity provided valuable international travel experience for both the athletes and coach, in addition to the culmination of a long domestic racing season for the athletes.
Japan is regarded as one of the worlds' top nations for age group swimming with standards high for entry into the competition.
Sylvia Czajko (UWA West Coast c. Rob Palfery) had a stand out meet, landing 2 gold medals in the 50m and 100m freestyle events. Sylvia has long been regarded as one of Australia's future sprint freestyle stars and underlined her potential with a barnstorming 25.47 in the 50m freestyle final; not only twice breaking the Games Record but unofficially breaking Kara Broadbridge's WA-All Time age group record.
Isabel Sheldrick (St Hilda's c. Deb Jones) had a break-out performance at Australian Age Championships in April and took her performance to the next level in Japan landing a silver medal in the 100m backstroke. Clocking 1:02.16 in the final, a massive 0.50 second PB from her bronze medal time at Australian Age Championships, Isabel not only blew her competitors away in a rapid final 50m but also unofficially broke Junior Dolphin team member Iona Anderson's WA-All Time age group record.
The WA Team also took the opportunity to explore Tokyo and soak up the differing culture; visiting iconic Tokyo spots and eating some of the world-renowned cuisine that Tokyo has to offer.
Both athletes have a big two years ahead with the LA 2028 Olympic cycle looming and a home Junior Pan Pac Championships in 2024. It's an exciting time for Czajko and Sheldrick and certainly two athletes to watch throughout the long course season.
This opportunity wouldn't have been possible without the support of home coaches, Swimming Australia and the Department of Local Government, Sporting and Cultural Industries.