10 January 2021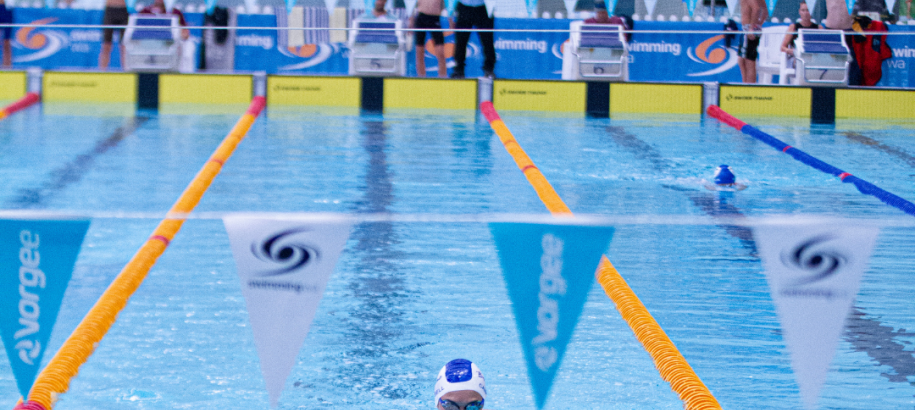 Good times were rolling at the 2021 SunSmart Country Championships this weekend.
The best swimmers throughout Regional Western Australia converged on HBF Stadium for a weekend of fun and fast racing as the Country Champions were crowned for 2021.
Sean Alcorn (Peel Aquatic, c: Patrick Stellino) was amongst the brightest stars shining this weekend, claiming the Swimmer of the Meet off the back of record-breaking performances in the 50m and 100m Butterfly. Alcorn claimed the WA Residential Record in the 50m Butterfly, dominating the field to win in 27.24, 2 seconds ahead of Silver. Alcorn's time sees him equal the current WA Residential Record; a time that hasn't been swum since 2007 by Peter D'Agostino. Alcorn went undefeated throughout the weekend, taking home 10 individual Gold Medals, backing up a solid performance at the recent State Championships.
Alcorn was not the only South West Swimmer walking away with impressive silverware, as Kaiden Richings (Bunbury, c: Elisha Hunt) dominated the weekend. Although Richings did not claim the Swimmer of the Meet he did top the total individual point scorers, amounting an almighty 136 points for his Club. The Bunbury up and comers swam a total of 17 individual races, claiming 14 Gold, 2 Silver and 1 Bronze medals, a valiant effort after a breakthrough performance in the 1500m Freestyle at the 2020 State Championships. With Australian Open Water Championships looming, Richings is certainly a name to keep an eye on.
Lucinda Jones (Busselton, c: Andrew Sexton) was also in fine form throughout the Meet, claiming 7 Gold and 1 Silver medals. Jones, as expected was dominant in the backstroke disciplines finishing 5 seconds ahead of Silver in the Women's 200m Backstroke. 
Pocket Rocket, Itsuki Tomita (Albany, c: Jan Victor) was also battling the top of the point scores after claiming 4 Gold, 4 Silver and 3 Bronze medals throughout the weekend. 
Most impressively, however, was the outstanding showing from the Swimming WA Regional Technical Officials, who showed up in full force throughout the weekend. Like all Meets, Officials give up their time to support and maintain the integrity of our sport, and it was fantastic to see such a unified and professional group working tirelessly throughout the Championships for the benefit of the athletes.
Swimmers, Coaches and Officials now turn their attention to the 2021 SunSmart Sprint Championships which will take place on Sunday, 31 January at HBF Stadium. With a couple of weekend's off, there is no doubting WA Sprint Royalty will be ready to swim fast!