05 September 2023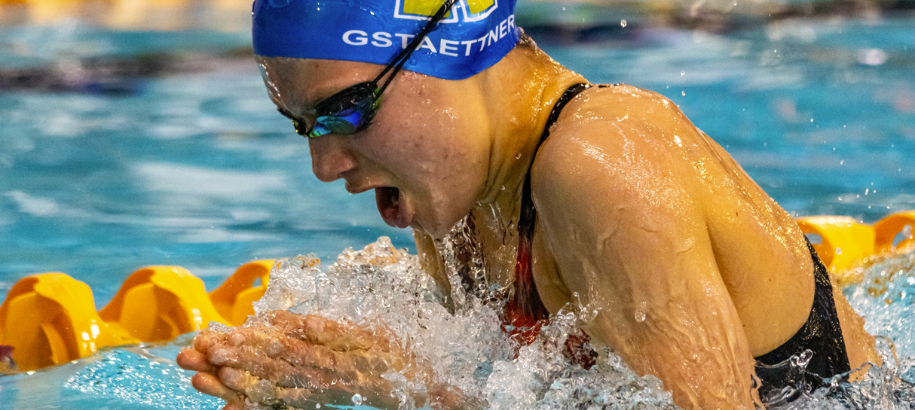 Our rising young stars took centre stage at HBF Stadium from September 2-3, for the Hancock Prospecting Junior Short Course Championships. The stadium came alive with the electrifying cheering, the rhythmic splashing of water and the exhilarating rush of fast-paced races.
One standout performer was 11-year-old Mia-Maria Gstaettner (Rockingham, c: Craig Murray), who secured fourteen medals over the two-day competition, including ten gold medals. Gstaettner was a top competitor in the girl's 400m and 800m freestyle. Particularly in the 800m freestyle Gstaettner touched the wall at 9:42.00, only a fingernail off the record by 0.01 seconds. Gstaettner's teammate Arekah Paki (c: Craig Murray) also railed in a handful of medals, with a total of eleven medals including nine gold.
Aaden Kettle (Guildford Kalamunda, c: Hayley Campbell) secured a total of ten medals. The 12-year-old performed incredibly in the freestyle events in his age group. Equally impressive was Angelina Beckx (Breakers) who, at just 9-years-old, claimed an astounding nine medals, including eight golds.
Amelia Mclvor (Southlake Dolphins, c: Stefano Di Bernardo) joined the ranks of junior stars with her impressive haul of nine medals, including eight golds. Lua Wilson (St Hilda's) earnt nine medals, including five golds. Wilson's standout performances saw her as the top female swimmer in several events, including the 200m freestyle, 200m butterfly and 200m and 400m individual medley.
Another 12-year-old sensation, Kaydee Van Deventer, (Highlanders, c: Thurston Hewitt) secured nine medals. Van Deventer's incredible speed in the water earned her as the fastest female swimmer in the 100m, 200m backstroke and 100m butterfly.
Max Phua (UWA West Coast, c: Chloe Innes) earned a total of nine medals and was top swimmer in the 100m and 200m butterfly. Aiden Woodbridge (Breakers, c: Katie McFarlane) also took home nine medals from his various events.
Ethan Peake S10 (Pinjarra, c: Jordan King) was one to watch in the boy's 50m freestyle multi-class as he finished with a personal best time and a gold medal. It was fantastic to see Peake competing after his success in Sydney, receiving the School Sport Award for exceptional Sportsmanship. Another one to watch was Elijah Rowles S10 (UWA West Coast, c: Brett Tongue) in the Boy's 50m butterfly and breaststroke multi-class, he took home two golds and personal best times.
Tahlee Cam S19 (Australind, c: Taarna Cam) had a very successful competition, as she finished with four gold medals and three personal best times, shaving at least two seconds off her events.
The relay races were exciting to watch with UWA West Coast and Westside Christchurch teams securing multiple gold medals.
A huge congratulations to all 558 competitors and 47 clubs who competed. A massive thank you to our dedicated officials who stood strong through the big nine-hour sessions. The contribution and support from not only the officials but our volunteers ensured the smooth flow of this event and their efforts are appreciated.
A big thank you to our official photographer, Salt Diaries. To view all the photos from the event, click here.
To view all results from the Hancock Prospecting Junior Short Course Championships, click here.