22 June 2022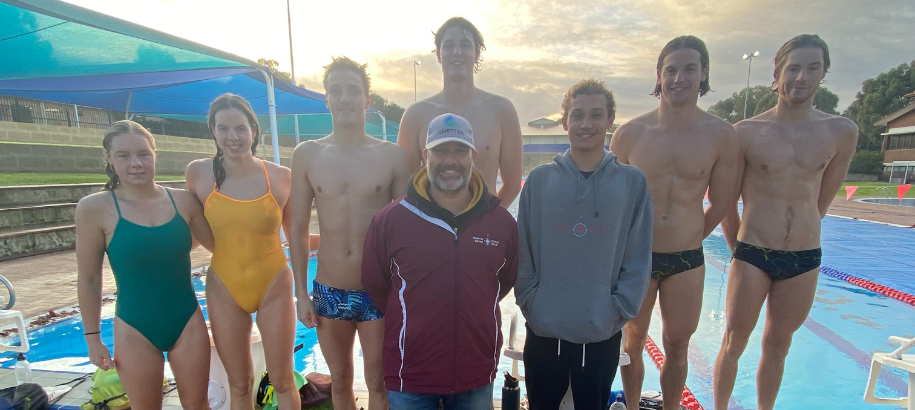 Immediately as you walk in to North Coast Swimming Club based out of St Mary's Anglican Girls' School in Karrinyup, you can feel an enormous sense of discipline, professionalism and respect between swimmer and coach.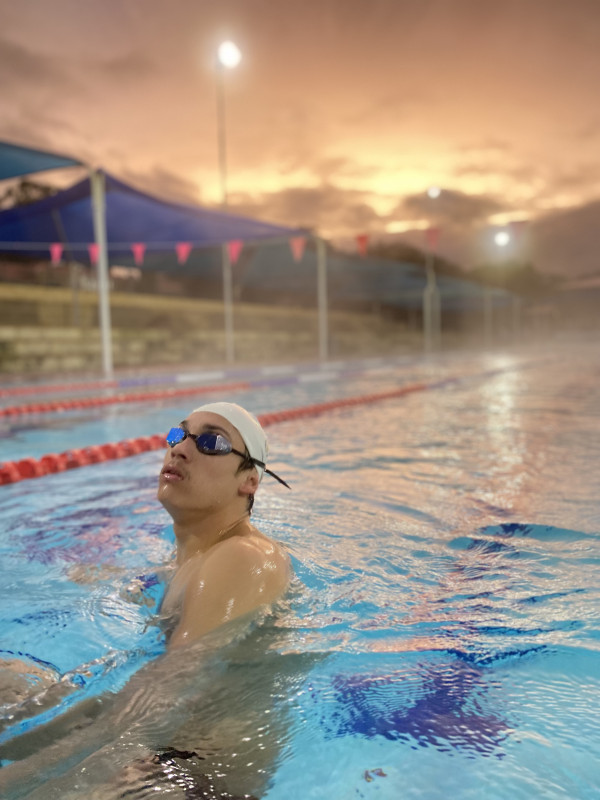 On a recent stormy and cold winter's morning, we paid a visit to the relatively new club as steam billowed off the pool, with highly decorated Olympic Coach, Ian Mills, guiding his talented group of elite athletes from pool deck. 
The first thing we noticed on the whiteboard was the words 'Attendance. Application. Attitude.' It's an approach to training that all swimmers are encouraged to follow, and it is clear that motto is paying off in dividends.
After narrowly missing out on an Australian Team debut last year in the Men's 400m Individual Medley, 23-year-old WAIS scholarship holder Kieren Pollard used that experience as a positive sign he was on the right track. It was motivational fuel.
In the words of his coach Ian Mills - "It was viewed less as 'just missing the team', but instead as a very real and positive improvement and validation to Kieren's long and hard work. He rose to the occasion and did not fall short." 
One year later, the young man originally raised on a farm in Southern Cross in regional Western Australia has made his first Australian Commonwealth Games Team, setting the fastest time in WA history for the Men's 400m individual medley in the process when he clocked an incredible 4:14.78. He was only 0.01 seconds off silver and a ticket to the World Championships currently underway in Budapest. 
Amazingly, despite Kieren's immense talent, the tedious travel restrictions during the pandemic era means he's never even been on a national development camp at age 23. His only overseas trip thus far is to Bali on a holiday, his next trip is flying with the Australian Dolphins Team to compete in Birmingham. Following his racing, both Kieren and his long-term supportive partner Aimee will enjoy a well-earned relaxing European getaway. 
It's not just Kieren that has experienced remarkable accomplishments, his whole squad is overflowing with talent. 
Kyle Lee recently made his first World Championship Team in the Men's 5km Open Water at just 19-years of age. Chloe Truscott just became a dual Rottnest Channel Swim solo winner and is a multiple State Champion. Robbie Bonsall and Kaiden Richings are both young elite swimming champions. Rosie Wilson snagged two National Age medals in successive days in the Girls 18-years 5km and 10km Open Water. Her older brother Jack Wilson is top four in the country for 5km and 10km Open Water and is off to Paris for the World Series alongside his highly talented team mate Reilly Kennedy and coach Ian Mills. 
While they consistently dominate the Open Water Swimming Series, we weren't surprised to see that North Coast were also the top scoring overall club on points from our most recent Hancock Prospecting WA Long Course Championships in the open age category. 
They were also ranked 20th overall out of all clubs on points nation-wide at the recent Australian Swimming Championships. Remarkably, that was despite only having three swimmers who made the journey across to compete in Adelaide. 
While that alone is a testament to their success, it's not the main objective of the club. 
"North Coast Swimming Club over the last few years has undergone a transition of culture in which it is not trying to be the biggest or most successful club in the land. Instead it is building a culture of placing its energies into creating an environment built on values and people. It is an environment that is genuine, has integrity and honesty in action, creating trust and a safe and healthy environment in which to participate," said coach Ian Mills. 
"This is an environment in which people can fully engage in growth and improvement because successes and failures are just a part of the process, not the end point. The athletes can share in each others journeys in the most fulfilling way possible. We practice appreciation as much as possible." 
Even the mindset of looking at disappointments with a silver lining was reflected beautifully by his athlete.
"The gap to missing out last year was only 1.2 seconds. It's still a bit of a gap and obviously finishing third and just missing the team hurts a bit, but it doesn't hurt as much as a 0.1 second gap," laughed Pollard. 
"It's a brutal sport sometimes in that the margins can be so close or there is team selection discretion, but just the fact that it was a massive personal best time of five seconds was great and it put me in the frame for making future teams. Millsy took me aside after the race with a smile on his face saying now we know we're doing the right work, let's find the small margins where we can improve and crush this." 
Over the last twelve months the duo got to work. Their approach didn't change, they simply looked at different components of the race they could work on, from a stronger backstroke and freestyle leg to underwater skills. Some aspects worked, others were harder to knuckle down.
"We did a lot of backstroke work this year, it hasn't necessarily paid off yet we don't think! We tried to continue what we were doing with our breastroke, last year my 100m breastroke split in the 400m medley was a 1:10.7, this year it actually got slower and I was a 1:11.50, so we lost a bit there, but my freestyle leg was much faster compared to last year. I went a 58.20 compared to a 59.90 last year, so the work paid off nicely there," said Pollard. 
While Pollard's pet event is the 400m medley, he was also pleasantly surprised with his freestyle speed at the recent Australian Swimming Championships, with huge personal best times in the 400m freestyle (3:50.10) and a bronze medal in the 1500m freestyle (15:16.39), despite not swimming in the latter event for six years. That's mighty impressive. 
The last time we paid Pollard a visit in training, he was belting out consistent 1:10's of breastroke sprints from a push on a short rest cycle, around 9km in to a very difficult session. He looked physically exhausted and expressed his annoyance that it wasn't 1:09's, yet we know all Western Australian coaches and swimmers reading that sentence are likely stunned at those times!  
While his discipline and results speaks volumes, it's where Pollard has come from that his coach Ian Mills says separates him from most swimmers.
"To look at the results and see talent is an easy take in a quick-click world, but it doesn't recognise the core story. Kieren is an athlete built far more on great values than rare physical athletic gifts. These values come from his family upbringing built in the home and tested in the competitive world. Traditional values, country values. They simply make him extremely coachable and uplifting to those around him," said Mills. 
"Anyone who spends time training around Kieren becomes an admirer of the man." 
While sitting with Pollard in a coastal cafe enjoying a coffee with the young star, we asked him why he thinks North Coast has such a great culture and a supportive network of athletes.
"I think Millsy runs a program that focuses not on the quality of athlete you are, but rather the type of person. If good people want to come along and work hard, they'll become the athletes they want to be. He will look at how they can become strengthened by the group and how they can strengthen others. He helps develop good people first and fast swimmers second, that's what drives our culture," said Pollard. 
 While Pollard himself is involved with coaching junior swimmers and is employed with Kirby Swim part-time, he took the necessary sacrifice of avoiding coaching over the next couple of weeks to prevent getting sick. Unfortunately, it also meant immediately putting a brief halt to his main source of income to look after his body and be as prepared as possible for his first international meet when he flies out next month. That's the level of discipline and sacrifices among not just North Coast Swimming Club members, but numerous swimmers across Western Australia. 
"I'll be away for eight weeks and Kirby Swim are extremely accommodating and supportive, when I come back there will be work for me. They were just as excited and stoked as I was on making the team for the first time," said Pollard. 
When we asked how Pollard had found out he had made his first Australian team, he immediately beamed into a smile.
"It gives me tingles now thinking about it. I knew it would be around the time I swam the 1500m freestyle in Adelaide that I would either receive a text saying we made the team, or an email stating you didn't. I'd finished my race and actually gave my phone to Kyle Lee who had come over to support me. I said I'll be accepting of whatever it said and I jumped in the pool for a cool down," said Pollard.
"Next thing I see is Kyle sprinting around the side of the pool holding the phone up excitedly yelling I'd made the team. I jumped out of the pool asking if he was sure multiple times, and then it hit me that I was off to the Commonwealth Games. Poor Millsy was in quarantine that week with Covid, so I couldn't tell him in person, but he asked if I was sure multiple times as well! It was such an amazing moment. He has just put multiple swimmers on to Australian teams within a month and isn't one to focus on his own personal achievements as he always puts us first, but he deserves the recognition." 
When it comes to becoming a great coach, his humble mentor Ian Mills was quite philosophical in his response. 
"Coaches must have vision and be able to prepare now the skill sets that may be needed far ahead. Consistency is of great value, but of behaviour and not words, that reflects your values. Finally and probably most importantly are your core human values, everything else really stems from these qualities" said Mills. 
The development journey of a coach is far longer than that of athletes and its complexity of skill sets and resilience required is often undervalued. Put the athletes career ahead of your own and always remember that responsibility of care in the time the athlete is with you is your first priority, not performance." 
On what he thinks makes athletes stand out from the crowd and succeed in all their goals, the veteran coach of more than 25-years said it was a simple answer. 
"In the long time that I have coached, my experiences are that the highest achieving athletes are without fail the highest attending participants. It is a simple concept and readily accepted, but is inevitably the first stumbling block for the aspiring athlete," said Mills.
"Poor workout habits deliver poor race executions which deliver poor race results. Attitude is everything. Your personal values are demonstrated most honestly in testing times. Be humble in your successes and have dignity in all that you do. Lift those around you, that's where the winning person counts." 
Want to keep track of what North Coast's swimmers are up to over the next month? Kyle Lee will race the 5km and 25km at the World Championships in Budapest, Jack Wilson and Reilly Kennedy will race the 5km and 10km at the Open Water World Cup in Paris next month and Kieren Pollard will race the 400 individual medley, 200m butterfly and 1500m freestyle at the Birmingham Commonwealth Games. Ian Mills will soon be jetting off to France following Jack and Reilly for the World Cup. 
Go crush it guys! 
Want to get to know Kieren Pollard even more? Check out our previous interview with the superstar from the Hancock Prospecting WA Swimming Championships back in December by clicking here.