06 December 2021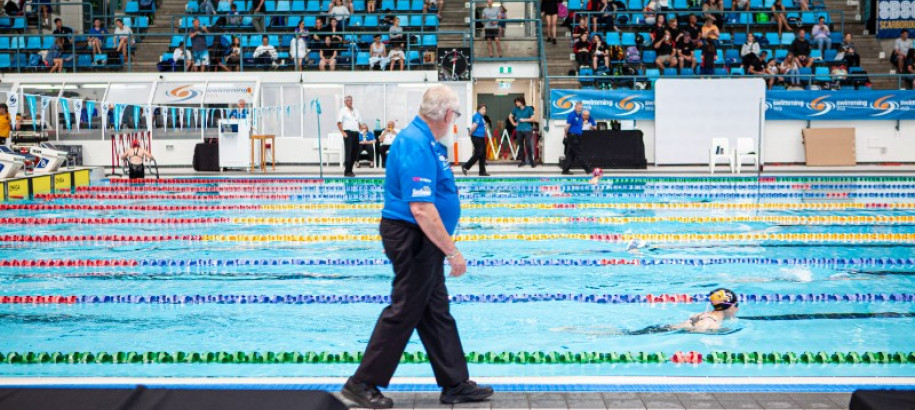 Despite recently falling through his roof at home, knocking himself unconscious and completely shattering his right shoulder and hip, 71-year-old Errol Smith still walks between 6-11 kilometres per day on pool deck as a Swimming WA official.
Now with a titanium shoulder and hip, the 35-year officiating veteran has now been awarded life membership from Swimming WA for his tireless dedication to the sport.  
Along with his wife Jan, who has been officiating for close to 25-years herself, the two frequently drive numerous hours in round trips from their home in York to provide their expertise on pool deck at numerous swimming meets across the state.
Errol kindly sat down with Swimming WA during a recent long course swim meet and provided an insight into his long and decorated career, along with some valuable tips for future generations of officials.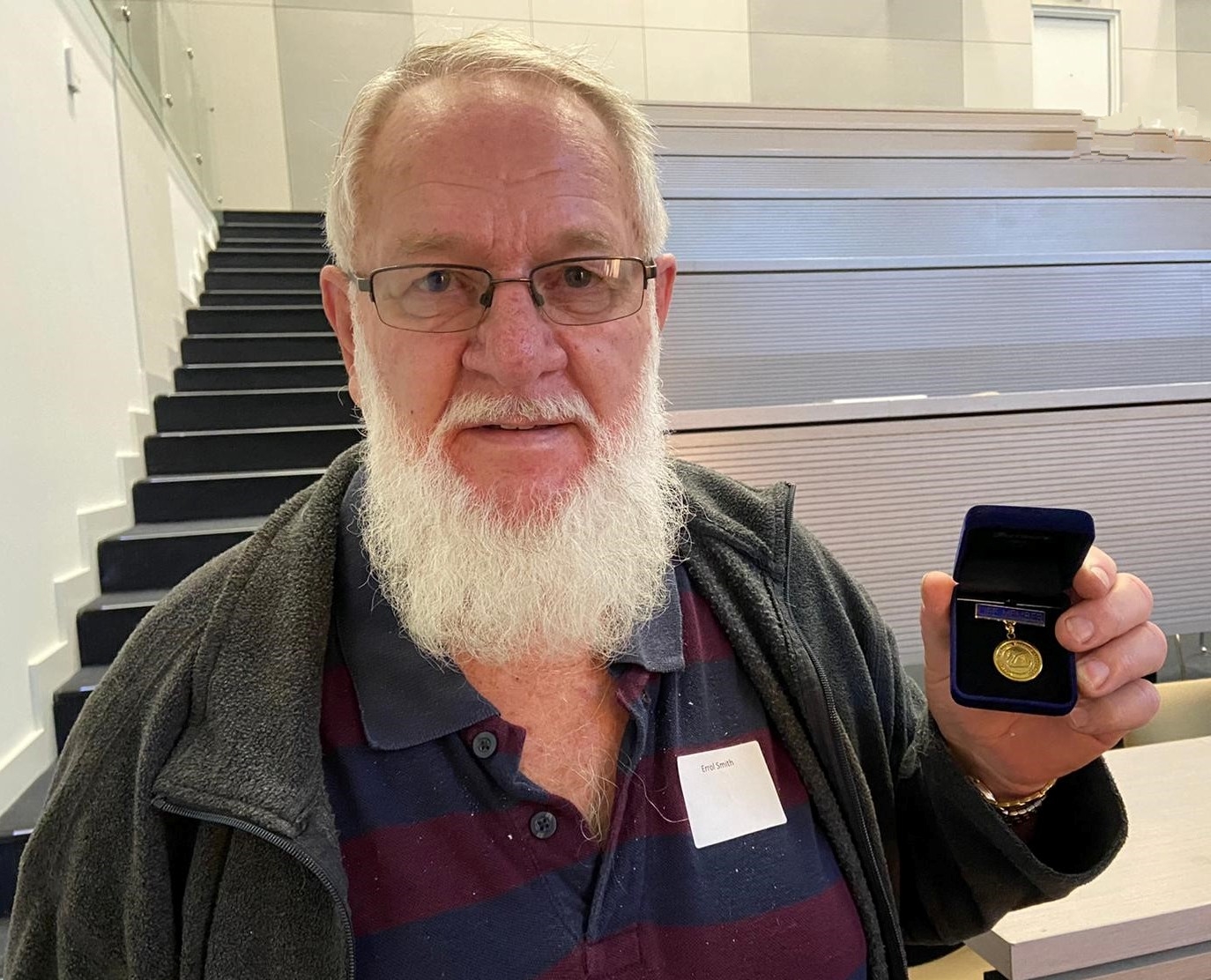 You've been an official for more than 30 years, how did you get started?
Smith – "I was a swimmer when I was growing up back in Sydney for the local RSL club for many years. I dropped out of swimming to pursue a career as a truck driver and blacksmith for many years and when we moved to York in Western Australia my daughter wanted to join a swimming club.
Once she started training, I started to get involved again as a parent and timekeeper and it basically steamrolled from there into spending most weekends on pool deck.
I've now been an official for more than 30 years. I qualified first as a district referee back in 1996. I then set my sights on greater goals and became qualified as a full referee in 1999. It's gone very quickly, but it's taken me all over the state, from Albany in the south, Kununurra up north, Kalgoorlie and Kambalda out east and many more places in between."  
How much time do you regularly spend travelling to and from competitions?
Smith – "Usually when we officiate in Perth, you're looking at around two hours both ways depending on traffic. We have done longer trips to Mount Barker and frequently do meets in Northam,  Wagin and many other regional areas.
Attending the country pennants involves a lot more distance travelled, so we can spend upwards of twelve hours in a car in round trips for particular swim meets.
Despite the fact that my wife Jan and I have been officiating for more than 25 years each, we've never really officiated beside each other at the same events. It's been nice for us to be able to walk alongside each other on pool deck for the first time in our long careers!"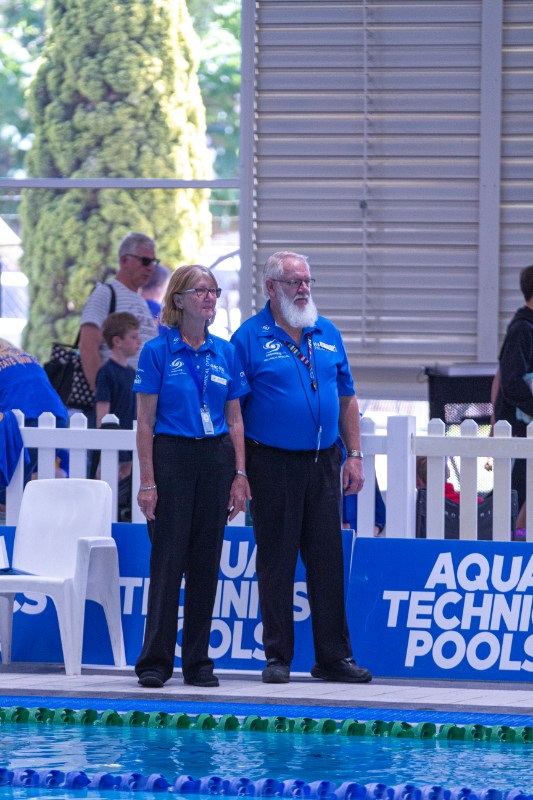 What does your recent life membership award with Swimming WA mean to you?
Smith – "It really means a lot to me. It's been 35 years and to be awarded that, to me it's a major achievement for myself. It's been a journey over the years to get that and the fact that I've been recognized after all of that work and time means a lot to me.
My wife and I have both made a lot of lifelong friends on the way officiating and it's been a wonderful passion. Jan will be coming up to around 25 years of officiating and she loves it just as much as I do."
What advice would you give to the young officials coming through?
Smith – "You will most certainly get your knock backs and down moments over the years, I know I've had a few. But it basically just takes perseverance and listening to the officials that have been around for a while because there is a vast team of experienced officials to learn from across WA.
The best officials to learn from and seek advice is those who have headed over east to officiate numerous national level events. I've only done a couple of national level events held here in Perth, along with the World Masters event held here, way back in 2008.
Many of the officials I would have asked for guidance have since retired, but we have Jacqui McNamara who has just been to the Tokyo Olympics. I'm proud as punch of her because she started out on pool deck here in Perth and simply excelled from there.
There's nothing to say any young officials coming on to pool deck now can't end up at the Commonwealth or Olympic Games in the future. It takes time and dedication.
Ryan Arblaster is another great example of where you can end up with the right time, perseverance and dedication. He's now on the Olympic selection committee. There are plenty of great directions you can go starting out as an official on pool deck."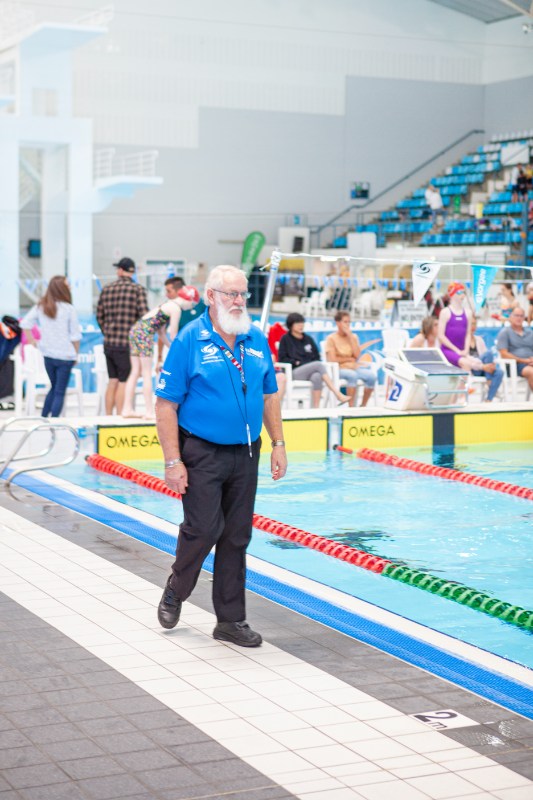 What are some of the major swimming meets you officiated at?
Smith – "I was at our State Championships for many years and was assessed by the national system. They approved my position to officiate at any national meet held here in Australia. I was chuffed to hear that from a National Assessor!
I've also acted as the referee at Country Pennants nearly 30 times throughout my career and only missed one of those through injury when I fell through my roof last year!"
Did you ever work across other fields in swimming?
Smith – "I was a coach at the York Swimming Club for more than eight years and I spent a lot of time with the highly decorated former coach, Bernie Mulroy.
Bernie took numerous swimmers to multiple Olympic Games and many of his swimmers ended up with Olympic gold medals from Perth City Swimming Club. I drove to Perth many, many times to train with him to obtain my coaching qualification and get signed off. 
I ended up coaching at York Swimming Club from around 1989 to 1998 before I decide to focus more on officiating. Since then, I'm incredibly proud of where my career has taken me and I'm stunned to look back on a 35-year career.
Hopefully I can pass on some of my knowledge and expertise to any younger officials hoping to extend their passion on officiating."