22 March 2022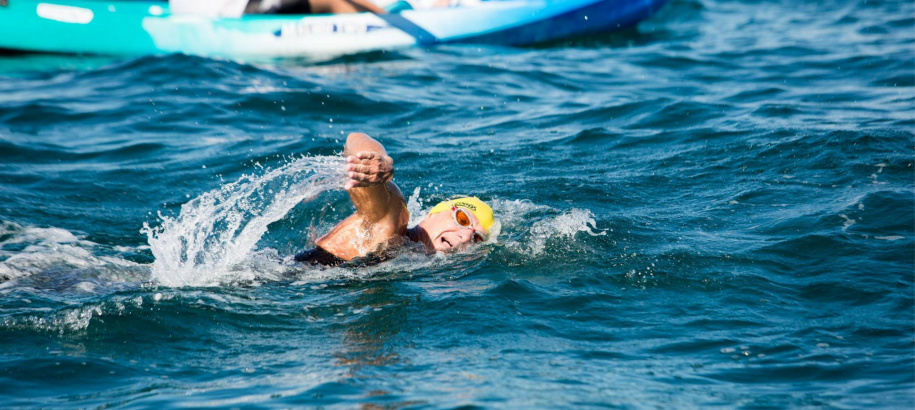 If there is anyone who can shatter the rules of ageing and still beat the younger elite competitors in swimming, it's Paul Blackbeard.
Despite just turning 64, Paul is usually seen every weekend competing in some form of pool or open water swimming race and his speed continues to baffle competitors across all age categories.
He frequently beats state champions, national medallists and elite swimmers in their teens and can easily hold sub 1:15 pace per 100m for longer distances. That's mighty impressive.   
His sporting background is enriched with victories, including World Championship titles in Surf Life Saving, representing South Africa in three different sports and holding masters swimming records in numerous countries!  
He's highly respected as an open water swimming veteran and we spoke with him to divulge how he stays so fit, along with discussing his incredible career in and out of the water.
How and when did you first get involved with swimming? 
Blackbeard – "My parents were always into sport and I started out as a boxer in Zambia. I was not very good at that, so my dad suggested we try diving as both my parents used to be divers. However, I needed to learn to swim first and I haven't stopped for the last 50 years.  
Swimming has always been what I often referred to as my library time. This is where I organise all my thoughts subconsciously. During this time, I sort out or solve many issues and I come from training ready to perform in life."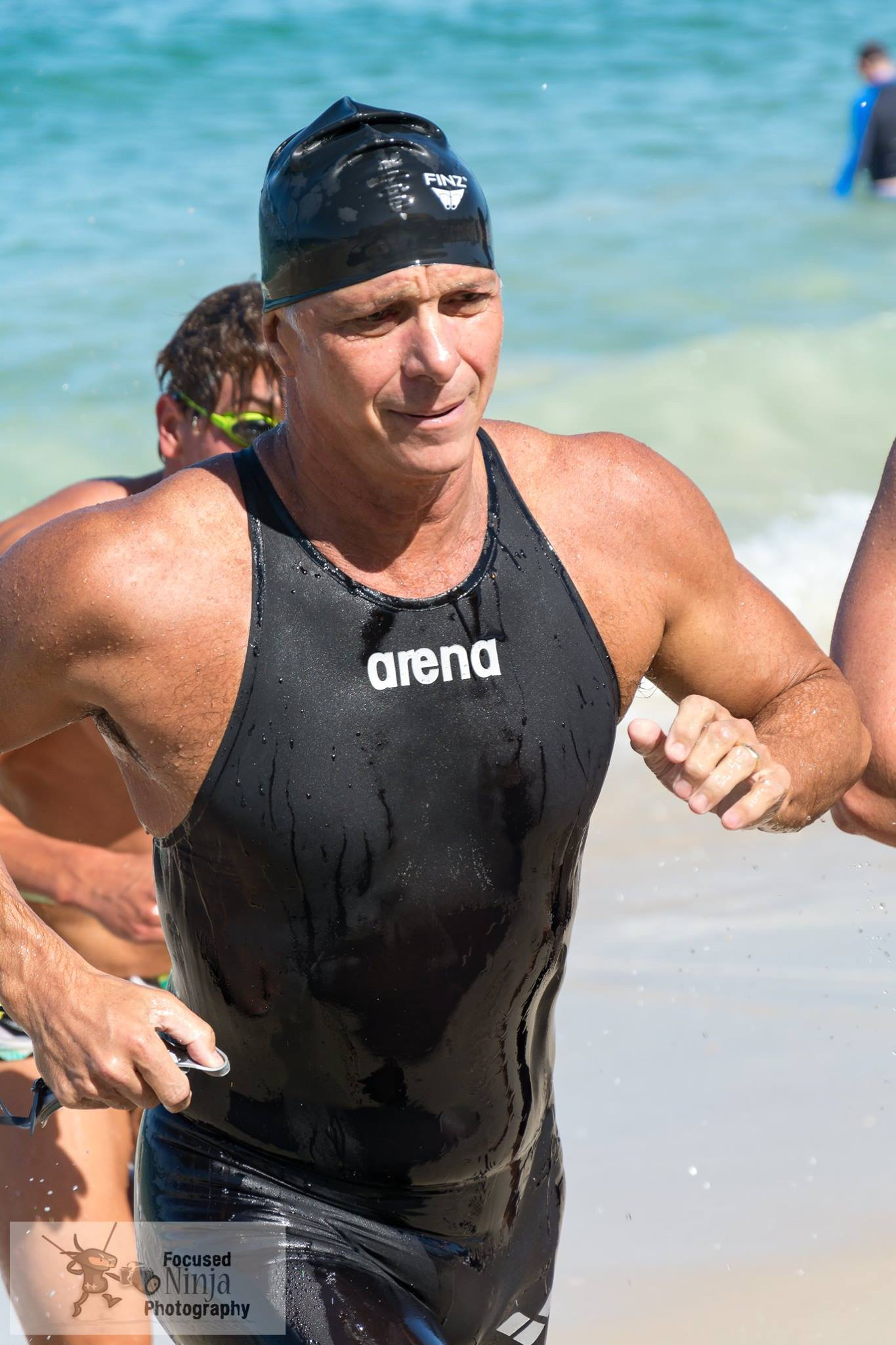 What clubs and coaches have you trained with throughout your career? 
Blackbeard – "I still give my original Zambian coach, Mr Watson, much credit for my stroke. However, it's not until we moved to South Africa and I started training in the 70's with an Australian coach, Terry Gulliver, in his Aussie style swim school that I really developed and grew as a swimmer.
Terry had this amazing ability to get into your mind and get you to believe in yourself and push past your limits. I give credit to the many things that I've achieved in my life from the lessons learnt in those early days of swimming training.
I do think we trained far too hard sometimes! During 'hell week' we would be achieving 20km per day and train 13 times a week, 4-5 hours a day!
I was lucky that we only lived a few kilometres from the swimming pool. This allowed me to cycle to swimming and then cycle straight to school. I remember having to finish my breakfast in class and often catching up or copying some of the homework I might have skipped. Life was very full."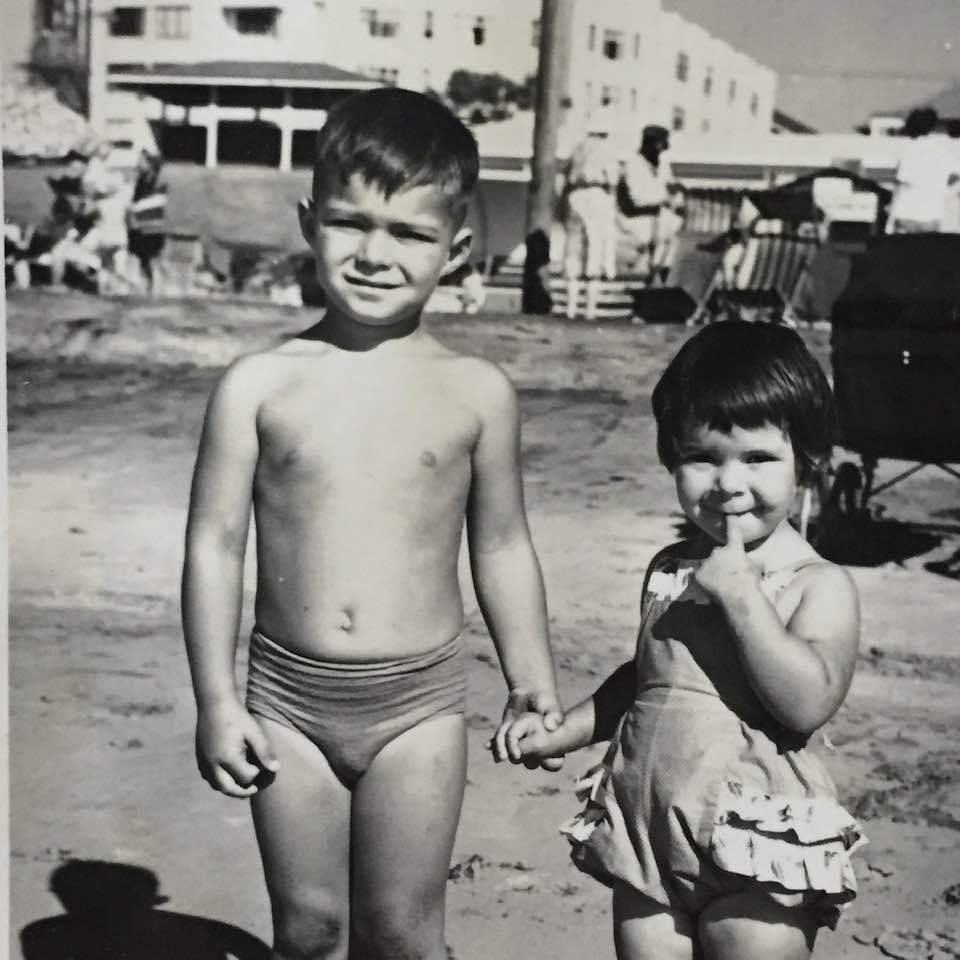 What is your current weekly load of training? 
Blackbeard – "I've learnt that one of the most important things in swimming training is consistency. I used to stop swimming in the winter period and would play tennis. Nowadays I keep training right throughout the year. I may ease off a bit, but I found that consistency makes fitness much easier to pick back up again.
Recently I've given up morning training and now mostly train at lunchtime. It's a school pool and we get 40 minutes to train. This allows me to swim 2000m around 4-5 times a week.
During the school holidays I can increase this to 5000m if I'm trading for a long-distance open water swim. I also have my masters swimming club with Perth City Masters and I'm swimming 12-15km per week and during summer I would aim to achieve 20-30km per week. 
Where possible, I also like to do some yoga or pilates in the morning and alternate this with some light dumbbell work to keep up the strength. I also believe in the importance of easing down after an event and try to get a full body massage at least once a month."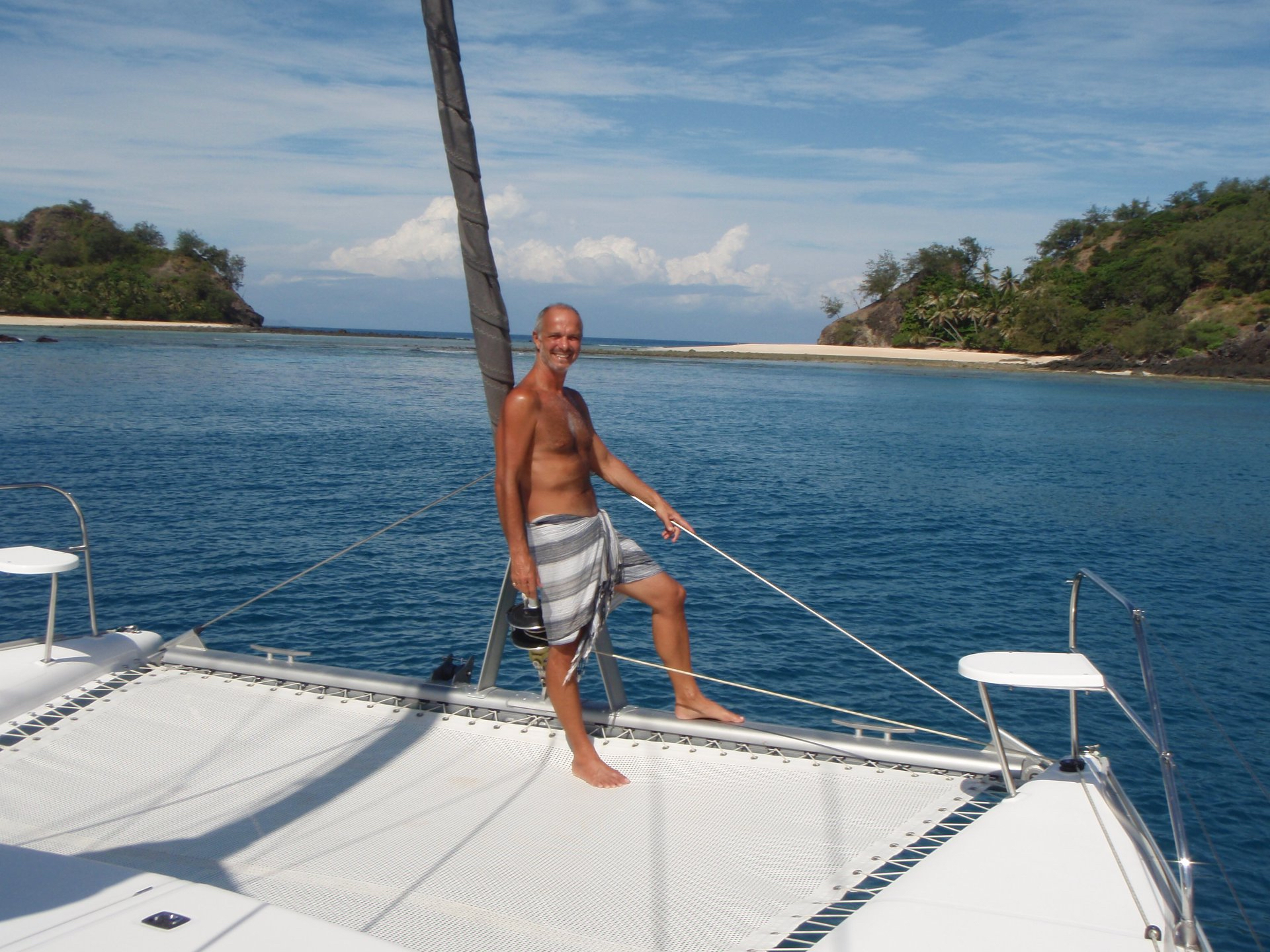 What was it about open water swimming that attracted you? 
Blackbeard – "During most of my swimming career I was a sprinter. After I moved to Perth to join the rest of my family, I found out about the Rottnest Channel Swim. I thought if I call myself a swimmer, I'll have to swim Rotto at least once.
The longest race I had won before this was a 3.5km ocean race in Durban and I had also won the Midmar Mile, which is now the largest open water swimming event in the world with nearly 20,000 entrants.
Like anything if you have a big challenge in front of you, get help. I turned to Shelley Taylor-Smith, seven-time world marathon swim champion.
Since then, I've completed the Rottnest Channel 12 times in teams, duos or solos. I prefer the duo the most, achieving first overall twice and second overall twice. I've also done five solos including the 25km in the Port to Pub.
Apart from doing many of the dam, river and sea open water swims around Perth, I also particularly love the Busselton Jetty swim when you have clear conditions to see all the fish around the jetty."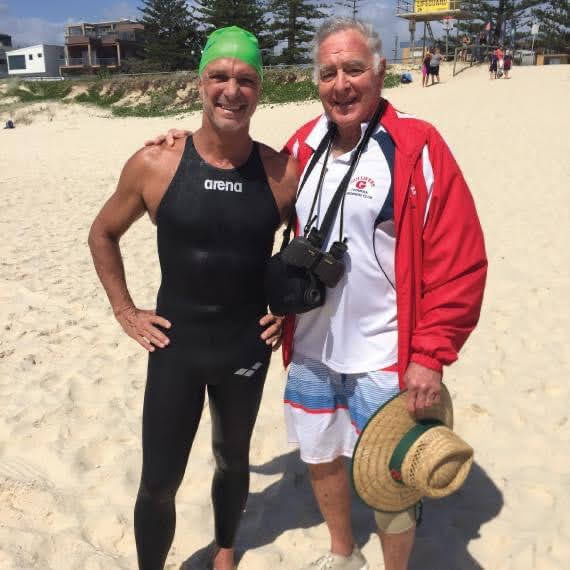 What are your proudest career accomplishments so far? 
Blackbeard – "In the FINA World Masters Swimming Rankings for 2019, I achieved a top 10 ranking in the world for 60-64 age group for all six freestyle events. These were all in Australian Record times and I ranked fastest in the world for the 400m, 800m and 1500m freestyle.
For the three short course events, I achieved top 10 rankings and five of my results were in the all-time best top 10 results. I was also named top male swimmer at the national championships.
At age 56, I was very proud to win the 96th Swim Thru Perth, which is the longest running open water swim in WA.
In the history of my swimming, I suppose winning nine gold medals at the South African National championships would be one of my favourite memories. That was a great moment and had never been achieved before.
In South Africa we used to compete in an international age group competition where our recorded times allowed us to be recognized internationally. I was world ranked for my age group in many events, often in the top three.
However, living in South Africa at the time we were unable to compete in the Olympic Games due to the apartheid sports boycott. My Australian coach said we should try some other water sports. This was my entry into lifesaving.
It allowed me to compete internationally in surf lifesaving and pool lifesaving competitions. Here I won a gold medal in the World Surf-Lifesaving championships and the pool lifesaving events. I broke the world record for the 200m Obstacle event in Barcelona. In lifesaving, I later went on to obtain my gold medallion award and instructor's certificate. 
I was a called a triple Springbok after representing my country in three sports as well as being the captain of the National Swimming team for five years. When I turned 25, I was responsible for starting the Masters Swimming organisation in South Africa and served on the national board for a number of years. 
In terms of biggest setbacks, I recovered from a broken elbow three years ago after a bicycle accident on Rottnest. I now have a titanium elbow joint on my radius and a plate on my ulna. Physio and swimming have seen me make a remarkable recovery after a few dark times."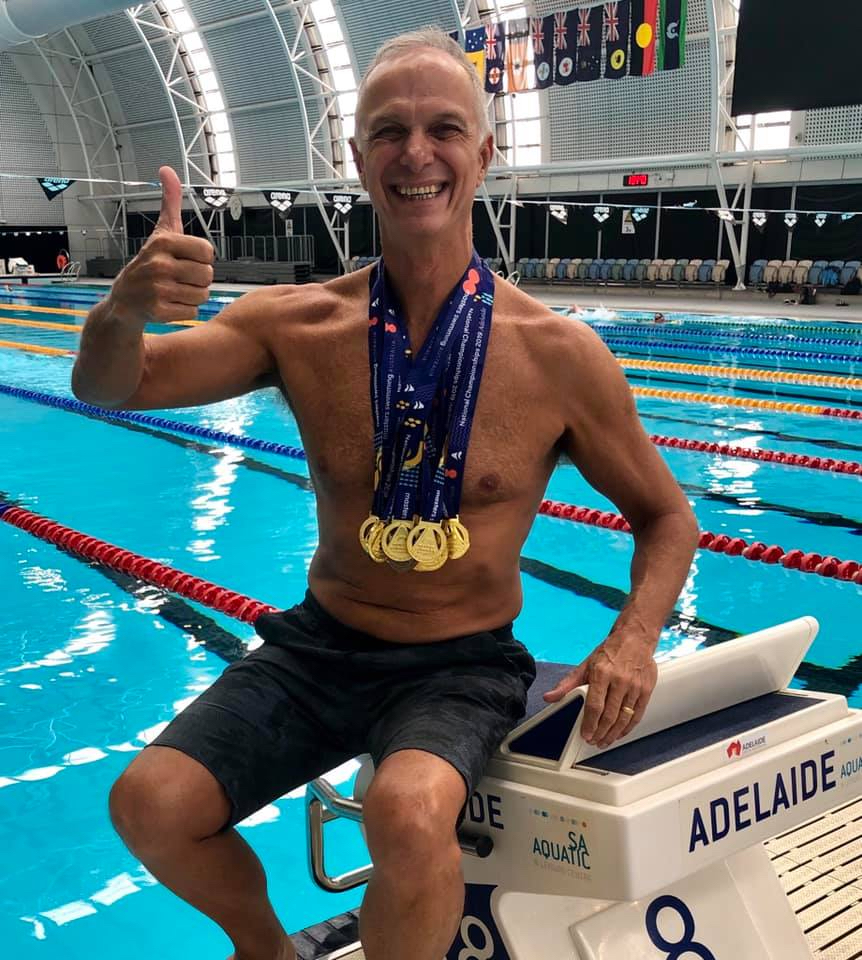 What are your future goals? 
Blackbeard – "I've just been enjoying the river and sea swims and the group of people I train with on a regular basis. I will do a few of the shorter open water swims next season and I just finished third overall in the Men's Duo for the 2022 Rottnest Channel Swim.
Just before the pandemic, I had planned a round-the-world ticket to do some lovely and very interesting open water swims. I had a race planned north of the Arctic Circle to swim from Finland to Sweden and I was also going to do a few swims in the UK and then in San Francisco, the Escape from Alcatraz swim.
After this I planned on visiting Hawaii to do the Maui channel followed by the Rough Water Swim, both of which I've done before.
Hopefully these opportunities will resurface. My focus in the next few years is moving towards doing the Big Lap of Australia with my wife in a four-wheel-drive vehicle and maybe finding a few open water swims during the trip. We love travel and the outdoors."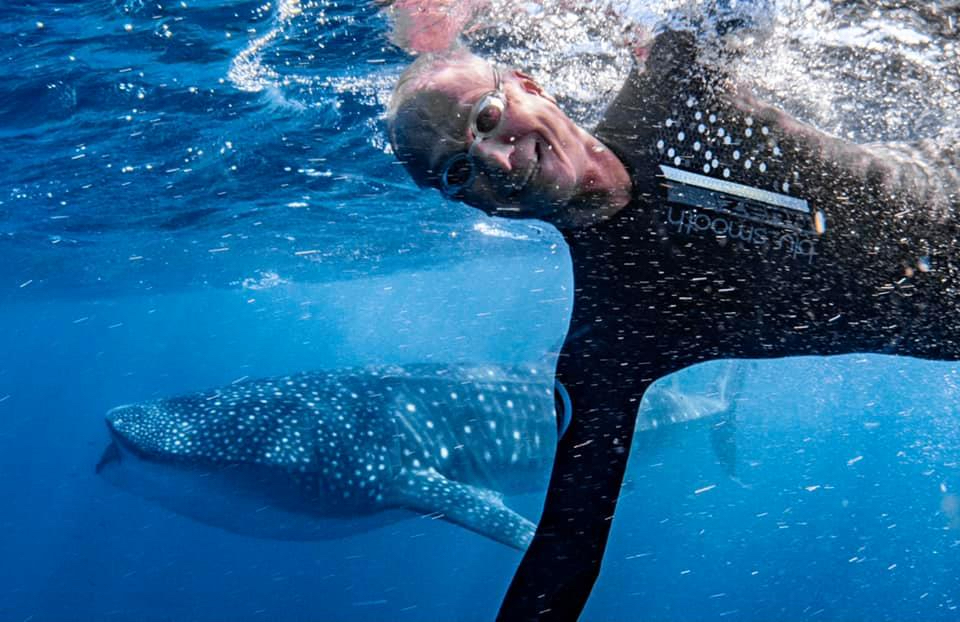 What are your hobbies outside of the pool? 
Blackbeard – "Although I retired at the age of 50 and went sailing on my catamaran around two thirds of the world, I got bored intellectually.
I have kept myself busy. I now have a management consulting company that specializes in strategic customer growth activities. For a number of years, I was the Chair of a medium-sized not for profit company. In my final year as Chair, I won two categories at the WA Excellence in Aged Services Awards, including the coveted overall best organization award.
I also offer mentoring services in my Wisdom Circle. Many of the lessons I've learnt in swimming I now offer in my C-suite business mentoring."
The most exciting thing for me is that I became a grandparent earlier this year. I look forward to helping to teach him to swim!"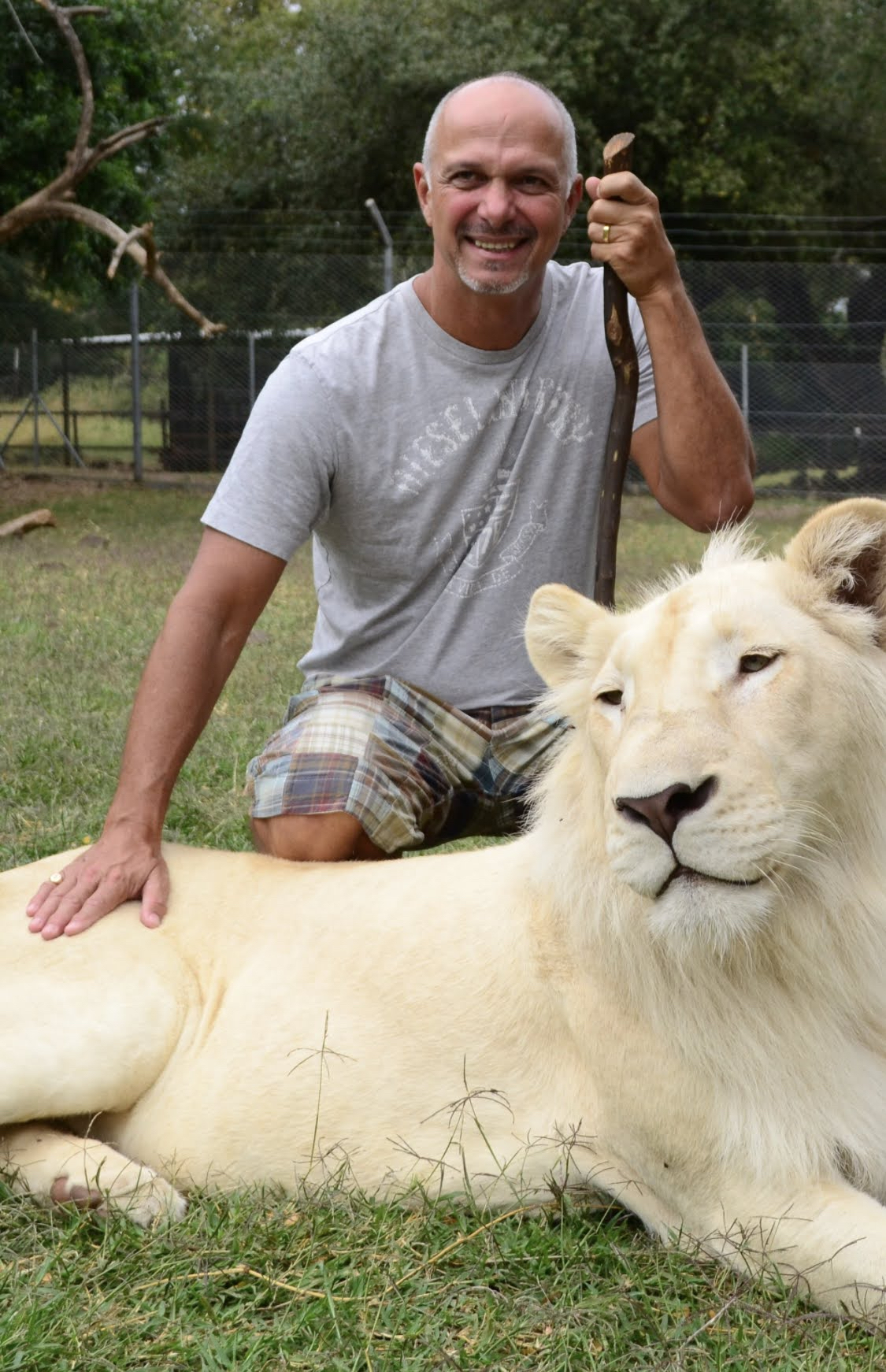 What advice would you give other open water swimmers? 
Blackbeard – "I think consistency, focus, finding flow and getting good coaches is the most important aspects.
Also, the importance of doing stretching, flexibility, some lightweight work and maybe even an occasional massage. Since you will spend so many hours in the water training, find people that you like to train with and coaches that you know support your goals. In terms of diet, I became a vegan about four years ago. The biggest changes included higher energy, good sleeping and weight loss.
One of the things I have not talked is the importance of drills. It depends on what I'm trying to achieve. It is very different to be a sprinter vs a distance swimmer or an open water or surf swimmer. I find that drills are an important way for me to correct and create the right style required for the event I am training for. 
Tactics also vary depending on the race – I normally like to negative split an event where the latter half of the race is faster than the first, but during open water swimming it's important to break away at the start to get into a good strong pack and then use moments like rounding the buoys to break away again. You always need to be very aware of where you are in a race and most important find the enjoyment."