08 August 2023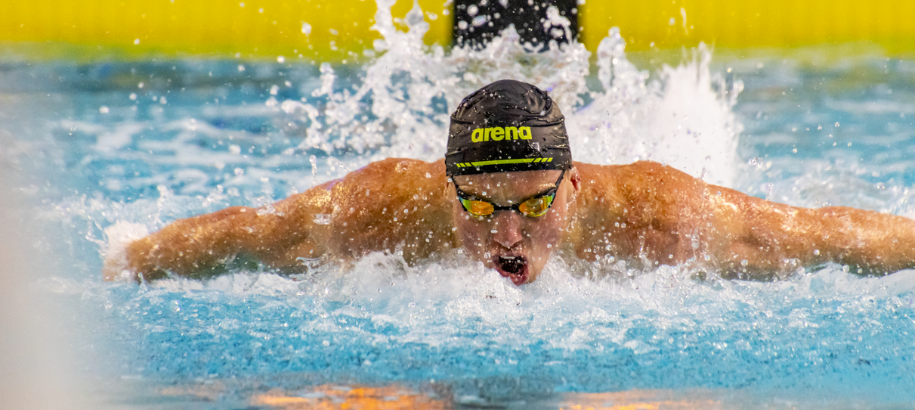 The recently concluded Hancock Prospecting Short Course Championships witnessed over 400 swimmers from across the state gathered at HBF Stadium from August 4-6. With intense racing and incredible performances, the event became a true celebration that marked the closing of Swimming WA's short course season for age and open athletes. Let's take a look at the event highlights.
Friday night kicked off with the men's 1500m freestyle race, with North Coast boys Alessio Macri and Robert Bonsall (c: Ian Mills) engaging in an exciting finish, where Macri emerged champion by a few milliseconds. After, in the women's 1500m freestyle, 19-year-old Rosie Wilson (North Coast, c: Ian Mills) and Bianca Monaco (Westside Christchurch, c: Jon Harrison) competed for the top spot, with Wilson claiming the championship title.
In the women's 400m freestyle multi-class, Jordan Berryman S8 (UWA West Coast, c: Brett Tongue) finished with a time of 5:29.62, setting a new personal best by more than five seconds. Following closely behind were Telarriah McGrath S15 (2nd) and Miranda Kiewiet S19 (3rd).
The women's 200m backstroke witnessed an incredible achievement by Iona Anderson (Breakers/WAIS), also known as WA's Backstroke Queen. Anderson shattered her previous WA All Time (WAT) and WA Residential (RE) records from 2021, as well as the WA All Comer (ACW) records in the 17 years and 18 years age groups, with an impressive time of 2:06.37. Overall, in the event, St Hilda's teammates Talia Wilkinson and Isabel Sheldrick (c: Deb Jones) secured the second and third, respectively.
Saturday's session saw Ashton Brinkworth (UWA West Coast/WAIS) dominate in the men's open 50m butterfly, breaking several records with a swift time of 23.04. Brinkworth's performance shattered long-standing records previously held by Geoffrey Huegill and Tommaso D'Orsogna. Tom Wyatt (2nd) and Tommaso D'Orsogna (3rd) were within a couple of seconds behind Brinkworth.
Ben Popham S9 (Arena/WAIS) shaved over four seconds off his 100m freestyle time, clocking in at an impressive 56.72. Competitors, Chen Winson S14 (2nd) and Liam Smith S9 (3rd) were next to finish in the multi-class event.
In the boy's 14 years 100m breaststroke, Jack Woods (South Shore) set new records by clocking in at 1:05.82, breaking the 14 years ACW and RE records. The top competitors in this event is 20-year-old Ethan Buckland (1st) and Harrison Farmer (2nd).
In the 200m butterfly, 16-year-old Sean Alcorn (Peel Aquatic, c: Zoe Baker) finished with a time of 2:00.58, the fastest time in the event. Alcorn smashed the ACW and RE records in his age group. Robert Bonsall and Romeo Zver finished with the second and third fastest times respectively. 
In the women's open 100m backstroke, Anderson continued her record-breaking spree, surpassing previous records set by Grace Loh and Holly Barratt. Isabel Sheldrick (2nd) and Isabella Russell (3rd) were in the top 3 of the event.
On Sunday, Johann Szymanski (Highlanders, c: Ryan Steenkamp), who will join Anderson for the World Junior Championships next month, reached a new personal best in the men's 800m freestyle, achieving a time of 8:00.19. Robert Bonsall (2nd) and Alessio Marci (3rd) finished in the top 3 of the event.
In the women's open 50m backstroke, Anderson once again stunned the audience by breaking more records in the 17- and 18-years age group with a fast time of 26.96, in front of Isabel Sheldrick (2nd) and Isabella Russell (3rd).
The men's open 200m freestyle saw Xavier Collins (Westside Christchurch, c: Jon Harrison) breaking the 16 years RE record with a time of 1:49.73, in front of Johann Szymanski (2nd) and Robert Bonsall (3rd).
In the club rankings, UWA West Coast Swimming Club secured champion club with a total of 1,031 points, followed by Westside Christchurch Aquatic Swimming Club in second place with 647 points, and St Hilda's Swim Club securing the third position with 640 points.
For age and open athletes, the championships not only marked the end of the cold winter short course season in WA but also served as valuable race training for many clubs preparing for the long course season. The swimmers' dedication and outstanding performances despite rigorous training blocks show the potential for successful competitions ahead.
The event's success would not have been possible without the support of technical officials, coaches, volunteers and parents, who played an important role in ensuring the smooth execution of the Hancock Prospecting Short Course Championships. Congratulations to all swimmers, coaches and clubs on the incredible racing over the weekend.
Thank you to Salt Diaries, our official photographer, for capturing great moments. Please find photos from the championships, here.
Full results from the Hancock Prospecting Short Course Championships, here.