29 May 2020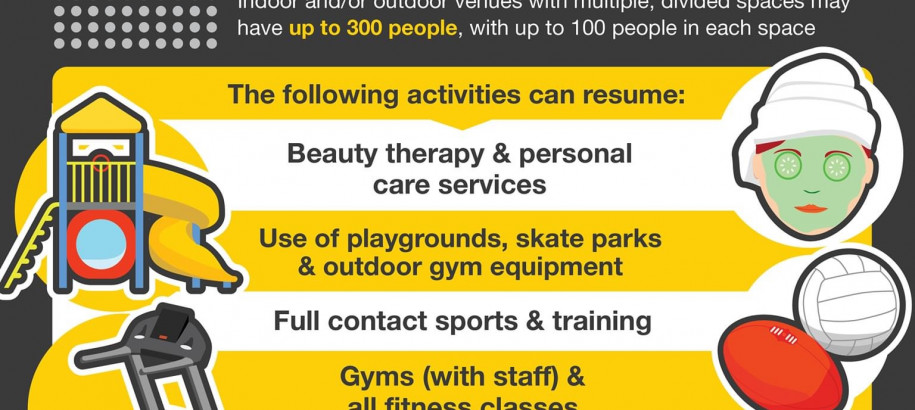 Please see below a letter from the Minister's Office re; COVID-19 update.
-
As you may have heard by now, this afternoon the Premier announced Phase 3 of the COVID-19 WA Roadmap of the relaxation of restrictions, which will take effect at 11.59pm Friday 5 June.
This includes a new gathering limit of 100 persons per single undivided space, with up to 300 patrons per venue ('the 100/300 rule'). To the excitement of many of you reading this email, full contact sport and training will also be able to resume, in line with these new gathering limits. A requirement for 2sqm of space person at venues will replace the existing four square metre rule.
As under the previous phase, outdoor sporting facilities including ovals or multi-court venues will be able to be zoned, provided a maximum cumulative limit of 300 persons per outdoor facility is maintained. Indoor facilities, such as gyms, pools and indoor sporting facilities can open subject to the above gathering limit, with restrictions on the use of equipment and the requirement that gyms only operate class-based fitness activities to be removed. Gyms must have a staff member present at all times to ensure regular cleaning.
Playgrounds, outdoor gyms and skate parks can also now open.
Venues with both indoor and outdoor components have a cumulative limit of 300 persons in total – which is again contingent on the 2sqm of space per person rule being met. Large indoor and outdoor venues that can accommodate more than 300 patrons while allowing for 2sqm per person may apply for an exemption to the 300-person patron limit if required, with details of this process to be provided as soon as possible.
Once again, the Department will provide an updated fact sheet to you as soon as possible, so please hold off on sending through enquiries until then if possible.
It is important to note that other requirements, such as each venue having a COVID Safety Plan, will remain in place.
Finally, I would like to make note of the important role volunteers in our sport and recreation clubs will play as we enter Phase 3. Volunteers have long been essential to the operation of our industry across the state, however as we begin to return to normal after this unprecedented disruption of activity, their efforts in enabling clubs to function will be more important than even. I urge you all to make sure the volunteers associated with your organisation know how important and valued they are, as the return to play simply won't be possible without them.
I hope this latest announcement brings a sense of certainty to you all – and I hope you enjoy the long weekend knowing in little over a week we will see all sports getting back into action.
Kind regards,
Mick Murray