12 May 2022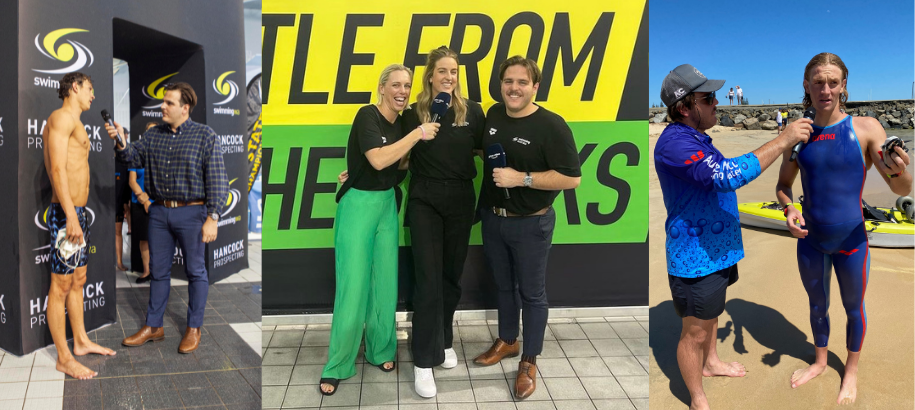 It is with an enormous mix of sadness and pride that we announce we are saying farewell to Swimming WA's man of many talents, Will Rollo. 
Since joining the Swimming WA team as a young 19-year-old fresh out of school, this former champion swimmer has become the heartbeat of this association over the last six years. His enthusiasm for swimming has been contagious for all that know him both locally and nationally. 
Will's passion, knowledge of swimming and hard work ethic over the years has seen him turn his hand to multiple roles including marketing, communications, sponsorship, alumni, events coordination, commentating and much more. While swimmers, coaches, clubs and fans of the sport know him as the energetic and knowledgeable commentator at our high-level competitions across pool and open water swimming events, it was his dedication behind the scenes that helped strengthen and grow our WA Swimming community. 
His class behind the microphone has also been recognised nationally, resulting in Swimming Australia inviting him to commentate the recent Australian Age Championships and the upcoming Australian Championships commencing next week. 
We are thrilled for Will that his talent and dedication has been recognised by Subiaco Football Club, where he has been headhunted into a Corporate Partnerships Managerial position. We are delighted that Will's involvement with swimming will continue through remaining as our main commentator at Championship events, as well as staying on SWA Committees where his knowledge of swimming will be invaluable. 
I am certain that we will see Will return to swimming at some point in his life as his career continues to progress. We wish him all the very best in his next life chapter and thank him so much for his ongoing service to the Western Australian swimming community. 
- Sophie Row, Swimming WA CEO