02 July 2019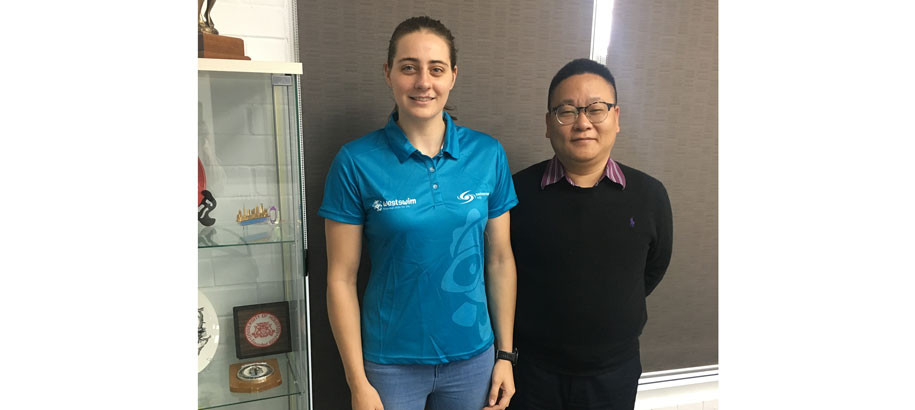 Photo: Caitlin Shepherd and Galaxy Group's Jia Wang
Swimming WA's Caitlin Shepherd will tonight become something of a swimming pioneer when she leaves for Zibo City in Shandong Province, China. The 23 year of coach and learn to swim instructor is the first of the Swimming WA team who will deliver coaching and teaching services as part of a 5 year partnership with Joy Education. Joy Education is an organisation that provides specialised tuition to both primary and secondary school students who are attempting to improve their academic record such that they might be able to enter a prestigious high school or potentially even study at a prestigious university overseas. Joy Education has decided that it wishes to establish a "point of difference" by utilising swimming as part of a well-rounded educational model. The Association has signed a multi-year Agreement with an Educational Institution that operates in China.  
This opportunity came about as a result of the engagement of SWA by the West Australian State Government as part of their Asian Engagement through Sport Strategy. The Chief Executive travelled to Shandong Province in Zibo City in April and was highly impressed with the aquatic facilities in Zibo City;
"China is a country ion the move and its swimming facilities are first class. Caitlin will be working with children of a variety of ages and swimming abilities and based on what I saw during my visit, she will be working with some talent. Our hope is that such talent will be encouraged to come to Perth in December this year and compete in the Asia Pac Super Splash. Along the way, Caitlin will also teach some youngsters how to swim utilising our highly successful WestSwim curriculum. We wish her the vert best for her trip" Mr Beazley said.
Caitlin leaves for China tonight for a 5 week stint in Zibo City, with additional coaches and learn to swim instructors set to follow in her footsteps in the year ahead.