31 January 2023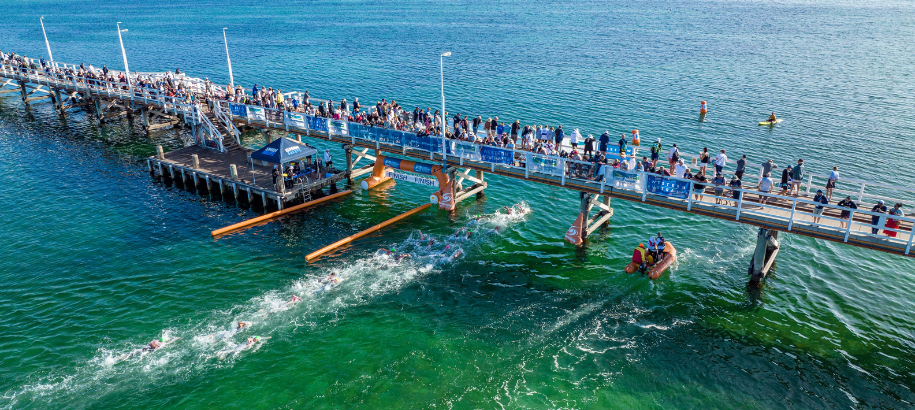 Swimming WA was thrilled to hear that the 2023 Ocean Swim Festival and the Australian Open Water Championships was coming to the iconic Busselton Jetty. 375 elite athletes converged on the shores of Busselton from January 25-28, while spectators enjoyed a number of activities including the Beachfront Twilight Markets and the Outdoor Cinema.
North Coast's Kyle Lee claimed his National title in the Men's 5km race as he touched out 10km champion Nick Sloman by just .06 of a second. Lee achieved success after an incredible anchor leg in the 4x1500m mixed freestyle relay the day before, with North Coast teammates Jack Wilson, Chloe Truscott and Rosie Wilson. The victory for North Coast didn't stop there, as the club was awarded the C.B. Rickards trophy as champion club of the 2023 Australian Open Water Championships with 331 points. Congratulations to North Coast Swim Club and coach Ian Mills on a very successful Championships.
The Girls' 19-Year-Old 10km saw Rosie Wilson (North Coast, c: Ian Mills) win Bronze with a time of 2:04:32.24. The 7.5km event showcases our 16-17-Year-Old athletes. Westside Christchurch swimmers Xavier Collins and Bianca Monaco (c: Jon Harrison) took Silver in the Boys' 17-Year-Old 7.5km and Girls' 16-Year-Old 7.5km respectively. Southshore's Thomas Dreverman (c: Craig Murray) took Bronze in the Boys' 16-Year-Olds 7.5km.
On Thursday, over 400 participants enjoyed the beautiful conditions at the Community Swim event. Swimmers of all ages and abilities had the choice to swim in a variety of distances including 500m, 1.25km, 2.5km, 7.5km and the big 10km qualifier for the Rottnest Channel Swim and Port to Pub. For full results and images from the Community Swim, click here.
Earlier the Girls' 14-Year-Old 5km event saw Southlake Dolphin's Sienna Pitt (c: Stefano Di Bernardo) win a Bronze medal finishing with a time of 1:07:37.41.
Friday was an exciting day for six of our Western Australian clubs (Breakers Swim Club, Busselton Swimming Club, North Coast Swim Club, Westside Christchurch, Scarborough Beach and UWA West Coast) to get together and race the 4x1500m mixed freestyle relay. UWA West Coast team of Javier Marginet, Yohanna Jackson, Alice Massey and Benjamin Manning took Gold and the Scarborough Beach team of Eleanor Flowers, Kaitlyn Brown, Nicholas Kryachok and Lucas Fazari took Bronze in the 14-15-Year-Old event. Whilst North Coast placed first in the Open relay, the Westside Christchurch team of Max Coten, Josie Page, Bianca Monaco and Byron Kimber placed third!
On Saturday, after Kyle Lee claimed his National title, Kaiden Richings (North Coast, c: Ian Mills) finished with a Silver in the Boys' 19-Year-Old 5km event. The Girls' 19-Year-Old and 16-Year-Old event saw Rosie Wilson (North Coast, c: Ian Mills) finish in third place and Bianca Monaco (Westside Christchurch, c: Jon Harrison) finish in second place respectively. Xavier Collins (Westside Christchurch, c: Jon Harrison) claimed Silver in the Boys' 17-year-old 5km. In the Boys' 16-Year-Old 5km, Highlanders swimmer Tex Cross (c: Ryan Steenkamp) finished in second place and not far off, Thomas Dreverman (Southshore, c: Craig Murray) finished in third place.
It was fantastic to see 17 of our WA technical officials in Busselton during the four days to officiate the event. A big congratulations to Steve Hill and Katherine Hurford for receiving their years of service badge last Saturday.