28 June 2023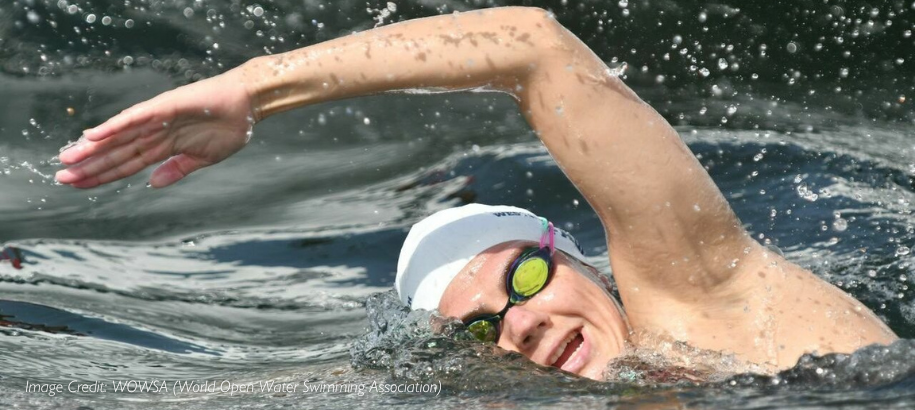 Westside Christchurch open water swimmer, Josie Page, has highly succeeded in the Capri-Napoli Marathon swim. Competing in the gruelling 36 km solo swim across the challenging Gulf of Naples, Page led the pack, also challenging male and relay swimmers. With an astonishing record-breaking time of 7 hours, 13 minutes and 34 seconds, she won among a field of 32 swimmers, earning herself a well-deserved spot in the main elite race scheduled for the 9th of September.
Setting off from the picturesque Le Ondine Beach Club in Marina Grande, Page embarked on a tough journey towards the finish line at Circolo Canottieri Napoli. From the very start, she demonstrated her strength in the race, maintaining an exceptional pace and leaving her competitors trailing in her wake.
Overcoming the physical and mental challenges posed by the open water, Page expressed her heartfelt happiness and extended her gratitude to the ideal sea conditions and the gentle waves that accompanied her during the race. The journey was not only a personal triumph but also a gateway to exciting new opportunities in her swimming career. Page now faces the decision of whether to compete in the highly anticipated main race in September or opt for another year of preparation, carefully weighing her options to ensure her continued success.
Amidst her well-deserved victory, Page took the time to immerse herself in the breathtaking beauty of Naples. Accompanied by her family, she spent an entire week exploring the enchanting city, captivated by its extraordinary places and the mesmerising waterfront. The experience left an indelible mark on the young swimmer, further igniting her passion for the sport and providing her with a well-deserved opportunity to success.
Page has always expressed her deep gratitude to her coach Jon Harrison at Westside Christchurch, for his guidance, support and mentorship, which revived her passion for open water swimming after encountering a few setbacks in the past. The team at Formidable Strength & Conditioning has also played a vital part in her swimming career, for their phenomenal expertise and training, which helped improve her swimming skills through tailored strength and conditioning programs.
With her extraordinary victory in the Capri-Napoli Marathon, Josie Page serves as an inspiration to aspiring swimmers especially within our Swimming WA community. As she sets her sights on future competitions, both locally and internationally, Josie Page continues to push the boundaries of her sport. No distance will ever be too much for her to conquer. Well done Josie!