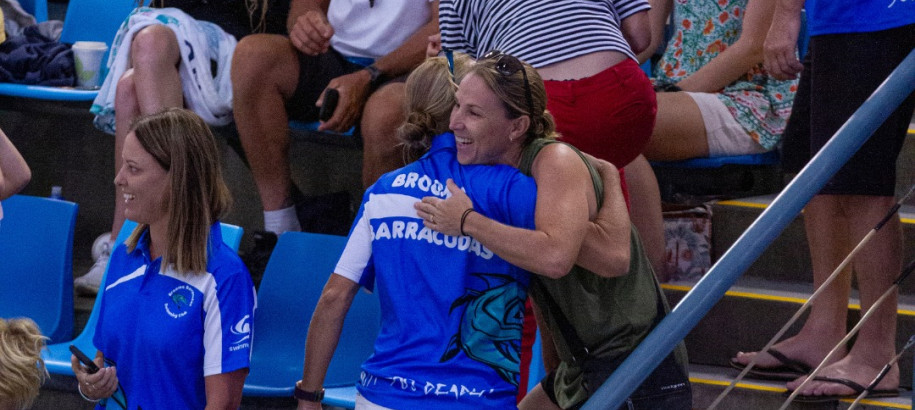 Parent Webinars
Join Narelle Keys and Kirsty Read from Swimming WA who are helping new parents to the sport of swimming navigate those first-time questions or concerns.  How do I enter my child in a meet? Which swimsuit can they wear? What is the difference between long course and short course?  What are some common expectations?  These answers and many more will be answered by the Swimming WA team who are here to help.

 

Details 

30th November @ 7.30pm - registration 

 

Richmond Wellbeing provides inclusive, community-based mental health and wellbeing support services across Western Australia.

 
Parent Resources
Travel Assistance Grants

The Travel Assistance Grants (TAG) are a signature Swimming WA initiative to aid in offsetting the significant travel and accommodation costs incurred by athletes travelling interstate from Western Australia to compete in the pursuit of national representation.

To view the current TAG criteria visit our Swimming WA Selection Criteria page.

 

Local Council/Shire Grants and Initiatives

Many local Councils and Shires offer Grants to athletes representing their State on a National level (i.e. Australian Age and Open Championships, Australian Open Water Championships). Usually the Grants range from $100 - $500 and all you need to do is complete an application form. Most will also require a letter of support from the State Sporting Association confirming the athletes selection/eligibility and that the competition is sanctioned by the State and/or National body.

Please contact your local council or visit their website to find out details of Grants offered in your area.

If you require a letter of support please contact Swimming WA with details of the grant you are applying for.

 

Department of Local Government, Sport & Cultural Industries (DLGSC)

The Regional Athlete Travel Subsidy Scheme (ATSS) provides a funding subsidy to assist talented athletes who reside in regional Western Australian with out-of-pocket travel and accommodation costs to compete at regional, State and national championships or events. To be eligible for this funding athletes must be a part of the Swimming WA Performance Pathway Programme.

For more information please visit the DLGSC website.

 

Sport Australia

The Local Sporting Champions programme is an Australian Government initiative designed to provide financial assistance for young people aged 12-18 towards the cost of travel, accommodation, uniforms or equipment when competing, coaching or officiating at an official National Sporting Organisation (NSO) endorsed State, National or International Sporting Championships or a School Sport Australia State or National Championships.

Grant applications are assessed three times each year.  It may therefore take five-six months before you are notified of the outcome of your application.

For more information please visit the Sport Australia website.

Calling All Swimming Parents

There are so many things to learn as a parent of a teen who enjoys competition swimming.

Parents are encouraged to speak to persons who have additional experiences than they have in the sport of swimming to aid them to provide the appropriate support for their own family unit. 

The obvious sources of ideas are the child's swimming coach, further experienced parents, previous swimmers and other people who have had a long period involvement in the sport.

Parents need assistance and backup to be knowledgeable about what is going on in the sport of swimming.

I often hear parents claiming that parenting is a unappreciated task, and in several cases that may be so. The same can be said for the swimming parent. To be wholly committed to the sport of swimming, parents must at the outset provide plenty of support to their children. This is easier once the parent has a broad knowledge of what is required in the sport. This is where Swimming for Parents comes in.

The sacrifices made by parents and at times other family members can be many if they genuinely support their child to become a successful swimmer. The commitment is quite small when children are young, attending once or twice a week. This will grow to three to five sessions a week for junior swimmers and increase further for age group swimmers.

Swimming is a life-time acquisition that is firstly taught through swimming lessons in swim schools around the world.

Children begin competing in swimming competitions when they shift from swimming lessons into a squad group. Many children move on to join a swimming club and begin competitive swimming where they will develop skills in all four competitive strokes, their starts, turns and finishes and learn how to pace their race.

Developing life skills is a crucial part of a swimmer's growth, especially when it comes to friendships and contributing to the squad, experiencing victory and defeat and effectively managing their time. The coach and swimmer kinship is of paramount importance if the two are to work together to make certain the athlete is successful. An valuable relationship must also prevail between the coach and the parent of the swimmer and this kinship must be reinforced on forthright open regular communication.

The expectations on swimmers will be distinctive as they go through different stages of growth and development.

A bonus for children involved in swimming is how quickly they develop independence. Swimmers ought to be encouraged to fill their swimming bag for training and be responsible for carrying their bags both to and from the pool at an young age. When a swimmer initially takes part in a swimming competition they should do everything themselves, including the swim, which helps develop extra independence. The swimmer and coach relationship can evolve to a high level at swim meets especially when they discuss tactics prior to a race and analyse the swim afterwards.

Young swimmers will complement their swimming training with dryland training with a focus on stretching and body weight routines as they establish their core stability.

Ensuring children have sound nutrition habits from a young age is vital for a swimmer. This includes knowing what to eat and when to eat it.

For a child, suitable rest and recovery is essential around their training and schooling requirements. This will make certain they continue healthy and are able to train and race at their best. Sleep is very important for growing bodies. This can be quite difficult once a swimmer begins doing morning sessions however families need to work out ways to assist swimmers to get the necessary rest.

Swimming for Parents considers all of the above issues and is the best resource for swimming parents with children aged 8 to 14 years. Swimmers aged 11 years and over and coaches of swimmers of all ages have also provided wonderful feedback on Swimming for Parents.

The information in this book is invaluable to parents and will provide insight which will assist in the understanding of their swimming child at virtually every stage of their maturation as a swimmer and a person. This book is not similar to any other material and will be utilised as a source over and over again.

Gary Barclay
Author: Swimming for Parents & Behind the Goggles