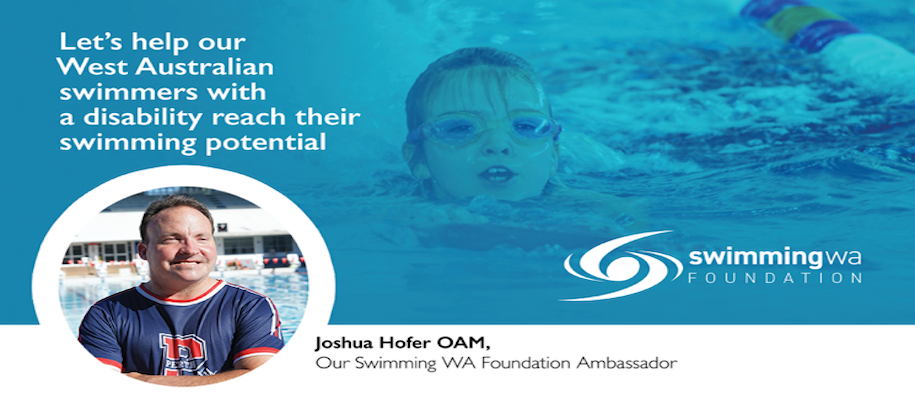 The Swimming WA Foundation exists to support individuals and Swimming WA Member Clubs with the opportunity to access funds through a grant scheme.
Swimming WA recognises the added costs associated with providing opportunities to swimmers with a disability, and the desire to provide access to swimming as a way of life for all West Australians.
Together with the community's support, Swimming WA Foundation conducts a number of fundraising initiatives throughout the year and welcomes your support.
Joshua Hofer OAM is the Swimming WA Foundation Ambassador and has worked tirelessly to promote the Foundation. He is a shining example of the success that can be achieved when provided with opportunity.
As we lead into the end of the financial year, what better time to make a tax deductible donation to such a worthy cause.  No donation is too big or too small.  (Donations to the Swimming WA Foundation of $2.00 or more are tax deductible through our alignment with the Australian Sports Foundation)  
How you can support the Swimming WA Foundation:
by making a personal donation using the Donate button 
regular giving opportunity via the Australian Sports Foundation website
a corporate competition at major swimming Meet or Event (eg Westpac Winners Lane)
supporting the "iSwim4U" fundraising swimming event by SWA sponsor Aqua Technics 
participating in the "Diamond Mile" Open Water Swim fundraiser at Fremantle's Bather Beach
provision of Auction items for the annual Westpac Women in Sport Luncheon
Joshua Hofer OAM, "The  HOFF", is an Australian swimmer and proud Ambassador of the Swimming WA Foundation. 

In 1981, at the age of 17, Joshua competed at the 8th Special Olympics World Games in Minneapolis, Minnesota winning three Gold medals in the Men's 4 x 50m Freestyle Relay, Men's 200m Freestyle Relay and Men's 100m Backstroke, along with a Bronze medal in the Men's 100m Breaststroke.

At the 1992 Paralympic Games in Madrid, Spain, Joshua won five Gold medals in the;

Men's 100m Backstroke,
Men's 4 x 50m Freestyle Relay,
Men's 4 × 100m Freestyle Relay,
Men's 4 x 50m Medley Relay 
Men's 4 × 100m Medley Relay,

four Silver medals in the;

Men's 50m Butterfly,
Men's 100m Butterfly,
Men's 50m Backstroke,
Men's 200 m Backstroke,

and two Bronze medals in the;

Men's 200m Freestyle,
Men's 400 m Freestyle.

In 1993, Joshua received an Order of Australia Medal.

In 1994, he competed at the first IPC Swimming World Championships in Malta and won a Silver medal in the;

and a Bronze medal in the;

Men's 100m Freestyle S14.

Joshua is a proud member of the Perth City Swimming Club.
For further information about the Swimming WA Foundation please contact our office on 08 9328 4599 or email waswim@wa.swimming.org.au
To donate, please click on the Donate link above or click below to manually complete a Donation Form.  Your support is very much appreciated.