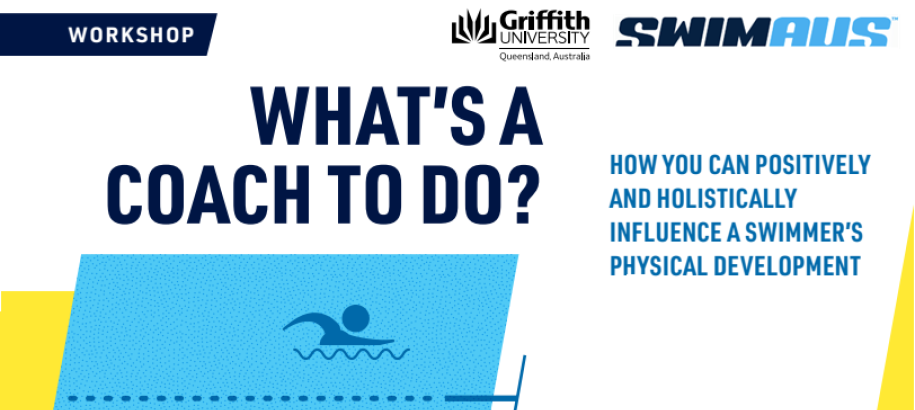 Date & Time
Tue, 31/01/2023 to Fri, 03/02/2023
Part 1: 31st Jan 12:00pm - 1:30pm, Part 2: 3rd Feb 4:00pm - 6:30pm
Location
31st Jan: Online, 3rd Feb: WAIS Training Room
Attend
Free
Event Details
Coaches are important figures of influence in mitigating risk, detecting and supporting the management of low energy availability and its associated health complications for athletes at all ages and levels. Ideally, coaches provide supportive environments for training and nutrition behaviours, that lead to performance optimisation and long-term health. However, in some cases the pursuit to develop faster and stronger swimmers has led to poor health outcomes associated with Relative Energy Deficiency in Sport (RED-S).
This workshop explores with the coaches how coaches can positively and holistically influence a swimmer's physical development. 
Targeted Coaches: Advanced Coach Candidates, Advanced and Performance Coaches, Flippers Coaches and Club Head Coaches (working with any level of athlete)
Presenter: Ali Disher, Swimming Australia
Ali is an Advanced Sports Dietitian and Exercise Physiologist, with a Master of Philosophy in sports nutrition and hydration. Ali is Swimming Australia's Performance Nutrition Lead and she also consults to the Queensland Academy of Sport, Queensland Rugby League, as well as having previously worked at the Australian Institute of Sport.  Ali is on the board of Sports Dietitians Australia, and recently finished ten years lecturing and supervising practicum placements for QUT's School of Exercise and Nutrition Sciences.
Workshop Part 1 (Online)
Date: 31st January
Mode: Online
Time: 12:00pm -1:30pm 
Workshop Part 2 (Face to Face)
Date: 3rd February
Time: 4:00pm – 6:30pm
Location: WAIS Training Room
We encourage coaches attending this workshop to join us after this event on pool deck to assist the National Flippers Testing for WA Flippers Squad. 
 
Please ensure you check the following accreditations/memberships are current to attend: 
Please register via the link above to attend before 30th January 12:00pm.