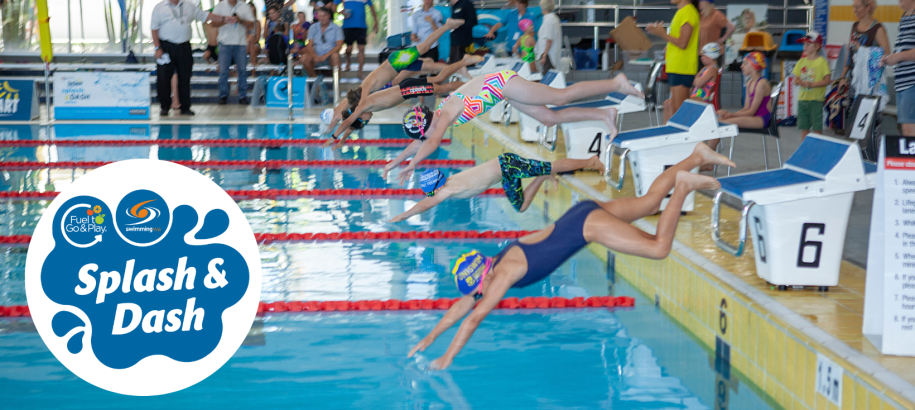 The Fuel to Go & Play Splash & Dash is a FUN event which gives participants over the age of 6 a chance to have a go at competitive swimming.  These events offer the opportunity for clubs to promote themselves and their programs as well as offering a safe, inclusive and exciting environment for kids to try racing for the first time.  There is no technical officiating, no official times, and no disqualifications.
Swimming is an essential part of Western Australian life, start your swimming journey with us today!
If you have any questions, or are a club wanting to host a Fuel to Go & Play Splash & Dash please email development@wa.swimming.org.au.
The next available events are:
Kimberley Open Fuel to Go & Play Splash & Dash
Date: Saturday 23rd September 2023 to Monday 25th September 2023.
Time: Various throughout the event.
Location: Broome Recreation and Aquatic Centre
Click here for more information and registration
Swimming WA Fuel to Go & Play Splash & Dash
Date: Friday 29th September 2023
Time: 1.30-3pm
Location: Cannington Leisureplex
Click here for more information and registration
Bunbury Open Fuel to Go & Play Splash & Dash
Date: Sunday 22nd October 2023
Time: Morning, event numbers 3, 9, 14
Location: South West Sports Centre
Click here for more information and registration
Northern Swimming Association Fuel to Go & Play Splash & Dash
Date: Saturday 25th November 2023
Time: Various throughout the event
Karratha Leisureplex