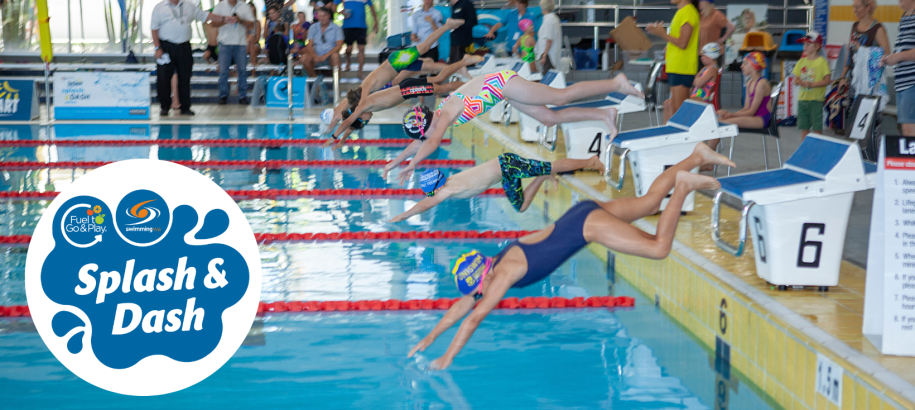 The Fuel to Go & Play Splash & Dash is a FUN event which gives participants over the age of 6 a chance to have a go at competitive swimming.  These events offer the opportunity for clubs to promote themselves and their programs as well as offering a safe, inclusive and exciting environment for kids to try racing for the first time.  There is no technical officiating, no official times, and no disqualifications.
The first 100 new members to sign up over the state-wide Fuel to Go & Play Splash & Dash weekend (October 21-23, 2022) will receive a Swimming WA starter pack courtesy of our partnership with Swimtek, which includes a kickboard, water bottle and net bag to the value of over $50!
Swimming is an essential part of Western Australian life, start your swimming journey with us today!
For clubs that want to register a Fuel to Go & Play Splash & Dash event please click here.
If you have any questions please feel free to email development@wa.swimming.org.au.
Clubs that are running an event near you:
| | | | | |
| --- | --- | --- | --- | --- |
| Date | Club | Venue | Time | Further Information |
| Friday 14/10/22 | Riverton Aquanauts Swimming Club | Riverton Leisureplex (High Road, Riverton) | From 6.30pm | Riverton Aquanauts Website |
Club Contact: Deb Doody (rascpresident@gmail.com)
| | | | | |
| --- | --- | --- | --- | --- |
| Date | Club | Venue | Time | Further Information |
| Friday 21/10/22 | Guildford and Kalamunda Districts Swimming Club | Guildford Grammar Senior Pool (11 Terrace Road, Guildford) | 6pm-7.30pm | GK Splash & Dash |
Club Contact: Trevor Verran (president@gkdsc.com.au)
| | | | | |
| --- | --- | --- | --- | --- |
| Date | Club | Venue | Time | Further Information |
| Saturday 22/10/22 | Northam Swimming Club | Northam Aquatic Facility (44 Peel Terrace, Northam) | TBC | Northam Swimming Club Website |
Club Contact: Erin Nielsen (northamswimmingclub@gmail.com)
| | | | | |
| --- | --- | --- | --- | --- |
| Date | Club | Venue | Time | Further Information |
| Saturday 22/10/22 | Breakers Swim Club | Craigie Leisure Centre (751 Whitfords Ave, Craigie) | TBC | Breakers Swim Club Website |
Club Contact: Danielle Harrison (smo@breakerswaswimclub.org)
| | | | | |
| --- | --- | --- | --- | --- |
| Date | Club | Venue | Time | Further Information |
| Saturday 22/10/22 | Mt Helena Swim Club | Mt Helena Aquatic Centre (Keane Street East, Mount Helena) | 1pm-3pm | Mt Helena Splash & Dash |
Club Contact: Priscilla Isard (mthelenaswimclub@yahoo.com)
| | | | | |
| --- | --- | --- | --- | --- |
| Date | Club | Venue | Time | Further Information |
| Sunday 23/10/22 | Peel Aquatic Club | Mandurah Aquatic and Recreation Centre (303 Pinjarra Road, Mandurah) | 2pm-4pm | Peel Aquatic Website |
Club Contact: Amanda Reid (peelaquaticsecretary@gmail.com)
| | | | | |
| --- | --- | --- | --- | --- |
| Date | Club | Venue | Time | Further Information |
| Sunday 23/10/22 | Canning Districts Swimming Club | Cannington Leisureplex (Wharf Street & Sevenoaks Street, Cannington) | TBC |   |
Club Contact: Steve Milford (canningdistrictssc@outlook.com)
| | | | | |
| --- | --- | --- | --- | --- |
| Date | Club | Venue | Time | Further Information |
| Saturday 26/11/22 | UWA-West Coast Swimming Club | HBF Stadium (100 Stephenson Ave, Mount Claremont) | From 9am | |
Club Contact: Steve Hill (meetdirector@uwawestcoast.com.au)
Club Contact: Anna-Lise Murch (president@busseltonswimmingclub.com.au)