18 January 2020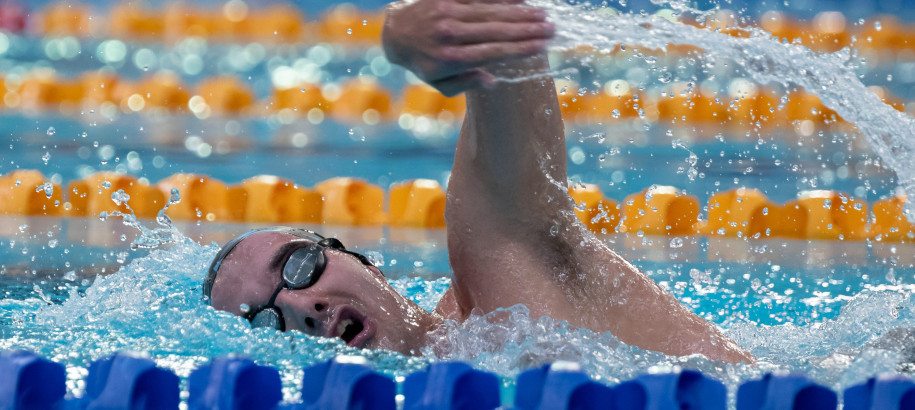 Swimming fans from across Western Australia were once again treated to a spectacular showing as the State's best swimmers took to the water in night 2 of the 2020 Hancock Prospecting WA Swimming Championships.
Some of this evening's highlights include;
Men's 200m Individual Medley –
The first event of this evenings session saw a fantastic race between several swimmers as they raced for honours in the Men's 200m IM. The field was led out by Butterfly ace Nicholas Brown (UWA-West Coast, c: Michael Palfery, WAIS), however, he lead was short-lived as David Schlitt (MLC Aquatic, c: Nick Veliades) tore through the water through the backstroke leg. Schlitt kept his lead through the Breaststroke, holding off a huge push from Kieren Pollard (North Coast, c: Ian Mills). Schlitt finished in 2:04.63 ahead of Pollard who has now claimed two narrow silvers, with Alex Milligan (UWA-West Coast, c: Michael Palfery, WAIS) finishing 3rd in 2:09.68.
Men's 800m Freestyle –
Once again, Ben Roberts (Breakers, c: Bud McAllister, WAIS) was far too strong for the field, leading right from the get-go. Continuing from yesterday's fine form, Roberts was out incredibly fast turning through the 400m mark in 4:03.11. Remarkably, Roberts was able to negative split his race, storming home to finish in 8:04.46, breaking a WA Residential Record in the process. With the 1500m set to take place on the final night of competition, you can't help but feel excited for what is set to take place.
Men's 100m Freestyle Multi-Class –
A pool stacked with talent took to the water in the Men's 100m Freestyle Multi-Class with one of the deepest fields WA has ever seen racing for Gold. Australian Dolphin and 2019 IPC World Championship Medallist, Ben Popham (Arena, c: Simon Redmond) was all class finishing in 59.61. Silver was claimed by Winson Chen (UWA-West Coast, c: Rob Palfery) finish ahead of Liam Smith (St Hilda's, c: Deb Jones), both of whom held off Colin Jackson (UWA-West Coast, c: Rob Palfery) and Jeremy McClure (South Shore, c: Chris Twomey). With all swimmers aiming to push toward a guernsey at the 2020 Paralympics, it is a great time to be involved with Para Swimming in WA.
Women's 100m Backstroke –
Event 19 saw an absolute nail bitter as Alyssa Burgess (Arena, c: Simon Redmond) and Olivia Lefoe (MLC Aquatic, c: Nick Veliades) went all the way down to the touch. Burgess had half a second through the first 50m, however, Lefoe was able to maximise her turns to level up with Burgess as they powered down the home straight. Coming under the flags, both swimmers were stroke for stroke, with the difference coming down to a fantastic touch from Burgess (1:03.35) ahead of Lefoe (1:03.36). Arna Couper (Perth City, c: Matt Magee) claimed 3rd in 1:04.70.  
Women's 50m Freestyle –
Tonight's splash and dash did not disappoint with another showcase from Holly Barratt (Rockingham, c: Will Scott, WAIS) as she dominated the field to win by over half a second. Barratt, who has time and time again shown her incredible power and finesse to obliterate the sprint races, did so tonight, flying down the pool to finish in 25.52. Olivia Lefoe (MLC Aquatic, c: Nick Veliades) claimed 2nd in 26.31, with Kate Harrison (Westside Christchurch, c: Jon Harrison) taking 3rd.
Men's 4x200m Freestyle –
UWA-West Coast showed their full force in the Men's 4x200m Freestyle relay, blowing out the competition off the blocks. In what was a star-studded lineup, Zac Incerti led them out in 1:50.95 before handing off to Hugh Moran, Adam Sudlow and Ashton Brinkworth. The team stopping the clock in 7:33.09, obliterating the record books. With this time, the UWA-West Coast team is shaping to be a formidable team heading into the 2020 Australian National Championship set to take place in Perth in April.
With another spectacular evening on Swimming in the books, attention now turns to the third and final day of the 2020 Hancock Prospecting WA Swimming Championships which is set to be an absolute cracker. Eyes will be heavily fixed on several Olympic hopefuls, including George Harley (Breakers, c: Bud McAllister, WAIS) who will be the favourite in the Men's 200m Breaststroke, which is an event not be missed.
Tickets are available at the door for $3.60 with action starting at 6:00 pm.
Once again, Swimming WA would like to thank the generosity of the Officials and Volunteers who give up their time to ensure the success of Championships meets such as this.
Congratulations to the State Champions for the 2020 Hancock Prospecting WA Swimming Championships:
Ben Popham (Arena, c: Simon Redmond) - Men's 50m Freestyle Multi-Class, Men's 400m Freestyle Multi-Class, Men's 100m Freestyle Multi-Class
Jordan Berryman (UWA-West Coast, c: Ryan Spencer) - Women's 50m Freestyle Multi-Class, Women's 50m Butterfly Multi-Class
Holly Barratt (Rockingham, c: Will Scott, WAIS) - Women's 50m Butterfly, Women's 100m Butterfly, Women's 50m Freestyle
Ben Roberts (Breakers, c: Bud McAllister, WAIS) - Men's 400m Freestyle, Men's 800m Freestyle
Winson Chen (UWA-West Coast, c: Rob Palfery) - Men's 100m Breaststroke Multi-Class
Talara-Jade Dixon (St Hilda's, c: Deb Jones) - Women's 100m Breaststroke
Nic Brown (UWA-West Coast, c: Michael Palfery, WAIS) - Men's 200m Butterfly
Blair Evans (UWA-West Coast, c: Will Scott, WAIS) – Women's 400m Individual Medley, Women's 200m Breaststroke
Alex Milligan (UWA-West Coast, c: Michael Palfery, WAIS) - Men's 50m Breaststroke
Brianna Throssell (UWA-West Coast, c: Michael Palfery, WAIS) - Women's 100m Freestyle
Ashton Brinkworth (UWA-West Coast, c: Michael Palfery, WAIS) - Men's 100m Freestyle, Men's 50m Butterfly, Men's 200m Freestyle
Tegan Reder (Victoria Park) - Women's 100m Breaststroke Multi-Class, Women's 400m Freestyle Multi-Class
Colin Jackson (UWA-West Coast, c: Rob Palfery) - Men's 50m Backstroke Multi-Class
Alyssa Burgess (Arena, c: Simon Redmond) - Women's 200m Backstroke, Women's 100m Backstroke
Teegan Watson (UWA-West Coast, c: Michael Shaw) - Women's 800m Freestyle
Joshua Edwards-Smith (UWA-West Coast, c: Michael Shaw) - Men's 50m Backstroke
Kieren Pollard (North Coast, c: Ian Mills) – Men's 200m Individual Medley
Charlotte Ericksen (Arena, c: Simon Redmond) – Women's 400m Freestyle
Kevin Kalember (Rockingham, c: Will Scott, WAIS) – Men's 200m Backstroke
George Harley (Breakers, c: Bud McAllister, WAIS) – Men's 100m Breaststroke
Lucinda Foley (UWA-West Coast, c: Rob Palfery) – Women's 100m Freestyle Multi-Class
Jack Perry (Manjimup) – Men's 50m Butterfly Multi-Class
UWA-West Coast - Men's 4x100m Medley Relay, Men's 4x200m Freestyle Relay
St Hilda's - Women's 4x100m Medley Relay, Women's 4x200m Freestyle Relay