03 January 2020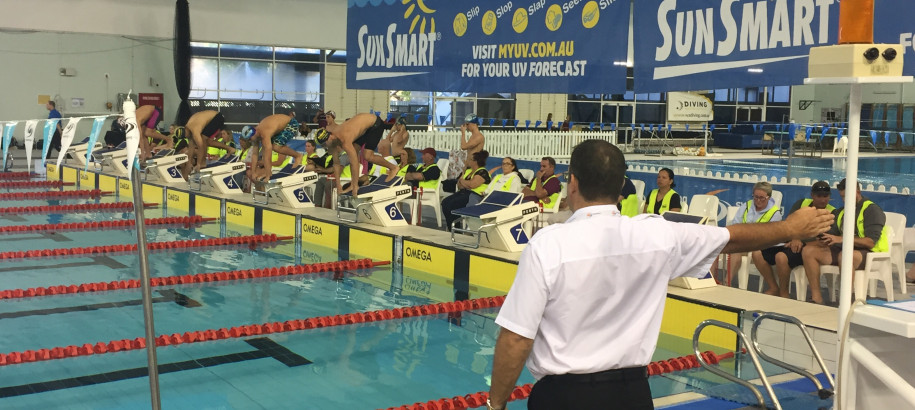 The 2020 SunSmart Country Championships are underway at HBF Stadium in what is looking to be an exhilarating showcase of Country Swimming as the best from around the state get ready to race!
Some highlights from this evening's session include:
Men's 4x50m Medley Relay –
The first relay of this evening's proceeding saw an almighty performance from Bunbury as they dominated to win in an empathic fashion. The team coached by Jason Evans consisting of Jye Jensen, Kyle Lee, Jonas Arnold and Thomas Davies gave the current Country Record an almighty scare as they stopped the clocked in 1:54.55. The highlight of the team came from Jonas Arnold who swam an incredible Butterfly leg, splitting in 26.40. Silver was claimed by Mandurah and Bronze by Bunbury A.
Women's 4x50m Freestyle Relay –
The Women's 4x50m Freestyle Relay saw a cracking race between Peel Aquatic and Mandurah with just over a second separating the two teams. Peel got off to a great start due to a magical performance from Mackenzi Logan (Peel, c: Patrick Stellino) however, Mandurah fought hard through the second 50m thanks to Sophia Hays (Mandurah, c: James Hornby). In the end, Peel proved too strong and swam away to victory, touching home in 1:59.59, ahead of Mandurah (2:00.72) and Bunbury (2:06.01).
Girls 14 Years and Under 4x50m Freestyle Relay -
The last relay for the first session of the 2019 SunSmart Country Championships proved an absolute cracker as 10 teams took to the water. The team from Mandurah (Bria Dickinson, Chelsea Maley, Alyssa Shackles and Aroha Tarrant, c: James Hornby) proved too strong as they managed to take the win in 2:06.29 just ahead of Bunbury (2:07.15). Third place was won by Australind who stormed home to touch in 2:11.48.
Men's 1500m Freestyle –
In what has become all too expected, Kyle Lee (Bunbury, c: Jason Evans) once again proved to be a class above the rest in the Men's 1500m Freestyle. Lee who was in stellar form throughout 2019 has started 2020 with a bang as he torched the field to finish in 16:19.69, 85 seconds ahead of Silver. Lee, who is fresh off a successful campaign at the 2019 SunSmart WA State Age Long Course Championships and currently preparing for the 2020 Australian Open Water Swimming Championships later this month looks to be right on track, showing his incredible speed to split a 1:00.88 in the last 100m. Lee finished ahead of teammate Owen Cattaway (Bunbury, c: Jason Evans) and Ben Roots (Mandurah, c: James Hornby).
With night one in the bag, Swimmers, Coaches, Officials and Spectators now turn their attention to day two, where many more events are set to unfold.
Action will be underway from 9 am Saturday 4 January, stay tuned via the Swimming WA Social Media or Meet Mobile.