27 August 2021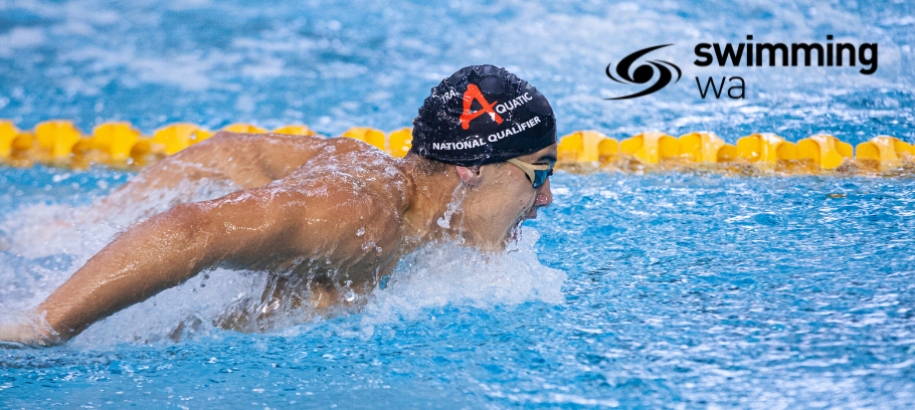 Swimming WA is pleased to announce the State Team who will compete at the 2021 Duel in the Pool.
The Swimming WA Performance Department, through careful deliberation with State Team Head Coaches Deb Jones and Cameron Hawthorn, have selected the squad based on performances at the 2021 Hancock Prospecting WA Short Course Championships.
With record breaking performances from Australian Age Champion, Iona Anderson and the Bunbury Bullet, Alex Saffy, team selectors certainly had their hands full choosing the best young talent in the state. However, with the team now selected, Western Australia will be represented by 42 athletes.
While the team will be unable travel to Canberra for the 2021 State Team Championships, they will attend and compete in a duel meet between WA Gold and WA Black at Christchurch Grammar School from October 4 - 6.
This year the team will be represented by athletes across Western Australia, including six regional athletes selected to compete. Once again, there will be a strong representation from UWA-West Coast, Westside Christchurch and St Hilda's who continue to develop young talent in WA.
More information on the event will be released in the coming weeks.
2021 Swimming WA Duel in the Pool

Girls' 13 – 14 Years

Name

Club

Coach

Age

Abbie Loraine

UWA-West Coast

Ryan Steenkamp

14

Alyssa Monaco

Westside Christchurch

Jon Harrison

13

Bianca Monaco

Westside Christchurch

Jon Harrison

14

Bianca Petsos

UWA-West Coast

Rob Palfery

13

Helen Smith

South Shore

Craig Murray

13

Jasmine Mercer

UWA-West Coast

Rob Palfery

14

Kaci Curtis

Southlake Dolphins

Dorian Gandin

13

Natalie van Selm

UWA-West Coast

Rob Palfrey

13

Sahmara Kirby

Westside Christchurch

Jon Harrison

14

Sylvia Czajko

UWA-West Coast

Rob Palfery

13

 
 
 
 

Girls' 15 – 16 Years

Name

Club

Coach

Age

Georgina Gray

UWA-West Coast

Rob Palfrey

15

Inez Miller

St Hilda's

Deb Jones

15

Iona Anderson

Breakers

Harry Clark

16

Jessica Fry

Westside Christchurch

Will Greenwood

15

Kate Wallington

Riverton Aquanauts

Gemma Herrington

15

Neeve Fasher

St Hilda's

Deb Jones

16

Samantha Lourey

UWA-West Coast

Rob Palfrey

16

Sophie Gregory

Perth City

Jason Evans

16

Talia Wilkinson

St Hilda's

Deb Jones

16

Telani Woodham

UWA-West Coast

Rob Palfrey

15

 
 
 
 

Boys' 14 – 15 Years

Name

Club

Coach

Age

Adrian Frederic

South Lake Dolphins

Dorian Gandin

15

Alex Saffy

Bunbury

 

15

Charlie Hodge

UWA-West Coast

Rob Palfry

15

Conor Langlands

Rockingham

Brooke Kemp

14

Daniel Beales

St Hilda's

Deb Jones

15

Jackson Anderson

UWA-West Coast

Ryan Steenkamp

14

Kristian Seidl

Westside Christchurch

Jon Harrison

15

Matthew Loffler

Riverton Aquanauts

Gemma Herrington

15

Sean Alcorn

Peel Aquatic

Patrick Stellino

14

Zachary Mills

UWA-West Coast

Rob Palfrey

15

 
 
 
 

Boys' 16 – 17 Years

Name

Club

Coach

Age

Adriano Todoro

UWA-West Coast

Rob Palfrey

17

Finlay Larmour

Peel Aquatic

Patrick Stellino

17

Harrison Farmer

Central Aquatic

Wayne de Lacy

16

Harrison Ratcliffe

Rockingham

Brooke Kemp

17

Hayden Ferguson

Southlake Dophins

Dorian Gandin

16

Jacob Hale

Riverton Aquanauts

Gemma Herrington

16

Johann Szymanski

UWA-West Coast

Ryan Steenkamp

16

Kaiden Richings

Bunbury

 

17

Matthew Lamb

UWA-West Coast

Rob Palfrey

17

Oliver Brehaut

Peel Aquatic

Patrick Stellino

17

 
 
 
 

Para Swimming

Jordan Berryman

UWA-West Coast

Brett Tongue

15

Lucinda Foley

UWA-West Coast

Rob Palfery

16
WA Gold - Coaches

Deb Jones

St Hilda's

Head Coach

Jason Evans

Perth City

Team Coach

Jon Harrison

Westside Christchurch

Team Coach

Rob Palfrey

UWA-West Cosat

Team Coach

Harry Uglow

North Coast

Development Coach
WA Black - Coaches

Cameron Hawthorn

Scarborough Beach

Head Coach

Patrick Stellino

Peel Aquatic

Team Coach

Will Greenwood

Westside Christchurch

Team Coach

Harry Clark

Breakers

Team Coach

Shannon Doody

Scarborough Beach

Development Coach