18 November 2022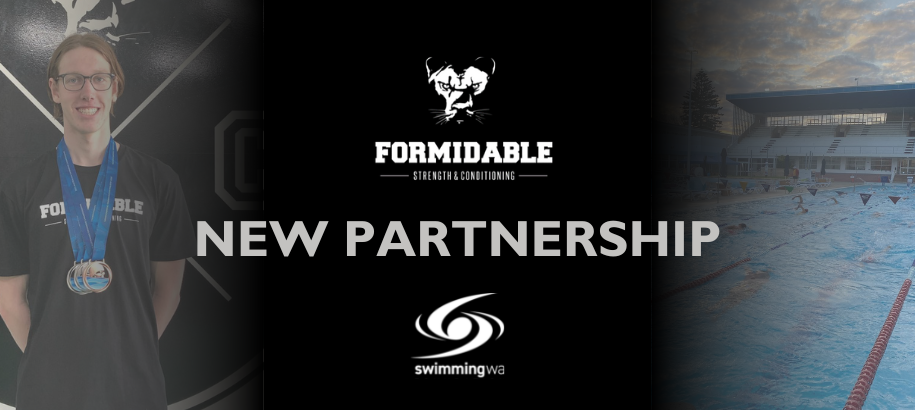 The Western Australian Swimming Association Inc. (Swimming WA) is delighted to announce a new partnership with Perth based strength, conditioning and rehabilitation facility, Formidable Strength & Conditioning (FSC).
Formidable Strength & Conditioning provides athletes with the opportunity to improve their performance with a unique 360-degree approach to their sporting needs. This incorporates strength and conditioning, rehabilitation, injury prevention, nutrition, mindset training and recovery into a single ecosystem to optimise swimmers' performance whilst protecting them from injury. Formidable will offer Swimming WA members the opportunity to access their strength and conditioning and rehabilitation services at a discounted rate. 
Founders, Ryan Evernden & Simon Le Couilliard have over 10 years of experience in coaching and competing at a high level as swimmers themselves. In the last few years, the team at Formidable has developed a systematic methodology based on tried and tested principles to help get each athlete stronger and more efficient, whilst reducing their chance of injury.
Ryan said he is proud to provide strength and conditioning & rehabilitation services to a community and sport he is passionate about. "As a swimmer who has experienced recurring injuries that ended my career, I strive to improve swimmers' performance by building strength to prevent swimming injuries while maximising performance. FSC is excited to provide these services to the whole swimming community in partnership with Swimming WA to help Western Australian swimmers achieve their potential and become podium finishers".
Swimming WA Partnership Coordinator, Scott Johnston said the association is very excited to partner with FSC. "Swimming WA are always focused on our swimmers, as they are the center of our community. Strength and conditioning is a fundamental part of our sport. This partnership will provide an opportunity for athletes to complement their swimming, prevent injuries, and provide a pathway for athletes to achieve their goals.
To find out more about Formidable Strength & Conditioning, click here.