23 February 2022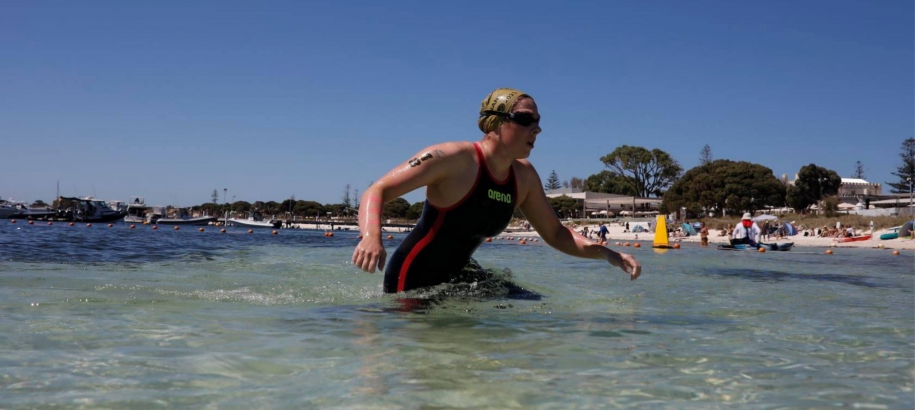 One of the most consistent performers across our Open Water Swimming Series for many years now has been 20-year-old Fiona Cullinane.
The national open water swimming medalist has found her niche with distances that are not intended for the faint hearted. These include her 19.7km solo of the Rottnest Channel Swim event this Saturday, along with a 25km solo in the Port to Pub in March.  
Her biggest and longest target? The formidable 32km English Channel Crossing, an event that she is preparing for by completing 'get cold sets,' where she remains in the ocean for as long as possible trying to control her body temperature.
After recently joining Perth City Swim Club and training under renowned Head Coach, Eoin Carroll, the criminology student provided an insight into her training and aspirations for the Rottnest and English Channel Swims.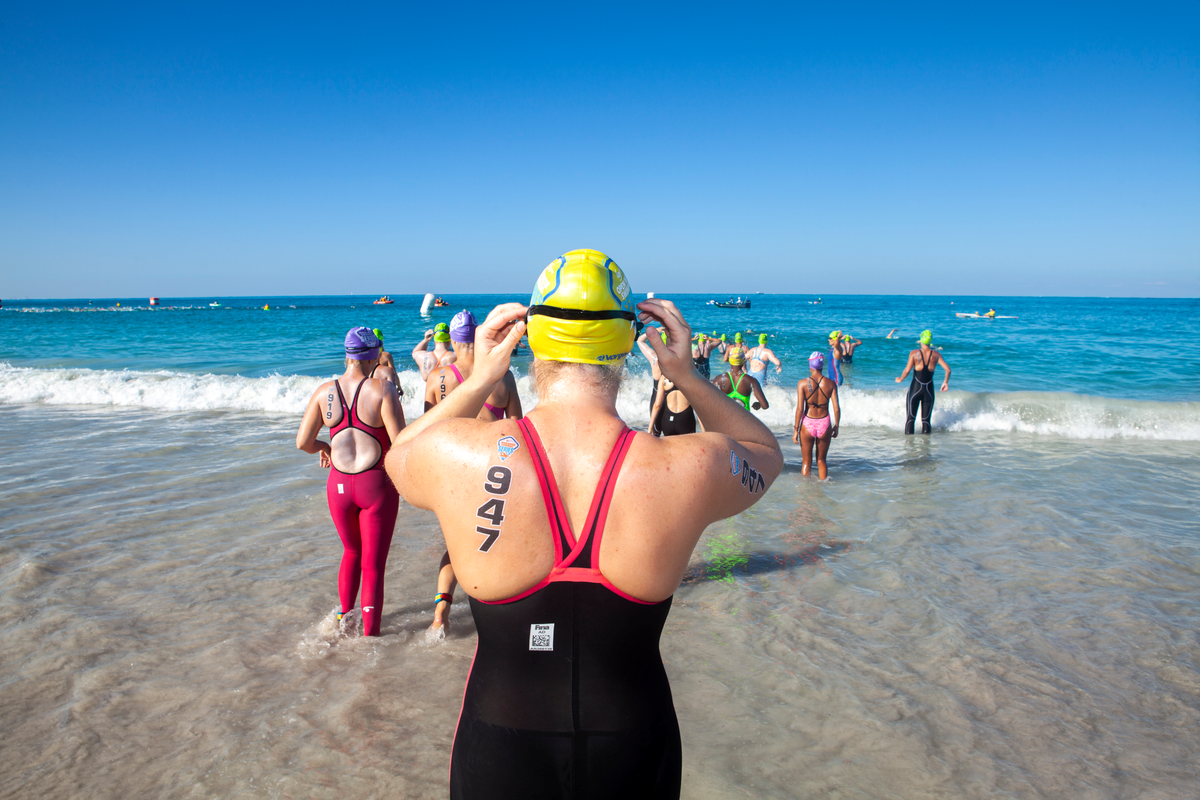 How and when did you first get involved with swimming? 
Cullinane – "When I was about 11, the Rockingham Swim Club had an open club night where people from the local swim school could come and try out. At the time I had been focusing on dancing and trapeze and hadn't really thought about changing up my sport.
I always knew I was competitive in the water and curiosity got the better of me. During my swim lessons I always wanted to perform at my best and challenge those around me. I had such an amazing time at the club night and I immediately wanted to start swimming.
Rockingham Swim Club and its community were so welcoming and supportive. I had a swimming parent that I didn't know come up to me after I got out of my first little race, they told me I did a really good job and to watch the next race so she could show me how I could improve my tumble turns. The club was incredibly helpful right off the bat.
I was not the most talented swimmer and really had to work on technique and put in a lot of effort to get up to speed. I had also been part of surf lifesaving for a couple of years. I've never been one of the best of the group, I'd always been somewhere around the middle. After joining swimming, my performance and surf lifesaving went through the roof!"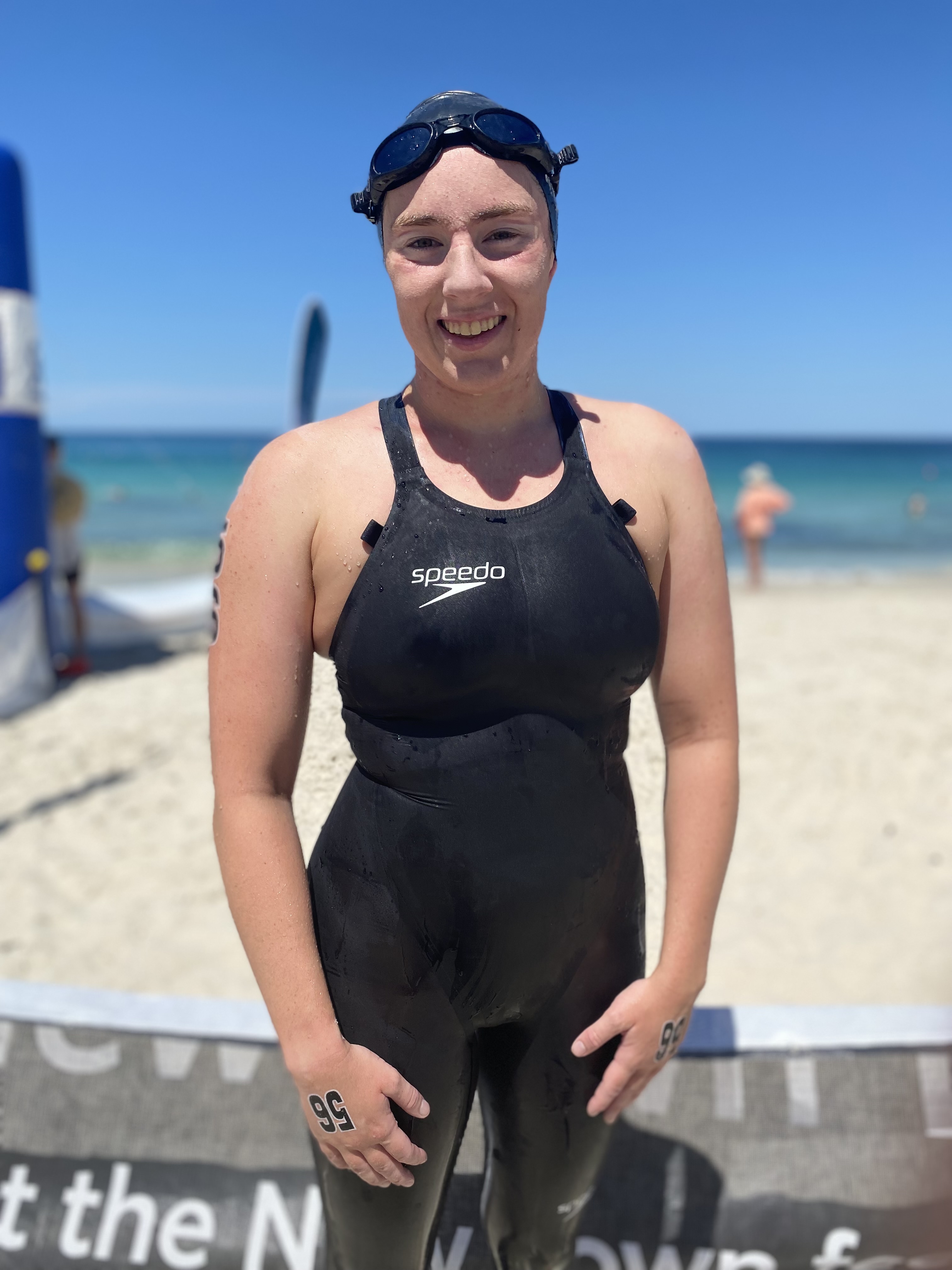 What clubs and coaches have you trained with throughout your career? 
Cullinane – "I was a part of the Rockingham Swim Club for over nine years. They were phenomenal for implementing the right technique and mind set for training and competing.
During that time, I was invited to do some cool training camps where we travelled up to the city for sessions and that was fun to experience.
The coaches I worked with out of Rockingham included Gordon Shaw, who sadly passed away recently, Bridget Young, Stacey Harper, Will Scott and Brooke Kemp. All these coaches had such an impact on the way that I train and my attitude towards training and competing.
All of them have pushed me to do the best I can and have been so supportive of my journey and ambitions both in swimming and out of the pool. They all have such different coaching styles and that's been great for learning different routines, tactics and training tips.
Towards the end of 2021, I made the decision to move to Perth City Swimming Club based out of Beatty Park and swim under their Head Coach, Eoin Carroll. He's had years of experience coaching at a high level, including working with international athletes in Ireland.
Eoin has done tremendous work helping develop 18-year-old Alec Mander into one of the best freestylers in WA and has such a wide amount of knowledge across all strokes and distances. I wanted to improve my swimming skills further and the long history of the club was very enticing.
The club has also produced some of the best open water swimmers in WA history, so I'm incredibly excited to come under Eoin's wing and see what I can learn from him while diving into some new territory in training."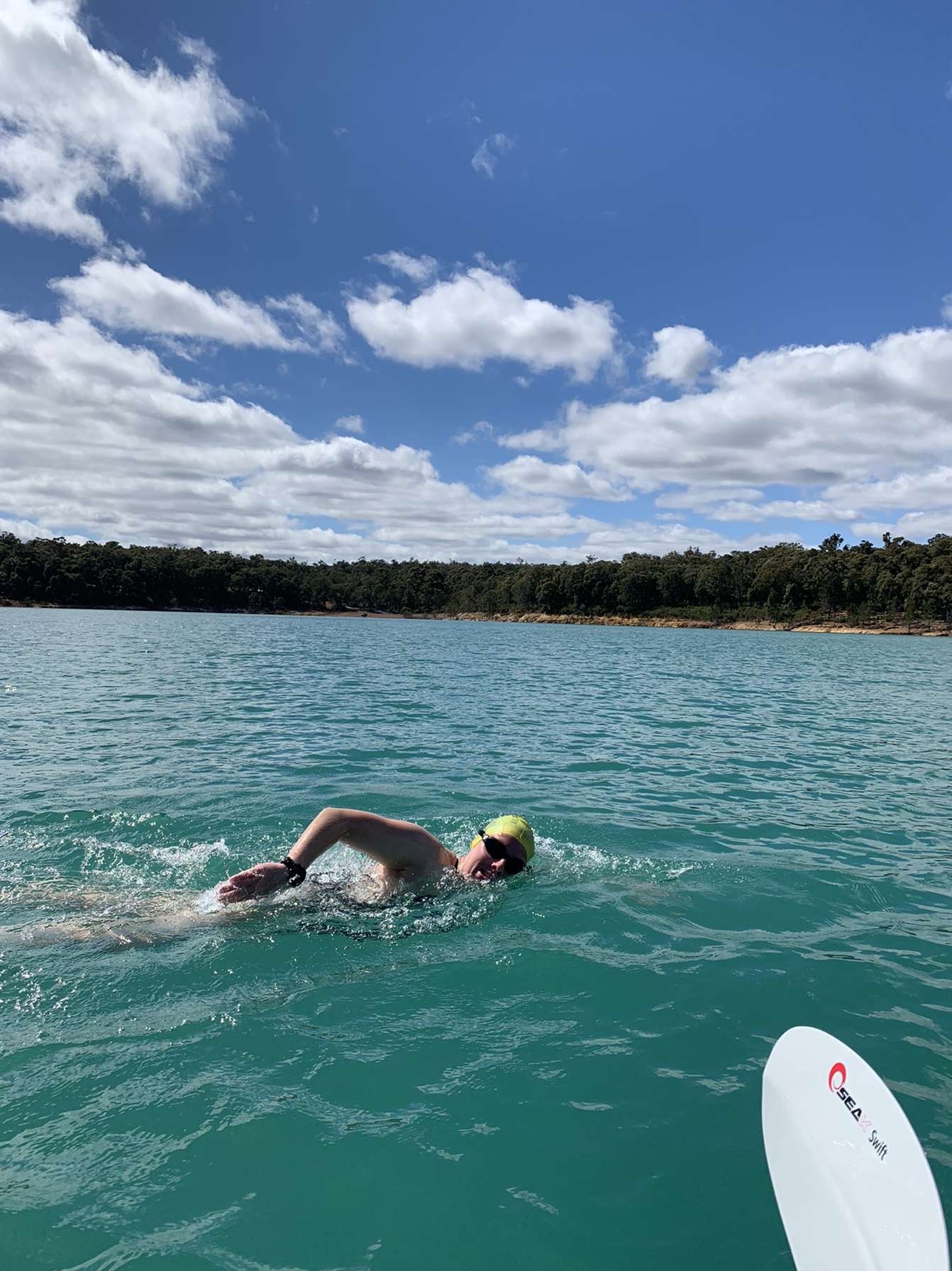 What is your current weekly load of training? 
Cullinane – "Currently my training load includes about eight pool sessions along with two to three gym sessions per week. Since I've joined Eoin at Perth City, the swim sessions have been longer as we're focusing purely on improving my endurance and speed, so our main sets alone usually sit around that 6km mark.
Since making the move, I've noticed that I've felt much more comfortable in recent open water swims. I felt great during a 5km race in Cottesloe over the weekend and I noticed my heart rate was much lower than usual throughout the swim, which shows training is going well.
My main goal is to start increasing my session distances throughout the season. My sessions each week include threshold sets, short rest sets, long aerobics sets and what I call 'get cold sets' in the ocean. The session is not based on distance, but rather based on time and temperature of the water and how long you can stay in colder climates.
This is great practice for acclimatising with all conditions as open water swimming can throw you a curveball sometimes with temperatures, wind, swell and other factors. It's always wise to prepare yourself in training."
What was it about open water swimming that attracted you? 
Cullinane – "About a year or two after I started swimming, the club made it compulsory for all junior and senior members who were old enough to try at least one open water event. The open water swimming event we targeted that year was at Coogee beach.
My junior coach, Bridget Young, who used to be one of the best in the world when she was a swimmer in England, had insisted that we do at least the 1.25km. I was so nervous and I insisted that I swim the entire thing with my best friend at the time. We even ran out of the water simultaneously.
Turns out I had nothing to be worried about because I absolutely loved it with all my heart. I kept doing the open water events even though most of my club wasn't. I would just join up with some of my other surf lifesaving friends who were also swimmers and we would set up and swim together.
I already knew that I was better at the long distance even before then. It had taken me nearly four years to get a state time for 200m freestyle, yet I got the 800m and 1500m freestyle qualifying times very quickly. Open water just felt like a second home to me. I didn't care what anyone else was going to say, this was going to be what I was going to do.
I decided then and there at the Coogee race that I would target going to nationals for open water swimming. I remember coming back to training and begging Stacey to let me train with the older guys that already competed at open water nationals."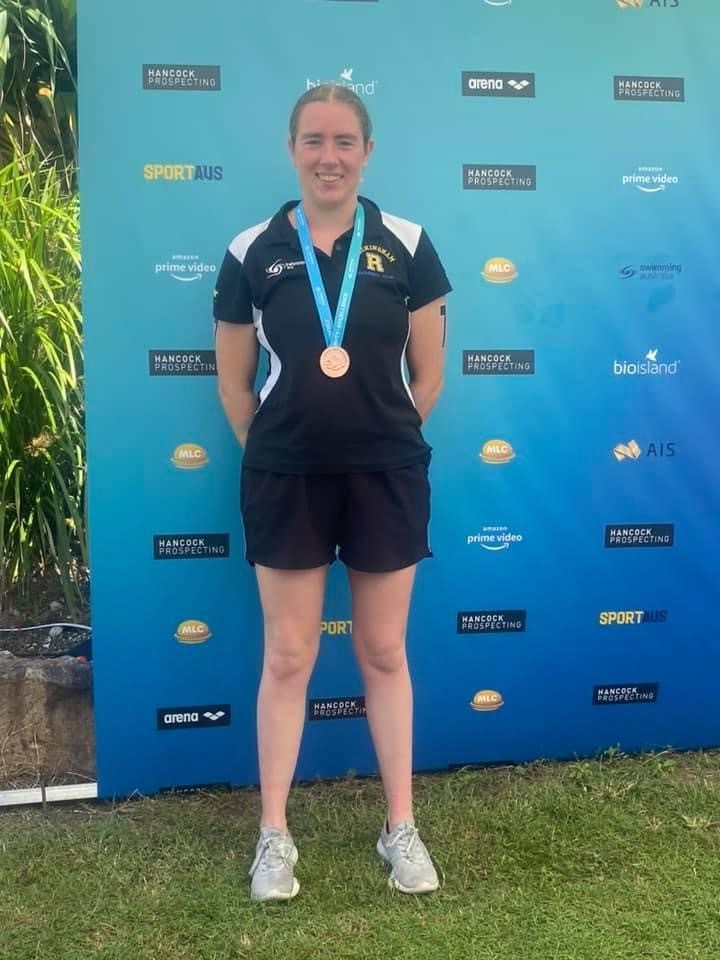 What are your proudest career accomplishments so far? 
Cullinane – "My proudest accomplishment so far in open water swimming would definitely have to be qualifying for open water nationals, competing at nationals and medalling. I was very excited to walk away with a bronze medal in the 10km last year in Coolum, Queensland.
Another highlight would be competing in the Rottnest channel swim solo and being selected in the champions of the channel for the event itself. It's great to race alongside some very talented WA swimmers in the first wave of solo swimmers off Cottesloe beach."
What are your short-term goals? 
Cullinane – "My goals for the next 12 months include hopefully returning to open water nationals as I didn't get the chance to head over to Adelaide recently due to Covid and quarantine restrictions.
My biggest immediate challenge headed my way is the 19.7km solo Rottnest Channel swim this weekend. I'm hoping to go under five hours if weather conditions permit. The wind and swell for Saturday's race is looking decent so far, hopefully it stays that way!
For my 25km Port to Pub solo on March 19th, I'm aiming to simulate as much of the English Channel as I can with both my race feeds and racing attire, so I'll be wearing training bathers and not a race suit to try and prepare for a long duration in colder conditions."
What are your long-term goals? 
Cullinane – "Since I was inspired by Bridget Young and started open water swimming, I've had a few long-term goals that I've been working towards. Those include racing and medaling at more national events and competing in the Rottnest and English Channel Swim.
I have been lucky enough to accomplish most of those, although after completing my first 5km race it hit me just how difficult the 32km English Channel Swim was going to be, so I put it out of my mind for quite a few years.
However, after we all went into lockdown I realised I had achieved all those other goals and I was looking for something else to help keep me motivated. I started watching Ross Edgley's Great British Swim that he completed three years ago where he swam around the entire mainland of Britain within 100 days. It made me remember my original goal for completing the English Channel Swim, which seemed more achievable.
I am hoping that in 2022 I will get to complete this long-term goal of swimming across the English Channel. I've booked and registered for the event, so hopefully everything else lines up and I'll be able to get across to the UK. Fingers crossed that the weather conditions are perfect and I'll be able to take this massive accomplishment off my bucket list.
Other than this, I have a list of epic open water swims all around the world I'd love to have a crack at with some amazing scenery. These include places like Finland, Greece, Mexico, Morocco, Egypt, New Zealand, Hawaii and more."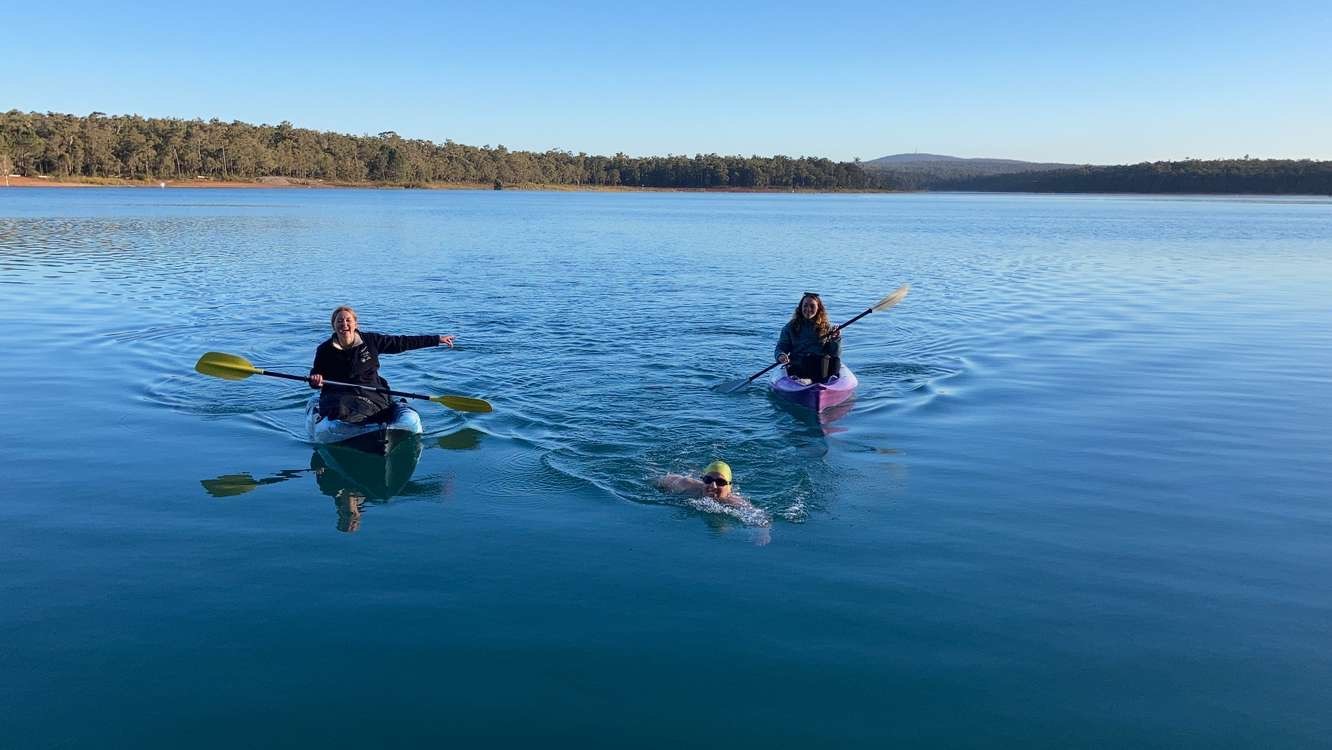 What are your hobbies outside of the pool? 
Cullinane – "When I'm not swimming, I'm usually working or studying. I'm currently employed as a swim coach and I teach all ages, from infants at six-months-old up to adults. I really enjoy passing on my knowledge to anyone having a go at swimming and love what I do. Currently I teach swimming out of Kwinana and Aqua Jetty near Rockingham.  
I'm also studying Criminology and Forensics Biology and Toxicology at Murdoch. Criminology really excited me because I enjoy finding the reasoning and understanding of why and how crimes are committed, along with the science used to come to that conclusion. I've just finished my first year and I'm loving it. I can't wait to get into the field.
I've also recently gotten into scuba-diving. I've started diving with my cousin and exploring the Swan River and the ocean, often at night which is exhilarating and a good way to get the adrenaline going! It's amazing to see such a different perspective of the ocean in comparison to when I'm racing.
Hopefully I'll also be able to travel soon, there are so many places I would love to visit and there are numerous open water swimming events throughout exotic areas of the world."
How do you prepare for your competitions? 
Cullinane – "To prepare for my races, I usually have a big carb-filled dinner the night before. Usually something like a big bowl of pasta. When we go to nationals, it is crucial that we all eat garlic bread with dinner every night as well!
Often when I'm feeling nervous, I'll put on a good action film, or I'll watch the open water swimming episode of Off the Blocks. This is a US documentary style YouTube channel, created by Swimming USA.
They interview different swimmers from the US and they talk about their experiences and what they're focusing on. The open water swimming episode interviews stars Hayley Anderson and Jordan Wilimovsky. Everything they say has been really inspiring to me and I was lucky enough to meet Hayley at the 2020 Australian Open Water Championships in Adelaide."
What advice would you give other open water swimmers?
Cullinane – "Some advice for anyone who is looking at going into open water swimming or is trying to, I would say give it your best shot. Don't be afraid of giving it a go.
I've seen so many swimmers decide not to do open water swimming because they think it would be too hard, too long or they just don't want to swim in the ocean. Yes, sometimes the ocean can be unpredictable and uncontrollable, but that's what makes it so much more fun!
You can use the weather to your advantage. So many elements are at play that require more than one race plan and you have to adapt to what the day brings.
Finding a good supportive network of other swimmers within training or racing is also beneficial. They don't have to be in your club, it's more just having people to see and chat to before and after events and anyone who can potentially help you out with your swim.
Another tip I recommend is when you start doing 7.5 km and up in open water events, make sure you test and perfect your feeds before your first race. There's nothing worse than trying to feed on race day and it's just not working or settling in your stomach. Test out what feeds or liquids work best for you in training then implement those on race day."