01 February 2023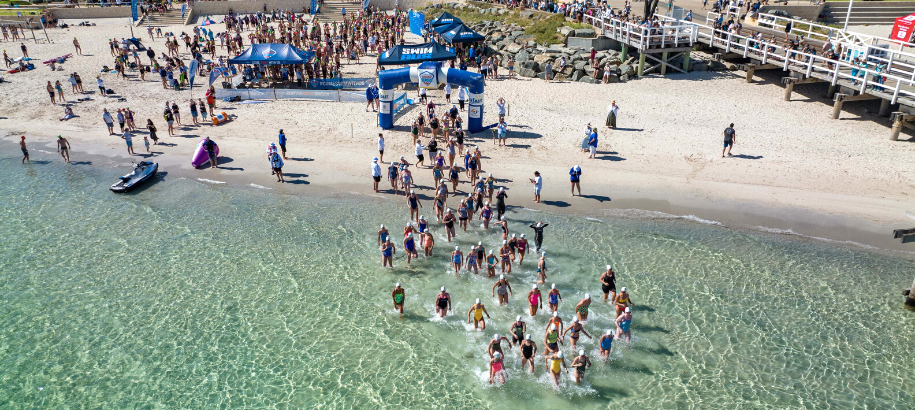 The 2023 Ocean Swim Festival, held in Busselton from January 25-28, was a huge success, with hundreds of participants taking part in various events. The festival attracted a broader audience beyond elite athletes as people from all over Western Australia travelled to Busselton to spectate the Australian Open Water Championships and participate in various activities.
The festival kicked off with the big 10km and 7.5km distances on Wednesday morning, with fantastic conditions in the pristine waters under the iconic Busselton Jetty. At night, the Beachfront Twilight Markets included up to 30 vendors, including handmade crafts, souvenirs, clothing, jewellery and food stalls.
The highlight of the festival was the Community Swim, which saw more than 400 participants compete on the same course as the Australian Open Water Championships competitors. Amateur swimmers competed in a range of distances, including 500m, 1.25km, 2.5km, 5km, 7.5km and the big 10km, which was the final opportunity to qualify for the Rottnest Channel Swim and Port to Pub. The early Championship events saw competitors take to the water in the Girl's and Boy's 14–15-year-old 5km Championships.
On Friday, North Coast, Breakers, Westside Christchurch, Scarborough Beach, UWA West Coast, and hometown club Busselton Swimming Club headed to the waters to challenge fellow competitors in the mixed 4x1500 relay event. At night families gathered near the foreshore for the Outdoor Cinema, viewing DC League of Super-Pets.
The final day saw the country's top 5km swimmers take to the water. The competition was fierce, but the overall winner by arm's length, Kyle Lee, emerged victorious, marking his ground in his home waters. In addition to the swims, it was fantastic to have a great range of family-friendly activities that created a festive atmosphere and attracted large crowds, making the festival a true community event.
The festival was made possible through the collaborative partnership with Swimming Australia and, thanks to the support from the City of Busselton and Tourism Western Australia. Thank you to Busselton Swimming Club, who volunteered at the Community Swim. Swimming WA would like to extend their gratitude to all those who helped make the festival such a memorable and enjoyable experience.