13 March 2023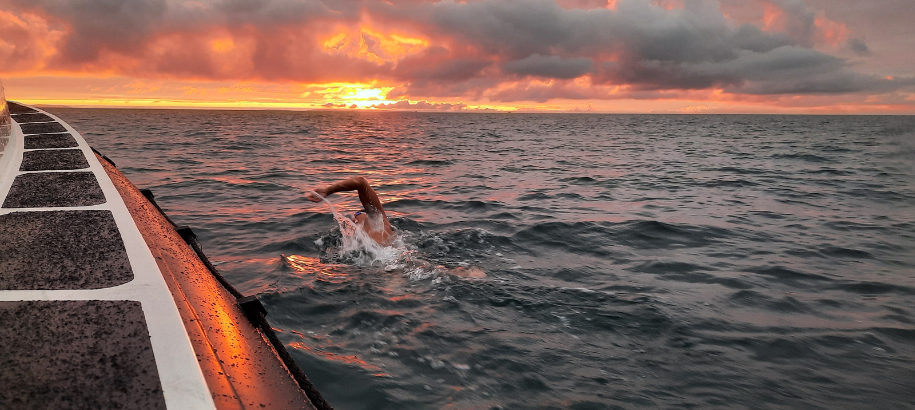 Andy Donaldson, Perth City's ultra-marathon swimmer, has made history by breaking the World Record for the fastest crossing of the Cook Strait, a treacherous stretch of water that separates New Zealand's South and North Islands. On March 7, Donaldson completed the swim in an impressive time of four hours and 33 minutes, beating the previous record by four minutes.
Donaldson's coaches, Eoin Carroll from Perth City Swimming Club and Ryan Evernden from Formidable Strength and Conditioning, have been credited as part of the team who helped him achieve this impressive accomplishment. Swimming WA had previously interviewed Donaldson and his teammate Fiona Cullinane (Perth City, c: by Eoin Carroll) at the end of last year after they both completed the English Channel and the North Channel.
Donaldson's impressive record in open water swimming includes a new British Record for the English Channel, which he achieved by finishing in eight hours and being the first Scottish male soloist to complete the North Channel in nine hours and 13 minutes. Reflecting on his North Channel achievement, Donaldson said, "Having a successful crossing in the swim that they considered to be the toughest of the Ocean Seven swims, that was quite a special feeling, especially because it's swimming home to Scotland for me."
Donaldson's journey to becoming an ultra-marathon swimmer has been remarkable. He won the Rottnest Channel Swim in 2021, only ten months after starting his training upon his return to Perth. "The Rottnest Channel swim was a big career win for myself, especially being away from the sport for a number of years and only really coming back into it during COVID. Having such a short preparation time in the lead-up to that swim, only about half a year, that was a real big journey for me getting back into swimming and for it to be part of my life again. I was really quite humble by that whole journey," he said.
Fiona Cullinane, Donaldson's teammate, is also an accomplished open water swimmer, having broken the Guinness World Record for being the youngest female to complete the English Channel and the North Channel. Cullinane attempted the Strait of Gibraltar in October last year, but the journey was hindered by a fog bank that stayed over Morocco's shores. Nevertheless, she remains determined to return, saying, "That'll be something that I'll go back to conquer later."
Donaldson and Cullinane plan to complete all seven of the world's toughest open water swims, which include the North Channel, the Cook Strait, the Moloka'i Channel, the English Channel, the Catalina Channel, the Tsugaru Strait, and the Strait of Gibraltar. They are not only pursuing their passion for open water swimming but are also doing it to raise funds for mental health, a cause that is close to their hearts. Their efforts demonstrate the power of sport to make a positive impact on society beyond the realm of competition.
Donaldson's success in crossing the Cook Strait is a testament to his dedication and hard work, and we can expect more record-breaking achievements from him and his team in the future.
To watch our interview with Andy Donaldson and Fiona Cullinane, click here.
To help support Andy Donaldson's journey to take on the Oceans Seven Swim Challenge for Mental Health, click here.
To help support Fiona Cullinane's journey to take on the Oceans Seven Swim Challenge for Mental Health, click here.