11 October 2021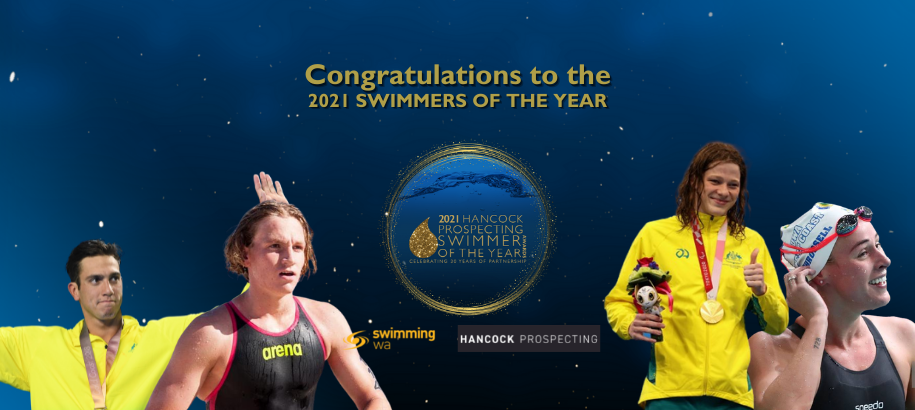 The 2021 Hancock Prospecting Swimmer of the Year Awards took place this weekend, with the Western Australian swimming community congregating at the Fremantle Sailing Club to celebrate the year that was.
The evening was the continuation of the Club Conference, a day that saw the community come together as one as we look to unify in our approach to 2024. Unlike previous years, the evening was a cocktail format and provided all with an opportunity to mingle with the who's who of swimming.
Other changes included the renaming of the Para Swimmer of the Year and the Open Water Swimmer of the Year to the Elizabeth Edmondson Medal and Shelley Taylor-Smith medal respectively. Both legends of the sport were recognized for their incredible contributions and ongoing ambassadorial roles.
Under the careful guidance of MC extraordinaire, Adrian Barich, several worthy recipients were recognized for their ongoing contribution to our sport as an athlete, coach, official or volunteer. In addition to the awards, we heard from our Tokyo Olympians and Paralympians, Jacqui McNamara, Brianna Throssell, Tamsin Cook and Ben Popham who gave us some insight into their experience into one of the most unique Olympic cycles.
Kyle Lee, Ben Popham, Brianna Throssell and Zac Incerti were the big winners of the night, taking home the major awards.
Popham was the star of the night, claiming his third consecutive Elizabeth Edmondson Medal and two other awards. Popham who has become a household name over the past month continued his media campaign as one of the favourites of the night. At just 20 years of age, Popham is sure to have more to say throughout his career.
Throssell and Incerti both claimed the Lyn McClements Medal, as the first tie in the award's history was presented. Throssell winning the award for the fifth time becomes the most successful Western Australian swimmer, an achievement that may never be matched.
Claiming his first Shelley Taylor-Smith medal, Kyle Lee was rewarded on the back of a breakthrough season which saw him qualify for his first Australian team. Lee's achievements in both open water and pool swimming look to keep in contention for this award for many years to come.
Although not all attendees went home with awards, Swimming WA would like to congratulate all stakeholders for their perseverance and tenacity throughout these trying times. We look forward to celebrating you for years to come.
2021 Hancock Prospecting Swimmer of the Year Awards Winners –
Elizabeth Edmondson Medal – Ben Popham – Arena Swimming Club
Lyn McClements Medal – Brianna Throssell & Zac Incerti – UWA-West Coast Swimming Club
Shelley Taylor-Smith Medal – Kyle Lee – North Coast Swimming Club
Coach of the Year – Simon Redmond – Arena Swimming Club
Official of the Year – Steve Hill – UWA-West Coast Swimming Club
Volunteer of the Year – Stephen Milford – Canning Districts Swimming Club
Swimmers' Swimmer of the Year – Kieren Pollard – North Coast Swimming Club
Bob Bestman Trophy – Iona Anderson – Breakers Swimming Club
Hancock Prospecting Perpetual Trophy – Brianna Throssell – UWA-West Coast Swimming Club
ASCTA (WA) Development Coach of the Year – Will Greenwood – Westside Christchurch Swimming Club
Age Group Coach of the Year – Rob Palfery – UWA-West Coast Swimming Club
Swimming WA President's Award – Nick Watkins – Southside Penrhos Wesley Swimming Club
Sir Frank Beaurepaire Trophy – Ben Popham – Arena Swimming Club
Ben Beale Memorial Award – Sienna Cummins – Kwinana Swimming Club
Age Group Swimmer of the Year – Joshua Edwards-Smith – UWA-West Coast Swimming Club
Regional Club of the Year – Geraldton Amateur Swimming Club
Metropolitan Club of the Year – Guildford Kalamunda Districts Swimming Club
Male Swimming WA Patron's Trophy – Ben Popham – Arena Swimming Club
Female Swimming WA Patron's Trophy – Brianna Throssell – UWA-West Coast Swimming Club
Old Court Cup – Kieren Pollard – North Coast Swimming Club
Hall of Fame Alumni Trophy – Holly Barratt – Rockingham Swimming Club
Swimming WA Life Members' Trophy – Kyle Lee – North Coast Swimming Club
Eamon Sullivan Trophy – Joshua Edwards-Smith – UWA-West Coast Swimming Club
Jack Howson Trophy – Iona Anderson – Breakers Swimming Club
Jennifer Reilly Trophy – Jacob Hale – Jacob Hale – Riverton Swimming Club
Frank Osman Memorial Shield – Abbie Loraine – UWA-West Coast Swimming Club & Alyssa Monaco – Westside Christchurch Swimming Club
Max Gerber Multi-Class Championship Trophy – Jordan Berryman & Lucinda Foley – UWA-West Coast Swimming Club