07 September 2019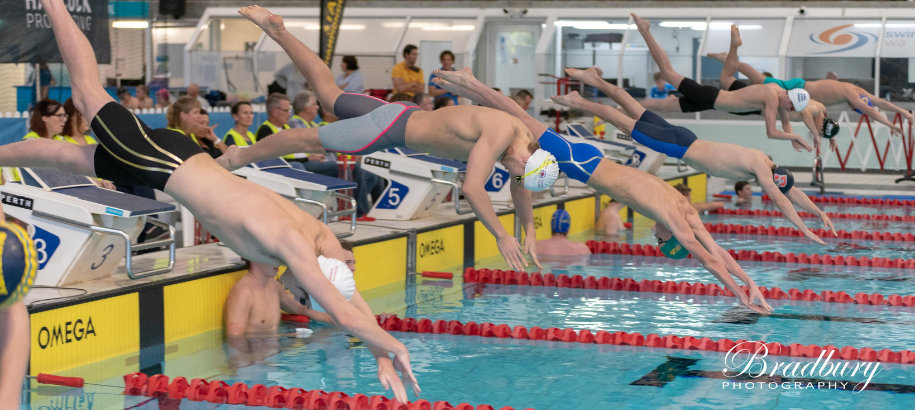 The second day of competition at the Swimming WA State Short Course Championships was underway at 9:00am sharp on Saturday 7 September, at HBF Stadium. 237 competitors were set to grace the water over the two sessions today, from a combined total of 31 clubs.
Some highlights from the day include;
Men's 100m Freestyle: The men's 100m Freestyle saw a pool of talent take to the water with Ashton Brinkworth (UWA West Coast, c: Michael Palfery, WAIS) emerging supreme after battling with Team Korea's Lee Sang Soo and Jackson Govers (St Hilda's, c: Deb Jones). Brinkworth maximised his skills to close the early gap Soo established through the first 50m.
Women's 400m IM:  Lily Beste (Rockingham, c: Brooke Kemp) once again proved too strong in her pet event the women's 400m IM. Beste broke away quickly through the first 100m establishing a strong lead on the field which she was able to maintain through to the finish, showcasing her incredible ability in the IM. At only 16 years old, Beste is well on track to joining the line of WA's IM superstars like Blair Evans and Lara Carroll.
Men's 400m Freestyle: After a dominant performance in last night's 1500m Freestyle, Ben Roberts (Breakers, c: Bud McAllister, WAIS) showed once again why he is a force to be reckoned with leading into next year's Olympic Games Trials. Roberts led the field from start to finish touching the wall at 3:47.25, breaking the WA Residential Record. Closely following behind Roberts, was youngster Hugh Moran (UWA West Coast, c: Michael Shaw) at 3:50.18, putting him as a strong contender for this year's state team.
Women's 100m Breaststroke: Once again Talara-Jade Dixon (St Hilda's, c: Deb Jones) has one the state title in the Women's 100m Breaststroke. Dixon had an electric first 50m turning at 31.50, holding off the fast-finishing Blair Evans (UWA West Coast, c: Will Scott, WAIS) to touch the wall in 1:07.47.
The 2019 State Team selection continues to be as exciting as ever, with our talented young athletes putting it all on the line chasing one of the few positions available on the team, with the State Teams Championship just around the corner in October. 
The racing action continues tomorrow morning at 9:00 am for the start of the final day of competition with plenty of exhilarating Short Course action to come.
The final session will end with the presentation of the 2019 State Team as well as the Short Course Regional and Metropolitan Shields for the highest point-scoring clubs at the Championships.
Tickets are available at the door, we hope to see you there tomorrow.