11 October 2021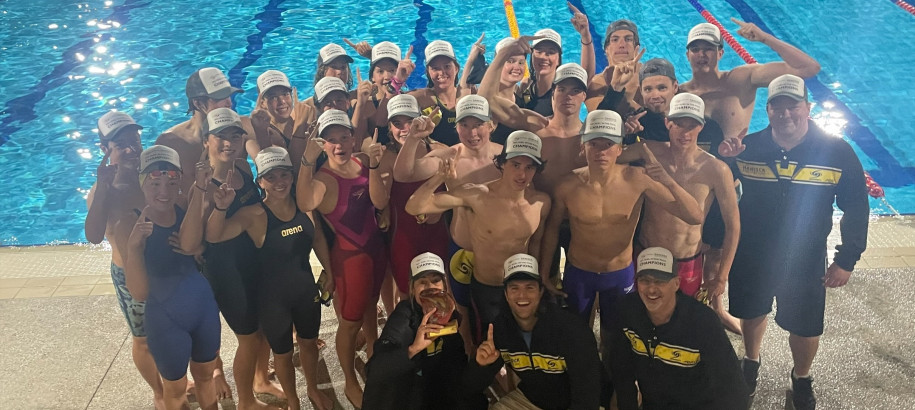 Team chants and tough racing was the order of the day for the Duel in the Pool last week. 42 athletes joined 10 coaches at Christ Church Grammar School for a 3 day camp designed to replace the State Team that would traditionally compete against the other states in Canberra. The coaches led a skills training session on Monday night before the competitive juices got flowing with a trivia night set to be the first points on offer.
The points on offer were sought after in team relays and skins events. With a DJ creating the atmosphere for the event everyone was ready and rearing to give their all for their team. Team Gold, led by Head Coach Deb Jones and team captains Kaiden Richings and Lucinda Foley, finished the first day of competition with a small lead. This included the points on offer from the Open Water style race that took place in the 25m pool. Three members from both teams fought their way around 3 cans or around 50m laps earning points every 3 laps and double points on offer for the 10th lap similar to a cycling points race. This night ended with a visit from our resident WA Paralympian Champion Ben Popham. He was able to share his experiences with the teams from his trip to Tokyo.
The second day of competition began with laser tag where Team Black took a dominating win of 3 from 3 games. Starting the 2 day of competition Team Gold led by a mere 6 points and was overtaken by Team Black on the first event giving Team Black the first lead of the competition. Team Black Captains Matt Lamb and Kaci Curtis led from the front winning races they were unexpected to win. Some very close skins racing had the leading team fluctuating back and forth on the leader board. With some 42 leg relays contributing massive points to the teams there were some long races with many athletes having standout races for their teams and their mates.
After a close fought competition Team Gold left with the trophy and the glory. All left having made stronger friendships and becoming better swimmers ready to get out there and represent club and state as soon as we can travel again.
Thanks to all the coaches that helped to make this happen.
Team Gold:
Head Coach - Deb Jones
Captains - Kaiden Richings & Lucinda Foley
Team Black:
Head Coach - Cam Hawthorn
Captains - Matthew Lamb & Kaci Curtis